Child Development
Earn your MS in Child Development in 12-18 months for less than $15,0001. Designed for working professionals, this program is offered up to 100% online. Enjoy a quicker pace with seven-week courses.
1 Cost based on full-time, in-state tuition (Fall 2023 rates).
Program Features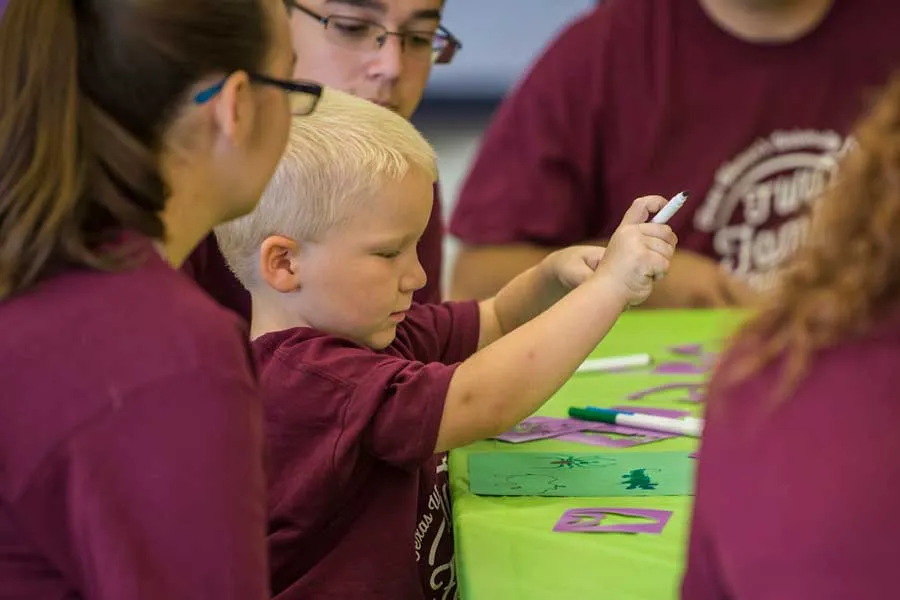 Degree completion in as little as 12 months, or 31 credit hours*
Up to 100% online
Face-to-face course options in Denton
Seven-week courses
Thesis or Professional Option
Knowledgeable and supportive faculty with expertise in child development, child life and developmental psychology
*Individual requirements may vary
Program Information
The master's degree in child development covers child growth and development from infancy through adolescence, including cognitive, social, emotional and physical development. Students explore major theories and empirical research on child development and how it applies to work with children and families.
Gain marketable skills:
Practical application of child development knowledge in work with children and families
Ability to critically consume research literature
Ability to apply research evidence to professional practice
Developmental assessment skills
Written communication skills
Critical thinking skills
Program Faculty
Career Opportunities
Child care administration
Child and family advocacy
Early childhood intervention
Community outreach
Parent education
Admission Requirements
Admission to the M.S. in Child Development (Spring 2024)
Department Admission Contact:
Anna Stokes, M.S.
940-898-2686
astokes1@twu.edu
Application Deadlines
Rolling admissions
Priority Dates:
Fall - July1 Spring - November 1 Summer - April 1

Admission Requirements
Completed bachelor's degree in a relevant field from a U.S. college or university accredited by a regional accrediting agency, or an equivalent degree from a foreign college or university
Minimum 3.0 GPA for the last 60 semester credit hours of coursework.
Submit the following documents into the application:

Curriculum Vitae/Resume highlighting relevant education, experience, and employment.
Email address for an academic or professional reference who can speak to your academic abilities and potential (they will be contacted with a link to upload their letter).
Letter of Intent/Essay (500 words) that meets the following expectations:

Clearly state the reasons for pursuing a master's degree in Child Development
State your professional and educational experiences and goals
Be sure that your goals align with program outcomes
Indicate why you would be a good fit for this program
Indicate how you plan to use the degree after graduating
Identify which topics in child development you are particularly interested in
Use professional, formal language and tone
Use correct grammar, spelling, and syntax.
How to Apply
Begin by finding your program in TWU's Program, Majors & Degrees listings to see if your program has additional admission requirements and application deadlines prior to applying. (This information is for all programs. The application deadline for your specific program will be listed in the Program Requirements. Use that deadline as it applies below. (Example: if a program only admits once a year and has a Fall deadline for 2023 of March 1, you would need to be looking to apply to the next deadline for Fall 2024.)
Apply online.


Apply to Graduate Programs according to the start semester and application portals below:


Spring 2024 - All programs apply via ApplyTexas EXCEPT applicants to the College of Business, Child Life, or Child Development master's programs or the Child Development and Early Education PhD program who should apply via the TWU Online Graduate Application Portal.

Note: When applying through ApplyTexas, you will need to submit any required Documents directly to the program website.

Summer & Fall 2024 - All graduate programs apply via the TWU Online Graduate Application Portal. Required documents will be asked for and uploaded into the application.



Pay the application fee.
The $50 fee, ($75 fee for International applicants), which applies to all new and returning applicants can be paid by:

Credit card - Online through the portal you applied on (either ApplyTexas or TWU's Online Graduate Application).
Certified check or money order by mail or electronically - payable to TWU, sent by mail to:
TWU Admissions Processing, 301 Research Circle, Room 220; Denton, Texas 76204
(include your full name and ID number).
Cash (no personal checks) - Pay at the Bursar's Office. After paying, bring the receipt to Admissions Processing (2nd floor of GRB).
Fee Waivers - Graduate applicants who are certified McNair Scholars are eligible for a McNair Scholar application Fee waiver. Submit the request using the Application Fee Waiver Submission Form.



Submit transcripts to TWU.

Domestic Applicants must submit official transcripts for each college or university attended, both undergraduate and graduate. See the Information on Transcripts website for more details.
International Applicants are now required to provide an evaluation prepared by a NACES or AICE member evaluation service. International transcripts should not be sent directly to TWU. See the International Admission website for more details.
For more information on graduate admissions or to contact an admissions official, visit the Graduate Admissions website.
Students who wish to apply for a Graduate Assistantship must meet the General Criteria for Appointment of Graduate Assistants.
Interested in a PhD?
Learn more about the PhD in Child Development & Early Education.
Contact
Jordyn Randall
Graduate Advisor
WH 115
jrandall3@twu.edu
940-898-2695
Page last updated 6:51 PM, November 14, 2023