Leadership
Jackie E. Hoermann-Elliott, Ph.D.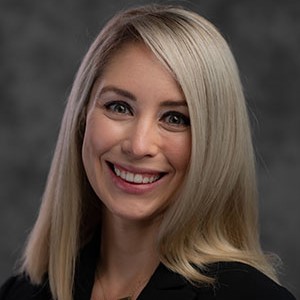 Director
PhD, English: Composition and Rhetoric, Texas Christian University
MA, English: Rhetoric, Composition, and Professional Communication, Iowa State University
BA, English: Language and Literature, University of Missouri-Kansas City
Hoermann-Elliott's approach to administration, teaching, and research centers around the role of well-being in the writing processes of student and professional writers, particularly in terms of embodied cognition and mindfulness. Her first book--Running, Thinking, Writing: Embodied Cognition in Composition--was published by Parlor Press in 2021, and her scholarship has also been published in several edited collections as well as national journals, such as Composition Forum, WPA Journal, and The Journal for the Assembly of Expanded Perspectives on Learning. She attends several conferences regularly, including the Conference on College Composition and Communication, where she enjoys meeting other teachers who share her ardent interest in creativity and embodiment. At TWU, she enjoys teaching first-year courses, including ENGL 1013 and ENGL 1023, professional communication courses, and graduate courses focused on rhetoric and composition theory and writing program administration.
Rachel Daugherty, Ph.D.
Assistant Director
PhD, Rhetoric and Composition, Texas Christian University
MA, English: Rhetoric and Composition, Oklahoma State University
BA, English, Oregon State University
Rachel Daugherty is a teacher-scholar dedicated to finding common ground in her feminist approaches to teaching, administration, and research. Her teaching focuses on connecting with local communities and national topics by prompting students to consider how American political policies affect local organizations. Her research focuses on coalition-building practices in activist and educational contexts, as well as feminist pedagogy and writing program administration. Her scholarship has appeared in edited collections and national journals, including Innovative Higher Education and Peitho: Journal of the Coalition of Feminist Scholars in the History of Rhetoric and Composition. She regularly presents at national conferences, such as the Rhetoric Society of America, College Composition and Communication, and Feminism(s) and Rhetoric(s), discussing feminist approaches to writing pedagogy, administration, and rhetorical criticism. She enjoys teaching in the first-year writing program at TWU, in addition to teaching Research Methods in Rhetoric and Composition, Technical Writing, and Writing Program Administration.
Charles Dyer
Senior Secretary
(First-Year Composition & Write Site)
BA, Hendrix College
Charles is an Arkansas transplant who holds a degree in English/Creative Writing with an emphasis in Politics from Hendrix College. He is a political junkie who, over the past several years, has spent a lot of my time and energy on political communications. At TWU, Charles splits his time between the Write Site and FYC. On the weekends, he either spends time with his cat, Bids, or goes for a run with his partner. Charles states, "I am a true believer that good writing can do anything in the world. I suppose it's fitting I've found myself here in FYC." Beginning in the Fall 2019 semester, Charles was hired as the FYC Senior Secretary, and he brought a wealth of skills to his position. He begins a master's in public administration at UNT in the Fall of 2021.
Margaret Williams
2021-2022 FYC Program Assistant
PhD candidate, Rhetoric, Texas Woman's University
MA, Rhetoric, Western Carolina University
MLAS, University of North Carolina -- Asheville
BA, English, University of Alabama
Margaret Williams, a PhD (Rhetoric) candidate in the LSGS Department at TWU, is a former journalist committed to ecological-feminist practices in classrooms, communities, and scholarship. A Dean's Outstanding Scholar at Western Carolina University and a former coordinator of TWU's Digital Composition Lab, she researches topics and issues in rhetorical circulation, particularly the agency, multimodalities, and entanglements involving women in political/public spheres. As the 2021-2022 FYC Program Assistant, Williams has more than five years' experience teaching first-year composition and has also taught professional writing and freelance writing. As a teacher-scholar, she draws on a wealth of writing/editing experience by focusing on practical and collaborative processes, strategies, and goals. Williams has been named the William Tanner Award for Best Rhetoric Paper by a Graduate Student (CCTE) and awarded the Dr. John L. Dawson, Sr. Endowed and Dr. Leslie Kreps Scholarships (TWU). Her academic service includes representing the department on TWU's Graduate Student Council, as well as leading the TWU's English Rhetoric Graduate Organization (ERGO) as president and treasurer.
Past FYC Leaders
Justin Cook
2020-2021 FYC Program Assistant
PhD, Rhetoric: Texas Woman's University
MA, English: Arkansas State University
BA, English: Arkansas State University
Justin Cook was a PhD Candidate in the LCGS Department and an experienced FYC/English instructor invested in themed pedagogy and multimodal composition. He was the 2020 recipient of the J. Dean Bishop Excellence in Teaching Award and prior to that was awarded the TWU Experiential Student Scholar Award. During his time at TWU, he served as President of the English Rhetoric Graduate Organization (ERGO), the Digital Composition Lab Assistant Coordinator and the FYC Program Assistant. His dissertation research focuses on agency and action in the digital sphere, specifically how mourning in these spaces is a rhetorical act of resistance for the LGBTQIA+ communities and communities of color. Justin has since graduated and is now an Assistant Professor and Writing Center Director at High Point University in High Point, NC.
Katie McWain, Ph.D.
2018-2019 Director
PhD, English: Composition and Rhetoric, University of Nebraska-Lincoln
MA, English Language and Literature, University of Missouri-Kansas City
BA, English and Writing, Drury University
During her tenure as the TWU FYC, Dr. Katie McWain was both a thoughtful and innovative director. Sadly, her untimely passing meant her stay at TWU was unfortunately all too short. Katie's research focused on writing program administration, first-year composition, teacher development, and dual credit/dual enrollment writing partnerships. Her research has been published in Teaching English in the Two-Year College and the Michigan Journal of Community Service Learning, and she has publications that focus on TAs in composition as well as sponsoring information literacy across the curriculum. She was a member of CCCC's Task Force to Develop a Joint Statement on Dual Enrollment in Composition, and served on the editorial board for the journal WPA: Writing Program Administration. Her passions included helping both students and teachers to conceptualize writing and pedagogy as a lifelong process of development.
Jodi Meyer
2019-2020 FYC Research Assistant
BA, Texas Woman's University
MA, Texas Woman's University (in progress)
Jodi Meyer is an MA student here at TWU. She graduated from Angelo State University with her BA in English and Philosophy in 2018 and is now working towards a graduate degree for a career in editing. She is a plan-oriented person and very excited to use that in helping the FYC program. Jodi joined the FYC Leadership team as a research assistant for the 2019-2020 academic year, and she has been an invaluable asset to the program. She is currently working on a study for FYC to gauge the efficacy of our Writing Counts Program.
Page last updated 4:12 PM, September 20, 2021