March 2022
New projects help usher spring season
Dear Friends:
Since spring is a time for renewal and March is Women's History Month, it marked the perfect occasion for the university to launch its first magazine, Texas Woman's. The inaugural issue of the publication, spearheaded by our University Advancement team, was mailed to select alumni and donors this month. It is also published in digital form. I am thrilled about this publication as it provides the university with a needed outlet to demonstrate Texas Woman's phenomenal impact. The magazine includes profiles on students, faculty, researchers, alumni, donors and others who have left an indelible mark on the university. It is also filled with compelling statistics and information about the university. Please make time to read some of the stories of how our incredible faculty, students, athletes, alumni and donors partner to advance the university's mission.
---
McDavids announce second gift to scholarship program
TWU System Regent Vice Chair Stacie Dieb McDavid poses with fall 2021 scholarship recipients.
Less than a year after TWU Regent Stacie McDavid '80 and her husband, David, established a $100,000 scholarship program to fund scholarships for Denton High School graduates enrolling at Texas Woman's University, the McDavids announced a second gift to support a new round of scholarship recipients. The latter gift was revealed at a Texas Woman's alumni reception at Fort Worth's National Cowgirl Hall of Fame & Museum on March 21. McDavid, an alumna of Denton High School and Texas Woman's – and an accomplished businesswoman and cutting horse world champion – is deeply committed to helping women succeed. The National Cowgirl Hall of Fame was a perfect venue for the announcement, as McDavid herself is an honoree, and because the hall celebrates women from all backgrounds – not just cowgirls in the literal sense – who exemplify courage, resilience and independence.
---
Raising TWU's 'military friendly' profile
Since 2009, Texas Woman's has been designated a Military Friendly® School and has landed on the coveted list of the same name, published by G.I. Jobs magazine. This year, the university was elevated to "Gold" status for having leading practices, outcomes and effective programs that benefit student veterans. Gold status is the list's highest distinction, and this year only 282 institutions out of more than 1,800 surveyed were so designated, placing Texas Woman's in the top 15% of institutions recognized for their outstanding service to vets.
---
Nursing Science PhD program turns 50
About 200 alumni, faculty and staff helped celebrate the golden anniversary of the College of Nursing's PhD program in nursing science from March 4-6 in Houston. Activities included a mixer, campus tours, a tea reception, a gala and a Sunday breakfast. It was a worthwhile way to recognize the outstanding impact our nursing program has had not only on the immediate communities in which we are located, but for the state as a whole. TWU's College of Nursing has more than 700 nursing science PhD alumni who live in Texas, the United States and abroad. And TWU accounts for about 20% of all nursing PhDs conferred by Texas public, four-year universities. I was honored to visit with guests during the tea reception to give an update on the many achievements the university has made, and a forecast of how the impact of all of our health-related activities will continue to grow.
---
University heralds Weddington Collection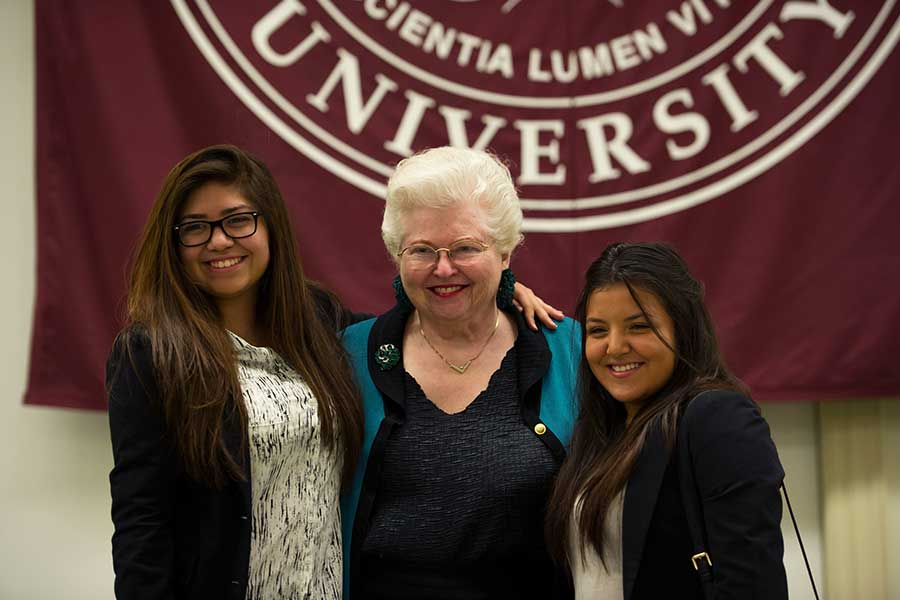 Sarah Weddington, center, was the inaugural speaker for TWU's Jamison Lecture in 2016.
She may have been best known for arguing Roe v. Wade before the U.S. Supreme Court, but Sarah Weddington had an exceptional career as a lawyer, legislator, university professor and women's activist. Now, an extraordinary compilation of her papers, pictures and artifacts are being archived in the Blagg-Huey Library's Special Collections at Texas Woman's Denton campus. Prior to her death in December 2021, Weddington gave a trove of her personal belongings to the university's Jane Nelson Institute for Women's Leadership. This meticulous collection will give researchers remarkable insight into her career, and the history she made as the youngest person to argue before the Supreme Court, the first woman elected to the Texas Legislature representing Travis County, and the first female general counsel for the U.S. Department of Agriculture.
---
Jamison lecture to feature pandemic experts
A panel of health experts from Denton, Dallas and Houston will share how they navigated complicated public health policies during the COVID pandemic during a virtual discussion at 7 p.m. on March 30. The discussion is the featured event of the 7th annual Jamison Lecture, which is part of the Paup Lecture Series. Panelists include Philip Huang, MD, MPH, director and health authority for the Dallas County Health and Human Services Department; Matt Richardson, DrPH, MPH, FACHE, director of public health for Denton County Public Health; and Stephen Williams, MEd, MPA, director for the Houston Health Department. The discussion will be moderated by Clare Brock, PhD, an assistant professor of American Politics and Public Policy at Texas Woman's. The event is free and open to anyone, but registration is required.
---
Pioneer basketball notches historic firsts
The Pioneer basketball team made history March 11 when it won its first-ever NCAA tournament game by defeating Metropolitan State University-Denver 90-83 in overtime. The victory led to another first: the Pioneers played in the program's first NCAA regional semifinal. Unfortunately, the Pioneers lost to conference champion West Texas A&M University, but the team still had a magnificent season. The Pioneers finished with a 20-9 record, tying for the fewest losses in a season in program history. Fittingly, Head Coach Beth Jillson was named the Lone Star Conference Noel Johnson Coach of the Year, marking yet another first in program history. Congratulations to Coach Jillson and her team!
---
To close, I am sharing a photo of our mascot, Oakley, taken at last month's TWU Athletics Hall of Fame induction ceremony. This month, our top spirit leader celebrated a fourth birthday, and I am honored to share the same birthday month with Oakley!
Thanks for your interest in Texas Woman's. As always, email me with your comments or questions. I am delighted that you have spent a few minutes with me today.
Warm Regards,
Follow Carine M. Feyten, Ph.D.
---
Texas Woman's is the nation's largest university primarily for women.
‌
Page last updated 3:02 PM, February 27, 2023