McDavid's reach extends from boardroom to rodeo arena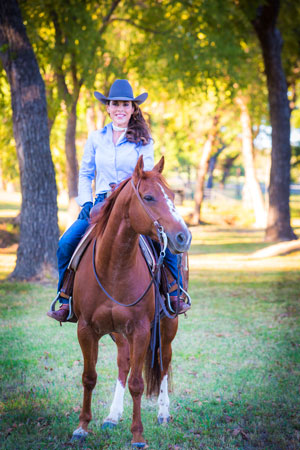 Whether it's cutting horses, running a business, governing a university system or even throwing a javelin, Stacie Dieb McDavid has a way of leaving a lasting impression.
The former track and field star was recruited to Texas Woman's University as a javelin thrower and has since made a name for herself in spaces from the boardroom to the rodeo arena.
And there isn't a business card big enough – not even in Texas – to fit all the titles the Denton native and Texas Woman's alumna has amassed since graduating from the university with a bachelor's degree in 1980.
"I like the flexibility, which allows me to wear different hats," McDavid said. "I'm exposed to a wide array of interesting people, which keeps it real."
She proved that riding horses and running businesses were both possible at an early age. She became a businesswoman right out of college, operating a franchise of 32 fitness centers in Texas and Florida.
Currently the CEO of McDavid Companies, a real estate and investment company, McDavid also oversees an equine breeding, training and ranching operation. A longtime competitor in the National Cutting Horse Association and inductee into the association's non-pro hall of fame, McDavid in 2016 was named the American Quarter Horse Association Amateur Cutting World Champion and was the Reserve World Champion in 2017.
In 2019, she was named to the National Cowgirl Museum and Hall of Fame in Fort Worth, which celebrates women who exemplify courage, resilience and independence and who helped shape the American West. Also that year, Gov. Greg Abbott appointed McDavid to serve a six-year term on the Texas Woman's University Board of Regents. She currently serves as the board's vice chair and assistant presiding officer.
Last year, she and her husband, David McDavid, established the Dieb-McDavid Scholarship Program at Texas Woman's, which awarded scholarships to five Class of 2021 Denton High School graduates who demonstrated a commitment to women's leadership. The scholarships help cover costs for four years at the university.
She has served on numerous boards, partnerships and charitable organizations, including the Fort Worth Zoo and The University of Texas M.D. Anderson Cancer Center in Houston. In 2011, Northwood University selected her as a Distinguished Woman honoree and in 2009 she received the Association of Fundraising Professional Award for Tarrant County.
Media Contact
Matt Flores
Assistant Vice President, University Communications
940-898-3456
mattflores@twu.edu
Page last updated 10:30 AM, March 4, 2022