July 2022
Sizzling Summer
Dear Friends:
Much like the record temperatures we have experienced this summer, things are heating up at Texas Woman's.
We added key leadership over the spring and summer, which will infuse new energy into the academic enterprise, strengthen our community and help spark a trailblazing future. These leaders include Interim Provost Finley Graves, Vice President for Marketing & Communication Kristina Kaskel-Ruiz, Associate Vice President for Enrollment Management Javier Flores and Interim College of Nursing Dean Damon Cottrell.
We continue to expand academic programs that meet workforce demands, including our newest bachelor's degree in Multicultural Women's and Gender Studies. New student orientations are ongoing and we look forward to opening more doors of opportunity, welcoming our new and returning pioneers this August.
---
Dance PhD program celebrates 65th year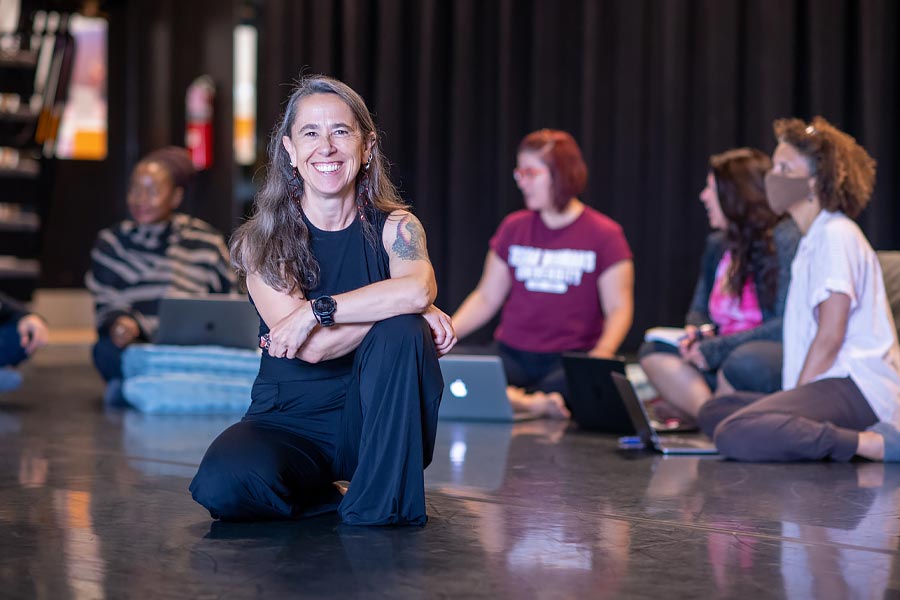 Rosemary Candelario, PhD, and TWU dance PhD candidates.
Texas Woman's has one of only five dance PhD programs in the country and it is celebrating its 65th year as the nation's longest running. But more impressive than the PhD program's longevity is its reputation within the field. The program has produced college deans, outstanding faculty, directors of dance companies and performers, some of whom have danced in the most prestigious international venues. According to associate professor of dance Rosemary Candelario, PhD, our graduates continue to impact the world stage by sharing what they learn with future generations of dance performers as well as elevating the performing arts communities in which they live and work.
---
Nursing faculty member named AANP fellow
Faculty are at the core of our success. I am pleased to report that one of our talented, Dallas nursing faculty members, Cheryl Thaxton, DNP, was named a Fellow of the American Association of Nurse Practitioners during that organization's annual conference in Orlando last month. This designation recognizes practitioners for their outstanding contributions to the nursing practitioner field through education, policy, clinical practice or research. It places Thaxton, who is the DNP program director, in elite company. The organization currently has a little more than 900 fellows from across the country, and Thaxton was among 40 fellows recognized this year. She joins several other Texas Woman's faculty members and administrators who have been designated as fellows, among them Donna Scott Tilley, Sandra Cesario, Wyona Freysteinson, Judith McFarlane and Rosalie Mainous.
---
TESSTalk to feature Soulgood chef
Some of our graduates make their mark on the world in truly impactful ways. And sometimes those graduates come back to share what they learned with the Texas Woman's University community. Cynthia Nevels will be doing just that on Aug. 3 as the university's next TESSTalk speaker. Nevels, owner and head chef of Soulgood, opened her vegan café on the Denton campus in 2021. The 1996 Texas Woman's graduate began experimenting with cooking as her only sense of agency when her late son was first diagnosed with cystic fibrosis. Many of those recipes she developed then have become the award-winning dishes she serves at SoulGood now. The virtual speaking engagement is free and open to the public, but you must register by Aug. 2.
---
Volleyball receives academic award for 15th time
Texas Woman's volleyball team has made academic success a hallmark of the program. Last month, the U.S. Marine Corps in conjunction with the American Volleyball Coaches Association recognized the program with the Team Academic Award. It marked the 15th consecutive year the team received this recognition. The award celebrates high school and collegiate volleyball programs that maintain a yearlong grade point average of 3.3 or higher. The Texas Woman's team finished the 2021-22 academic year with a team-average 3.74 GPA.
---
Lastly, I am sharing an image from an economic development investor reception in which I spoke on a panel about how education institutions are partnering with industries to meet the demands of an evolving workforce. It illustrates how education leaders in North Texas are committed to the community.
Thanks for your interest in Texas Woman's. As always, email me with your comments or questions. I am delighted that you have spent a few minutes with me today.
Warm Regards,
Follow Carine M. Feyten, Ph.D.
---
Texas Woman's is the nation's largest university primarily for women.
‌
Page last updated 2:56 PM, February 27, 2023