BS in Food and Nutrition in Business and Industry
Work in the business side of the food manufacturing, product development, distribution or service management industries with a BS from Texas Woman's.
Program features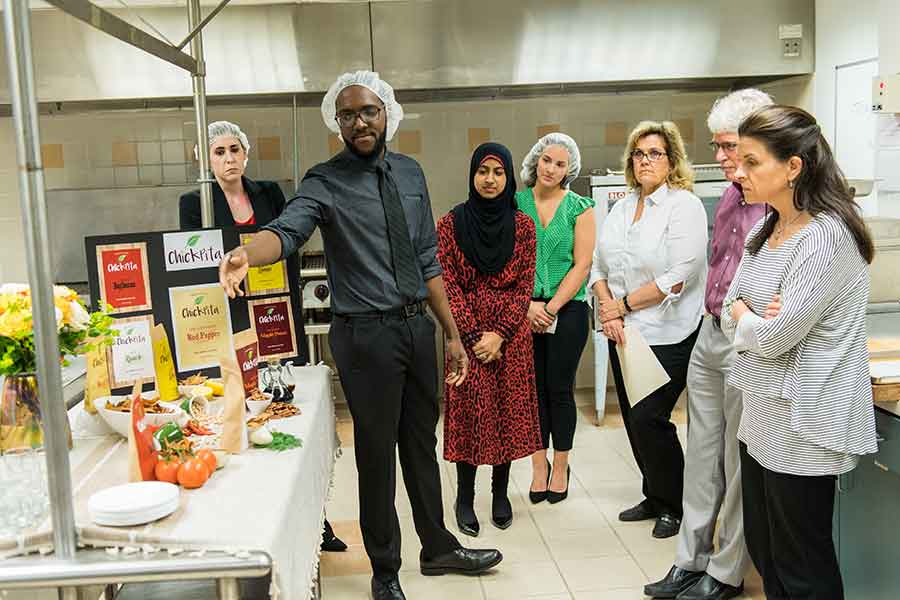 Degree completion in little as four years, or 120 credit hours*

High quality, affordable education and career preparation

Highlights experiential learning with internship opportunities and on-site

visits to local food service operations

Small classes with

accessible, knowledgeable and supportive faculty, including flavor scientists and an emulsion chemist
Scholarship recipients receive in-state tuition
Classes take place on TWU's Denton campus with some online course options
*Individual requirements may vary.

Why Food and Nutrition in Business and Industry at TWU?
Expert faculty with contacts to local industry leaders
Many of TWU's nutrition and food sciences faculty worked in the industry prior to teaching and invite professional contact to visit the classroom, allowing you to establish a network and better learn the industry.
Expert faculty include:
Professor James Adams: Adams worked as a Tyson executive with more than 40 years in the field and brings real-world experiences into the classroom
Bruce Perkin: Perkin is an independent consultant in the food industry, with activities around the world providing pragmatic advice to the food industry with over 4 decades of experience
Research opportunities
At TWU, you have the opportunity to participate in research with faculty in any of the on-campus laboratories. Research possibilities include:
Examining the effect of berries on bone health and prevention of osteoporosis
Evaluating the impact of various protein sources on exercise recovery
Diabetes control
Influence on parameters involved in the regulation of ovulation
The effect of dietary fats on neurological behavior and neuroinflammation
Community nutrition options include the development of community education programs and evaluation and design or outreach opportunities.
Established partnerships for internship and job opportunities
Texas Woman's has established relationships with several North Texas-based food companies to bring you connections to internships and job opportunities after graduation. Corporations include:
PepsiCo

Yum Brands

Pizza Hut

Valdez Spice

Ben E. Keith

Tyson Foods
TWU believes in opening doors for its students
The Career Connections Center on each campus provides advising services and tailored career planning for our students and alumni, from career advising and networking to negotiating a salary after graduation. The Career Center has also implemented Handshake, a unique resume reviewing and job opening database that works to fast-track your job search.
For our budding entrepreneurs, TWU's Center for Women Entrepreneurs is the state's only university center dedicated to women's entrepreneurship and business ownership. The Center provides tools for you to succeed including access to training/coaching, funding, mentoring and networking opportunities.
Career opportunities
Find opportunities in both the commercial and non-commercial food service sector, such as:
Nutrition analysis and labeling
Food product development
Food industry management, marketing and sales
Quality control and assurance
Food safety
The Bureau of Labor Statistics lists a median annual income of $56,590 per year for food service managers and $73,450 per year for food scientists and technologists.
You also have the option of continuing your education and boosting your future earning potential with a TWU graduate degree in nutrition, exercise and sports nutrition or food science and flavor chemistry.
Program requirements
As a full-time student, you can complete the 120-123 required semester credit hours in just four years with:
42 hours of Texas core curriculum, which can be transferred from

previous programs or community colleges

39 hours required for the major

42 hours of other required courses and electives, including a minor requirement

Suggested minors include

management, marketing, business administration, human resources, psychology or chemistry
A full list of courses and requirements are available in the course catalog.
Admission requirements
Undergraduate Admission
When you apply to TWU, we will evaluate your academic achievement and preparation, as well as your standardized test scores. Admission to TWU is valid for four terms, unless you have attended another higher education institution.
Check out the links below for specific admissions information:
Questions about the admissions process? Contact the Office of Admissions Processing.
Office of Admissions
Texas Woman's University
P.O. Box 425649
Denton, TX 76204-5649
oap@twu.edu
940-898-3076 or 1-866-809-6130 ext. 3076
For more information
advisingnfs@twu.edu
940-898-2636
Page last updated 9:55 AM, April 20, 2023