BAS in Culinary Science and Food Service Management
Combine the art and science of food with a culinary science degree and Culinology® certification program at TWU.
Program features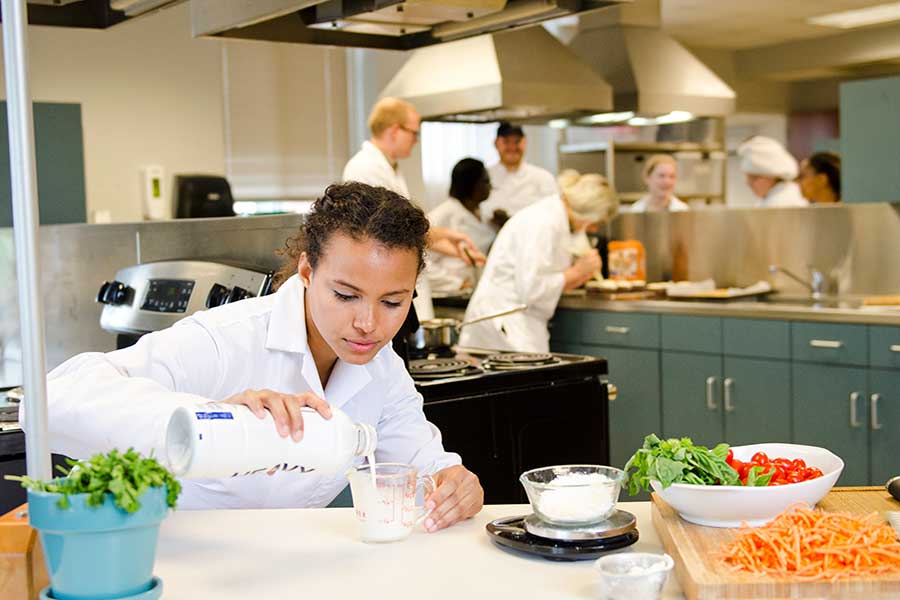 Combines with your

associate of applied sciences in culinary arts for degree completion in little as two years, or 120 credit hours*

High quality, affordable education and career preparation

Apply

your culinary knowledge to nutrition, food science and research methods

Personalize your degree program with upper-level course electives that target your desired certification as either a research chef or culinary scientist

Created

in collaboration with community colleges and culinary schools to fulfill the growing demand for research chefs and culinary scientists

Small classes with

accessible, knowledgeable and supportive faculty, including flavor scientists and an emulsion chemist
Scholarship recipients receive in-state tuition
Classes take place on TWU's Denton campus
*Individual requirements may vary.

Why Culinary Science and Food Service Management at TWU?
TWU is home to the only Culinology program in Texas
TWU offers the only Culinology program in Texas approved by the Research Chefs Association (RCA). Our Culinary Science and Food Service Management degree combines culinary arts with food science training.
Upon completion of this program and after passing the exam, you will have associate's and bachelor's degrees and RCA's Culinology certification.
Partnerships with community colleges across the state
Texas Woman's partners with several community colleges with culinary programs and culinary arts schools across the state, including:
Austin Community College

Collin County Community College District
Culinary Institute LeNôtre
Dallas County Community College District/El Centro College
Le Cordon Bleu College of Culinary Arts, Dallas
Tarrant County College
Holding a degree from one of these schools grants you automatic admission into the BAS in Culinary Science and Food Service Management and Culinology® certification program at TWU.
Established partnerships for internship and job opportunities
Texas Woman's has established relationships with several North Texas-based food companies to bring you connections to internships and job opportunities after graduation. Corporations include:
PepsiCo

Yum Brands

Pizza Hut

Valdez Spice

Ben E. Keith

Tyson Foods
TWU believes in opening doors for its students
The Career Connections Center on each campus provides advising services and tailored career planning for our students and alumni, from career advising and networking to negotiating a salary after graduation. The Career Center has also implemented Handshake, a unique resume reviewing and job opening database that works to fast-track your job search.
For our budding entrepreneurs, TWU's Center for Women Entrepreneurs is the state's only university center dedicated to women's entrepreneurship and business ownership. The Center provides tools for you to succeed including access to training/coaching, funding, mentoring and networking opportunities.
The only school that seemed to accommodate everything that I wanted to do was TWU. By graduation, I was already working at the job I wanted to be at… a position I had always dreamed of.
Culinary science careers
Earning your Culinary Science and Food Service Management degree and Culinology® certification at TWU allows you to enter the ever-changing food product development and manufacturing industries at a level above your peers. Culinary science careers include:
Executive chef, research chef or chef scientist
Food service administrator in hospitals or schools
Business owner/entrepreneur
Salaries in these professions vary widely. According to the Bureau of Labor Statistics, the median income for food scientists is $73,450.
You also have the option of continuing your education and boosting your future earning potential with a TWU graduate degree in nutrition, exercise and sports nutrition or food science and flavor chemistry.
Culinary Science degree requirements
As a full-time student, you can complete the 120 required semester credit hours in just two years with:
42 hours of Texas core curriculum, which can be transferred from

previous programs or community colleges

29 hours required for the culinary science and food service management major

26 hours of other required courses and electives
A full list of courses and requirements are available in the course catalog.
Admission requirements
Undergraduate Admission
When you apply to TWU, we will evaluate your academic achievement and preparation, as well as your standardized test scores. Admission to TWU is valid for four terms, unless you have attended another higher education institution.
Check out the links below for specific admissions information:
Questions about the admissions process? Contact the Office of Admissions Processing.
Office of Admissions
Texas Woman's University
P.O. Box 425649
Denton, TX 76204-5649
oap@twu.edu
940-898-3076 or 1-866-809-6130 ext. 3076
For more information
advisingnfs@twu.edu
940-898-2636
Page last updated 9:55 AM, September 19, 2023