COVID-19 Collection
Voices of the Coronavirus Pandemic: The Chancellor Carine M. Feyten Collection
Help us tell the story of our community during the COVID-19 pandemic. We are experiencing history in the making and living in a time that will one day be written about in the next generation's history books. Your story is our history.
We invite you to document and share your COVID-19 story in either digital or physical format. Submissions will be archived and preserved as a personal and historical account of the COVID-19 pandemic worldwide.
What to Submit
This project seeks to capture the experiences of the TWU community and people around the world during the COVID-19 pandemic. Participants may submit in either physical or digital formats:
Diaries, journals, reflections, poems, or other writings

Artwork and drawings

Audio files

Photos

Videos

Social media posts
Clothing/Textile (ex: face mask)
Artifact (ex: face shield, PPE, hand sanitizer, gloves)
The collection is supported by the TWU Libraries and the Jane Nelson Institute for Women's Leadership. The collection is managed by TWU Special Collections and the University Archives.
Who Should Donate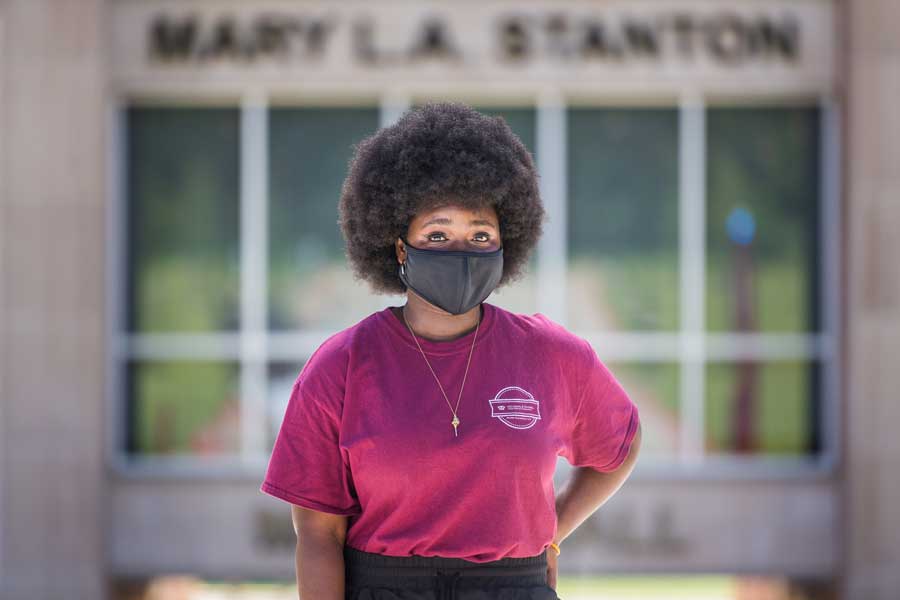 We are seeking donations from individuals around the world including our own TWU community. It is important that this collection reflect the global diversity of our communities and include voices from all perspectives.

As one of the largest collections on the history of American women, we are especially interested in collecting women's experiences.
Digital Submissions
Fill out our submission form

Attach files to form
Each additional submission will require a new submission form.
For problems or questions contact Corynthia Dorgan, Special Collections Processing Librarian at cdorgan2@twu.edu or via phone at 940-898-3778
Physical Submissions
Fill out our submission form
Mail submissions to:


Texas Woman's University

Attn: Woman's Collection/Library

PO Box 425528

Denton, TX 76204
If you would like to drop off your materials in person please call 940-898-3751 to schedule an appointment.
For questions, contact us at womenshistory@twu.edu
Donation Guidelines
Physical or digital formats accepted.

Donations must be original; plagiarized works will not be accepted.

Special Collections staff may not include all submissions in this collection (for example, a blurry photograph).

All accepted material will be cataloged following review and processing.

All donated materials will become the property of the TWU Special Collections and made publicly available to researchers in a time designated by the donor- immediately, 1 year, or 5 years.

Digital file formats
scroll to see the full table⇨
Digital files will only be accepted in the following formats to ensure preservation.
| Type | Preferred Format | Acceptable Format |
| --- | --- | --- |
| Text/word processing applications | PDF, PDF/A | RTF (text), TXT |
| Images/graphics | TIFF (uncompressed) | JPG, DNG, PNG, JP2 |
| Video | Motion JPEG 2000, MOV, AVI | MPEG-4 |
| Audio | BWF-Broadcast WAV (.wav is the extension) | WAV, AIFF, FLAC |
| Websites and social media records | WARC | ARC |
Acknowledgements
Special thanks to the Jane Nelson Institute for Women's Leadership