Texas Women's Hall of Fame
About the Texas Women's Hall of Fame
Created in 1984 by the Texas Governor's Commission for Women, the Texas Women's Hall of Fame recognizes women who have attained significant achievements in areas such as the arts, community service, education, leadership, health, science and business. Inductees include former First Ladies, astronauts, entrepreneurs and olympic athletes. The Texas Women's Hall of Fame ensures the achievements and contributions of women from across Texas are written into the state's legacy.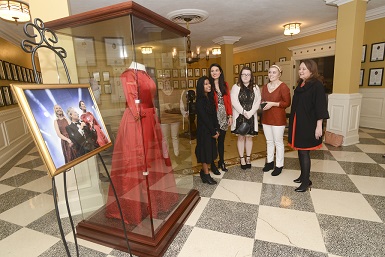 Texas Woman's University was selected to house the permanent exhibit saluting these women. Since its founding more than a century ago, Texas Woman's has become known for its contributions and leadership in the fields of education, nutrition, the arts, sciences, and especially in the nursing and health care professions. TWU holds a unique position in the Lone Star State and the nation today as America's largest public university primarily for women.
2020-2021 Honorees
Every other year, the Texas Women's Hall of Fame awards ceremony recognizes the achievements of women selected for induction. Texas residents submit nominations, and a bipartisan, independent panel of judges chooses who will be inducted from these candidates.
The 2020-2021 honorees are:
The Texas Women's Hall of Fame Induction Ceremony was held Nov. 4, 2021, at Texas Woman's University in Denton, TX.
In the News
The Texas Women's Hall of Fame and Texas Woman's University Distinguished Alumna Maj. Gen. Mary Saunders, retired, were featured on the Dallas/Fort Worth TV station CBS 11 News "The Ones to Know." A member of the Texas Women's Hall of Fame, Saunders currently serves as the executive director of the TWU Institute for Women's Leadership.
Page last updated 3:32 PM, February 27, 2023