About the Jamisons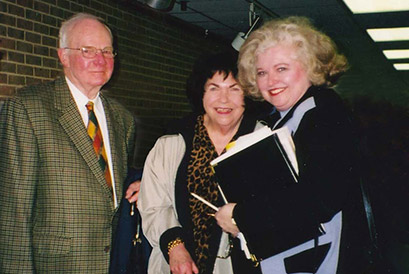 A lifelong resident of Denton, Alonzo Jamison served seven consecutive terms in the Texas Legislature starting in 1954. He left the Legislature in 1968 to join the faculty of TWU. He became chair of the TWU Department of History and Government in 1981 and retired from the university in 1984.
He received a Bronze Star for his World War II service as an Army antiaircraft artillery officer in North Africa, Sicily, Italy and Germany. He passed away in 2011.
In 1947 he married Elisabeth McCullar of Denton. Elisabeth Jamison received her bachelor's degree in music from the Texas State College for Women, now TWU, in 1943. She died in 2009.
The Jamisons were longtime supporters of the university and members of TWU's Old Main Society.
TWU Foundation receives $1.7 million estate gift

7/2/14
The Texas Woman's University Foundation has received a $1.7 million gift from the estate of former State Rep. Alonzo W. Jamison, a longtime TWU faculty member, and his wife Elisabeth, an alumna of the university. Full Story>>