TWU students explore leadership, learn about themselves during retreat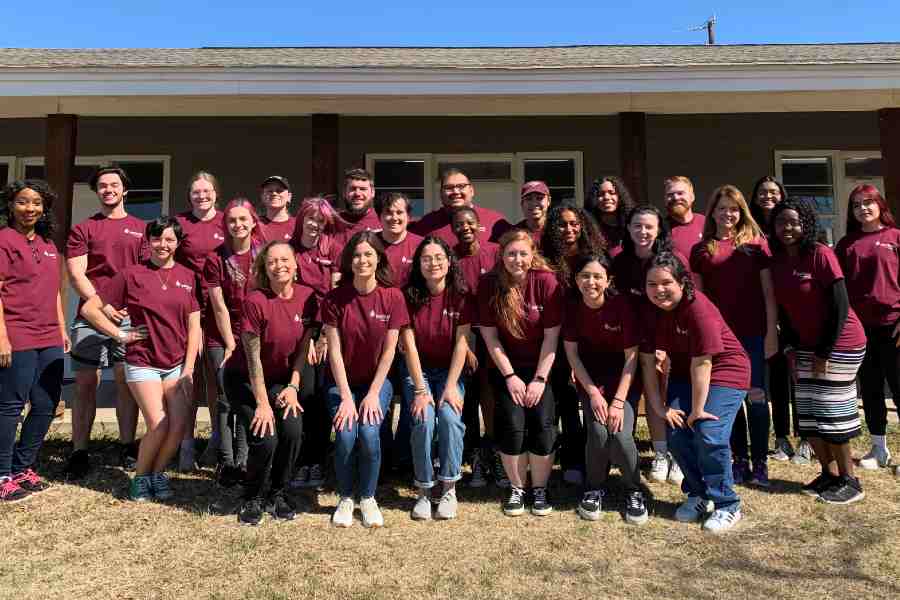 April 12, 2022 – DENTON – Texas Woman's students learned about visioning, relationship building and the importance of leading with integrity, as well as discovered new sides to themselves, during the inaugural LeaderShape Institute, sponsored by the Center for Student Leadership and held March 15-18 at Bridgeport Camp and Conference Center.
The LeaderShape Institute provided 19 students with a four-day, three-night intensive leadership training retreat to help them explore what they want to do and who they want to be. Students were formed into family clusters that served as formal support groups during the week, and cluster facilitators, comprised of five TWU staff members, served as a resource, catalyst and coach. Two TWU students also served as onsite coordinators.
The students took part in a variety of activities to build their leadership skills, including: developing a set of community values; participating in a Team Challenge Course; completing a behavior-style inventory; setting several personal goals; developing a vision and creating an action plan to achieve it; and participating in group discussions.
The students ended the institute with a commencement ceremony, allowing them to reflect on everything they learned and celebrate the new bonds they formed with their fellow participants. Not only did they learn lessons about leadership, but they also learned more about themselves.
"During the Institute, we were able to see a transformation of students in various ways," said Chris Scanlan, associate director for the Center for Student Leadership. "They came in either unsure of their vision and abilities or aware of them in a limited capacity. Throughout the week, these students were able to connect with each other and transform themselves into agents of change while also developing their own vision of the world. Programs like this are important because it gives students the power to make that difference and create connections within themselves and others on how to impact the world."
The Center for Student Leadership has sponsored students to attend national LeaderShape Institutes in the past, but this was its first time hosting one. Due to this year's success, it is already planning another one for next year.
The Center for Student Leadership is a program of the Jane Nelson Institute for Women's Leadership at Texas Woman's University. The institute is dedicated to preparing more women to take on successful roles in business and public service. Its three specialized centers ensure women have the education to establish careers as successful C-suite executives, the skills for building entrepreneurial businesses and the framework needed to run for public office.
From the Participants
"I learned how to be true to myself and grow as a leader while working as a team and listening to others." – Andres Andrade, Dance Major
"It can be hard for me to make connections and be vulnerable, but I received so much support and encouragement from everyone through this experience. I learned to open up and understand the strengths I have." – Bethany Martinez, Psychology Major
"For me, being a leader always meant taking control of the situation, but I learned that a leader doesn't always need to be in charge and should help guide others to achieve their goals." – Cheyenne Sullivan, Psychology Major
"I learned the values and beliefs you hold in life drive your vision of leadership. Also, don't let the things that make you uncomfortable hold you back." – Emily Harris, MEd, Cluster Facilitator, TWU Career Connections
Media Contact
Ray Willhoft
Director of Communications, Jane Nelson Institute for Women's Leadership
940-898-4584
rwillhoft@twu.edu
Page last updated 1:58 PM, April 20, 2022