News
TWU Informatics at the DFW HIMSS CIO Roundtable
TWU informatics students attending the annual Dallas-Fort Worth Health Information Management Systems Society Chief Information Officer Roundtable Jan. 26, 2020.
Congratulations to the winners of this year's DFW HIMSS scholarships
Each year the Dallas-Fort Worth Health Information Management Systems Society (DFW HIMSS) offers $1,000 scholarships to students in health informatics programs. Candidates are assessed for their current academic standing and a 500-word essay. Congratulations to this year's scholarship winners, Parker Garcia (BS in Health Studies with Data Science Minor), and Shaquitha Maruni (MS in Informatics).
Parker and Shaquitha attended DFW's annual Chief Information Officer Roundtable event luncheon where they were acknowledged. Seven other TWU informatics students also attended.
Pictured right, left to right: Parker Garcia, Mari Tietze and Shaquitha Maruni. Photo courtesy of Mari Tietze.
7/9/19
The National Science Foundation has awarded Texas Woman's University a five-year, $999,794 grant to support scholarships and projects aimed at increasing the number of students and graduates in the science, technology, engineering and mathematics fields.
Congratulations to the graduating informatics class of 2019!
Congratulations to our recent informatics graduates! During May and August ceremonies, eight students will receive their M.S. in Informatics degrees, five will receive their B.S. in Informatics degrees, and 13 will receive their B.S. in Health Informatics degrees.
Pictured on the right: IT Project Analyst Quenna Ngo (center, M.S. Informatics '19) with Texas Woman's University Informatics Program faculty.
Pictured below, top: Five May 2019 and one December 2018 M.S. in Informatics graduates.
Pictured below, bottom: May 2019 M.S. in Informatics graduate with a program faculty member.
3/27/19
Health professionals are invited to the free 2019 Doswell Informatics Conference to be held April 5 at the TWU T. Boone Pickens Institute of Health Sciences - Dallas Center. "We want this conference to be a catalyst for more community collective initiatives that include health informatics for data use, technology-supported community connections, and optimized provider experiences using technology," said event organizer and TWU nursing professor Mari Tietze, Ph.D.
9/26/18
What if we were able to pinpoint the contributing factors of Parkinson's disease and find ways to counteract its progression? Or identify better treatment options for autism or perhaps prevent its symptoms altogether? TWU informatics students have joined a groundbreaking nationwide project that hopes to answer those questions and more.
8/20/18
Don Edwards, Ph.D., (mathematics and computer science, informatics) and Mari Tietze, Ph.D., RN-BC, (nursing, informatics) were quoted in an NTX Magazine story about health care education. The story starts in Volume 9, page 40.
Women in Data Science at TWU
Monday, March 05, 2018
10 a.m. to 4 p.m.
TWU Informatics and TWU Libraries are co-sponsoring Women in Data Science (WiDS) - Dallas at Texas Woman's University (in partnership with Stanford University's Global WiDS Conference). This is a great opportunity for students, potential students, and researchers interested in data science and informatics to connect, discuss, and share ideas. Interspersed with speakers livestreamed from Stanford, we will also feature presentations from women in data science at TWU. This is a FREE come-and-go all-day event, although an RSVP is requested to help us plan snacks and seating.
We invite you to attend this event and encourage you to share this announcement with others who are interested in data science and informatics. The Global Women in Data Science (WiDS) Conference is a one-day technical event that aims to inspire and educate data scientists, regardless of gender, and support women in the field. While all conference presenters are women, all genders may attend the conference.
Come join us to hear about the latest data science-related research in multiple domains, learn how leading-edge companies are using data science for success, and connect with potential mentors, collaborators, and others in the field.
If you have any questions, please feel free to email the ambassadors of this event:
Dr. Sita Peri at speriathiruvadi@twu.edu or Dr. Kathryn Masten at kmasten@twu.edu
Note: This is a come-and-go event. No cost to attend. You can attend some or all sessions. We will provide bottled water and snacks.
First informatics program graduates join Texas Woman's Class of 2017
Recent graduates Andrea Mapua, B.S. in health informatics with a clinical applications minor, and Kimberly Sehannie, B.S. in health informatics with a health studies minor, hold the first diplomas to be awarded for informatics at TWU.
In a historic moment for TWU, the first two graduates of the university's new informatics program crossed the stage during May's commencement ceremony to accept their diplomas. Both Andrea Mapua, recipient of a bachelor of science degree in health informatics with a clinical applications minor, and Kimberly Sehannie, recipient of a bachelor of science degree in health informatics with a health studies minor, have received multiple job offers and accepted positions within their field.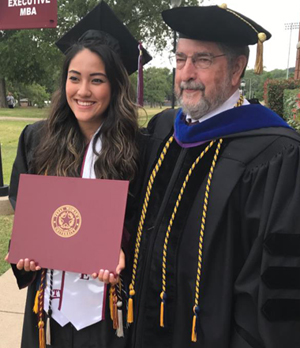 "Now that I am officially a graduate and an alumnus of TWU, I plan to utilize my knowledge and experiences as an Analytics Consultant at Blue Cross Blue Shield," said Mapua. "In this position, I will have the opportunity to use my analytical skills and healthcare knowledge to construct forecasts, recommendations and strategic plans through the analysis and production of datasets and reports. As a wise man once told me, 'as health informaticists, we get to help people who help people.' I look forward to doing just that, by playing my role in the healthcare field and giving back to the community."
Sehannie received many opportunities to interview with several well-known technology organizations. "After considering my options, I have accepted a position as an Organizational Analytics Manager with one of the top global technology companies and will be utilizing data analytics to improve business strategy, process and performance."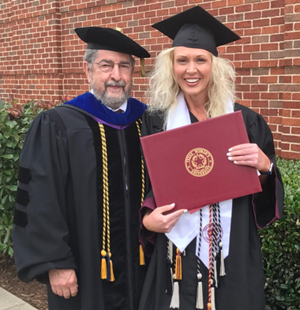 Mari Tietze, PhD, professor and Doswell Endowed Chair of Nursing Informatics in the TWU College of Nursing, points to a recent health informatics industry report on workforce needs. Studies indicate a large workforce gap in the field of health informatics, particularly at the bachelor's degree level. The implementation of TWU's informatics program involved three years of planning, all three campuses and over 25 faculty. A core team of faculty continue to meet in order to keep their programs current and competitive in an ever-changing technology job market.
For more information about informatics programs and careers, please contact Don Edwards, PhD, professor and chair of the TWU Department of Mathematics and Computer Science, at dedwards@twu.edu.
Page last updated 4:05 PM, August 26, 2020