Undergraduate Programs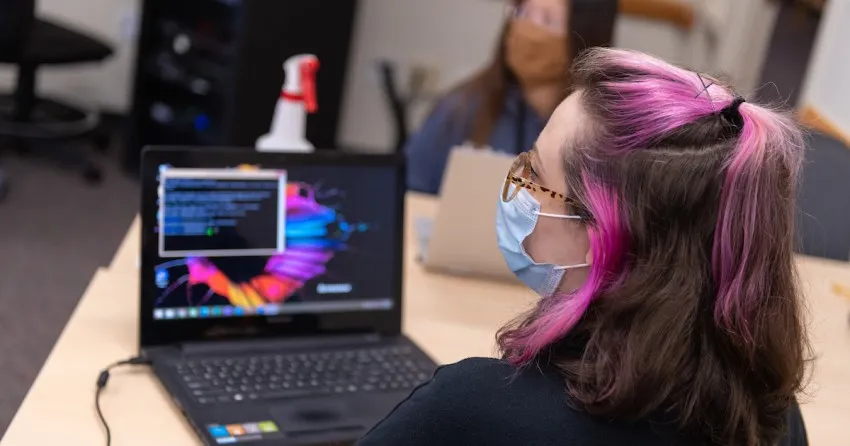 Informatics Bachelor of Science Degrees
Complete Coursework: 4 years* | Credit Hours: 120** | Format: Online, Hybrid
Turn big data into big ideas with our bachelor's degrees in informatics and health informatics. Four different tracks of study are available, allowing you to select from a variety of degree plans customized to suit your needs.
Earn your bachelor's degree in:
Health Informatics with a Clinical Applications Minor;

Health Informatics with a Health Studies Minor;

Informatics with a Community Informatics Minor; or

Informatics with a Data Science Minor.
* Individual requirements may vary.
**42 core, 42 major, 18 minor, 18 elective.
Why informatics at TWU?
Gain skills for success in a data-based marketplace
By starting with a comprehensive computer science core and combining academic components from nursing, health studies, and library and information studies, our interdisciplinary programs will thoroughly prepare you for an in-demand career in technology, healthcare, science, marketing and more.
Earn your degree on your own schedule
Complete your degree through a combination of online and face-to-face courses—part-time or full-time—while still getting the comprehensive education and real-world experience you need.
Work at the intersection of technology and society
By earning a degree in informatics, you will acquire the skills needed to gain the advantage in a competitive job market. Our prime location in the Dallas-Fort Worth metroplex will give you direct access to one of the fastest growing technology and healthcare sectors in the nation, along with a broad network of TWU alumni connections.
Degree plans
Programs of study for our bachelor of science degrees in informatics and health informatics
B.S. in Health Informatics with Clinical Applications Minor
B.S. in Health Informatics with Health Studies Minor
B.S. in Informatics with Community Informatics Minor
B.S. in Informatics with Data Science Minor
Admission requirements
Undergraduate Admission
When you apply to TWU, we will evaluate your academic achievement and preparation, as well as your standardized test scores. Admission to TWU is valid for four terms, unless you have attended another higher education institution.
Check out the links below for specific admissions information:
Questions about the admissions process? Contact the Office of Admissions Processing.
Office of Admissions
Texas Woman's University
P.O. Box 425649
Denton, TX 76204-5649
oap@twu.edu
940-898-3076 or 1-866-809-6130 ext. 3076
Admission to the Accelerated B.S. in Informatics (Data Science Minor) / M.S. in Informatics (Data Science)
All applicants must meet the general undergraduate admission requirements.
Application Deadlines
Fall - June 1st
No Spring admissions
No summer admissions
Admission Requirements
To apply to the Accelerated B.S. in Informatics with Data Science minor / M.S. in Informatics with Application Area: Data Science program, students must:
Be currently enrolled in the B.S. in informatics with Data Science minor program at TWU.
Have a minimum grade point average of 3.5 in all upper-division coursework.
Have successfully completed a minimum of 72 but no more than 90 semester credit hours of coursework toward the B.S.
How to Apply to the Accelerated Program
Students interested in applying to this accelerated program are encouraged to contact your advisor prior to applying preferably in the Spring semester of your sophomore year to ensure that you are advised to correct plan of study in preparation for the accelerated program.
Be currently enrolled in the B.S. in informatics with Data Science Minor program at TWU.
Notify the TWU Division of Computer Science Undergraduate Advisor of your interest in the accelerated program. The email must contain your last Name and TWU ID and Accelerated Program in the subject line.
Notification of interest in the BS/MS in Informatics should be done after a successful completion of 72 SCH and prior to 90 SCH in the program.
Students accepted to the accelerated BS/MS in Informatics program should apply to Master's in Informatics with Application Area: Data Science during their final undergraduate semester. Students must apply for graduate admission by March 1 if graduating in May or August, or October 1 if graduating in December.
Accelerated Graduate Program Policy Guidelines
Students may apply to the accelerated graduate degree program once they have attained advanced junior standing with at least 72 undergraduate semester credit hours (SCH). Upon admission to an accelerated program, students with senior standing (90 earned SCH) may enroll in graduate courses for credit. Approved courses will apply to both an undergraduate and a graduate degree.
Conditions
Undergraduate students may enroll in no more than 6 SCH of graduate

coursework in each semester or term.

Minimal criteria for admission will include a cumulative undergraduate

GPA of at least 3.0. The program may set higher

GPA requirements as outlined on their TWU graduate program website at the time of graduate application.

Once admitted to an accelerated program, students must maintain a

3.0

GPA throughout

the remainder of their baccalaureate degree, or

their admission to the accelerated graduate program may be revoked.

Academic components may set additional requirements for their

programs.
Graduate Application Process
All students must meet the University requirements as outlined in the Admission to the TWU Graduate School section of the catalog.
This academic program may have additional graduate admission criteria that must also be completed as outlined on the graduate program's website.
Page last updated 10:06 AM, November 29, 2023