Location and Facilities
Old Main Building on TWU's Denton campus.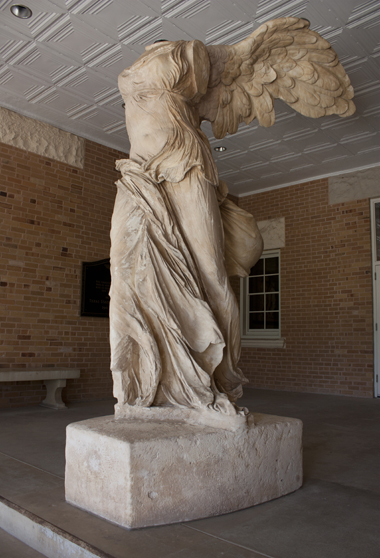 Location
All Fashion Design & Merchandising programs are located in the historic Old Main Building (OMB) on TWU's Denton campus. Our office is located in OMB 415 and classrooms can be found on the first, second and fourth floors of OMB. Denton is approximately 40 miles north of the extensive Dallas fashion market. This ideal location allows for easy access to sought-after internship opportunities and professional mentorships.
Directions and Parking
View our 3D campus map, which includes a tab for finding directions to the OMB from any location.
Facilities
Our design laboratories are specially designed to simulate professional industry production facilities, enhancing the study of mass production methods common in the industry.
A brand-new basic sewing lab features home and industry sewing machines as well as sergers, irons, dress forms and cutting tables.
Our advanced design lab includes a wide variety of industrial sewing machines and equipment, irons, cutting tables, patterning tables, dress forms, racking systems and assorted supplies.
The fashion sketching lab offers sketching tables, light tables and a conference table.
The new dedicated fashion computer lab is a specialized classroom designed just for Fashion and Textiles that contains multiple student computer stations, an instructor's station, large-bed and laser printers, a scanner, a Lectra industrial digitizer and plotter, and an embroidery machine. Lectra and Adobe software packages are included in all lab computers.
Other featured spaces include traditional classrooms, a textile classroom and lab, display cases and windows for merchandising activities, a photography space, and student project workrooms featuring equipment for creating professional visual presentation materials.
Page last updated 8:15 PM, September 7, 2021