Fashion Design Camps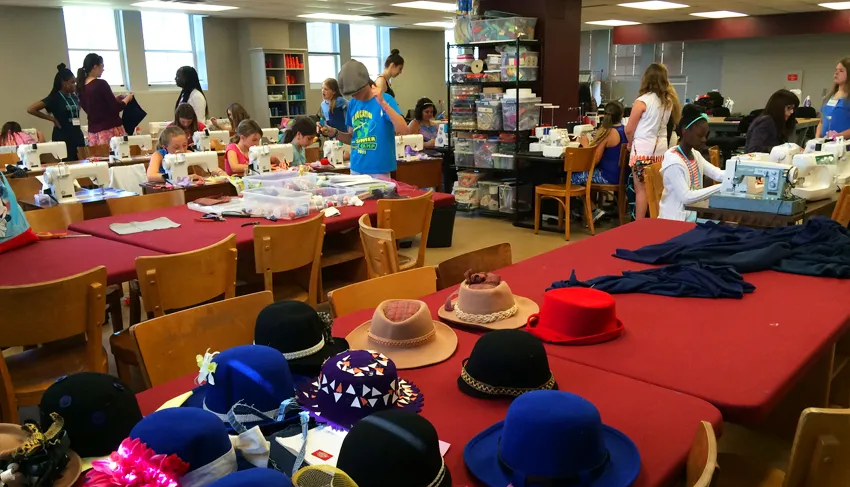 Summer 2023
It is never too early to develop a passion for fashion!
Held in North Texas on the beautiful TWU Denton campus, TWU Fashion Design Camps are like none other in the U.S. The five-day camps focus on campers learning sewing and apparel construction skills with additional projects in fashion sketching, trend board development, design concepts, textiles, color theory, and fashion show production. Campers will be engaged throughout the day with a 15-minute break scheduled for each morning and afternoon along with a scheduled 60-minute lunch break. Instruction throughout the camps will be provided by TWU Fashion program faculty and local fashion industry professionals with undergraduate fashion students assisting the instructors and campers throughout each day. TWU Fashion Design Camp is a perfect fit for your preteen or teen fashion enthusiast, girl or boy!
Camp dates
Our camps are established for different age groups due to differences in interests, attention spans, abilities, and maturity. Please register your camper according to the age requirement of the camp.
At this time we are not considering registrations for campers younger than age nine. If you are unable to register for any of the camp sessions listed below because the camp is full or you have a conflict, email ft@twu.edu with a request for another camp session. The 2023 camp sessions are:
Junior Fashion Design Camp (ages 9-12 years)
Camp date: June 12-16, 2023
Registration deadline: June 4, 2023
Teen Fashion Design Camp (ages 13-18 years)
Camp date: June 19-23, 2023
Registration deadline: June 11, 2023
Junior Fashion Design Camp (Ages 9-12 years)
Camp date: July 17–21, 2023
Registration deadline: July 9, 2023
Teen Fashion Design Camp (Ages 13-18 yrs)
Camp date: July 24-28, 2023
Registration deadline: July 23, 2023
General information
Camp prices
The cost for registering for any of the day Fashion Design Camps is $590. This price includes:
lunches, snacks, and water
supplies for sewing, sketching, trend board production, and a textiles project
instruction from faculty and student assistants
a camp T-shirt
various university administrative expenses.
There is no scholarship or financial aid available.
Camp length
Each Fashion Design Camp will be five days in length, Monday through Friday. Each day, campers will need to arrive by 8:45 a.m. and will be picked up at 5 p.m. each afternoon except for Friday. On Friday, from 2-4 p.m., the campers and instructors will host a mini-fashion show and end-of-camp reception for parents, family, and friends to showcase and celebrate the fashion projects that campers have completed throughout the week.
Accommodations and meals
All Fashion Design Camp activities will take place on the TWU campus with most of the activities occurring on the 1st and 4th floors of the historic Old Main Building, the original building on the TWU campus, and the home of the Fashion program since the opening of the University in 1903.
Most days, students will have lunch in the TWU Dining Hall that offers a variety of foods through a rotating menu for breakfast, lunch, and dinner. On other days, campers will receive a box lunch from a local restaurant that will be served in a break room in Old Main Building.
In addition to lunch, campers will be offered a morning and an afternoon snack, and there will be bottles of water available for all throughout the day. Campers with dietary restrictions or special needs that cannot be accommodated by food from the Dining Hall are welcome to bring their lunch, drinks, and/or snacks each day.
Camp size and supervision
Each camp is limited to an enrollment of 20 campers due to the type of instruction in the camps and the physical size of the labs. All instructors and student assistants that interact directly with campers will have undergone a criminal background check and completed child protection training as required by the University, and campers will never be left alone with no supervision.
At all times, supervision and staffing ratios will meet or exceed University requirements and prevent unsupervised free time by campers.
Because of the tight spaces and full camp conditions, family and friends of campers will not be allowed to attend camp activities other than the end-of-the-camp fashion show.
Camper behavior and requirements
Campers will be allowed to bring electronic devices to camp but most of the time will not be able to use devices during camp sessions because devices may be lost or damaged, and the use of devices may be distracting to other campers. However, campers will be allowed to take photos at specific times during the day to share with their friends and family.
Campers may not wear perfumes, colognes, and/or any lotions or other products that contain scents. There are many people that are "scent adverse" and a small room filled with more than 20 people wearing perfume can become quite overwhelming for campers and instructors alike.
Because smoking and vaping is illegal for anyone under the age of 21, smoking and vaping is prohibited at all times for all campers. In addition, no smoking or vaping is allowed on the TWU campus by any person.
Finally, all campers must behave in an appropriate manner throughout the duration of the camp. Any camper that is a constant disruption to camp events, does not adhere to camp or University rules or is inappropriate in their actions with other campers will be asked to leave the camp, and parents will be required to pick up that camper immediately; no refund will be made for a dismissed camper.
Camp supplies
Campers will be required to bring a small number of personal supplies and items to camp consisting mainly of sewing notions and scissors as well as clothing and accessory items for the fashion show. After registration, campers will be sent a specific list of the supplies needed.
Camp safety and health
The safety and well-being of campers and staff are the University's highest priority.
During the two-week period prior to the beginning of camp, if the camper has tested positive for COVID-19 the camp director must be notified immediately at FT@twu.edu. In addition, when a camper arrives at camp the camper must have been:
asymptomatic of COVID-19 symptoms
not been in close contact with anyone diagnosed with COVID-19
and not living with anyone that has been diagnosed with COVID-19 in the past 14 days.
If any of these conditions are met, the camper should provide a negative COVID-19 test result that occurred no more than 72 hours prior to arriving at camp.
There will be no requirement for wearing face coverings or masks during Fashion Camps, but campers are welcome to do so. All Fashion Design Camp staffers will be fully vaccinated against COVID-19 and also may wear masks during camp sessions.
No minor on campus is allowed to medicate themselves during Fashion Camp. Parents of all campers under the age of 18 that require medication will have to work with the Camp Director for dispensing medication; parents of registered campers will receive relevant information.
Camp overnight lodging package
Lodging with University Housing is available to anyone attending a TWU Fashion Camp. Reservations for the Overnight Lodging Package are made online during registration. For all camps, the Overnight Lodging Package with double occupancy is $375. The Overnight Lodging Package with single occupancy is $400. At no time will female and male campers be required or allowed to stay in the same dorm room. The Overnight Lodging Package includes five nights of lodging (Sunday through Thursday) in Stark Hall on the TWU campus in addition to five dinners, five breakfasts, and activities. Each room includes two extra-long twin beds, desks, chairs, closets, dressers, and window blinds. Additionally, each room has a bathroom with a tub/shower, shower curtain, and toilet paper. Each camper will be responsible for bringing personal bed coverings and pillows. For overnight lodging, check-in will take place on Sunday afternoon before the first official day of camp and checkout will take place on Friday morning, the last day of camp.
At all times, students will be chaperoned by a camp staff member that will, at the end of the camp day, take campers to their dorm rooms and then to dinner and then back to their rooms or an on-campus activity. The chaperone will stay overnight in the same dorm as the students, and then will take the campers to breakfast and camp in the morning. Please note that any camper that is a constant disruption in the dorm or to other campers, does not adhere to camp or University rules or is inappropriate with other campers will be asked to leave the camp, and parents will be required to pick up that camper immediately; no refund will be made for a dismissed camper for any reason.
Camp refund and cancellation policies
Because of costs incurred, guaranteed contracts made in advance as well as a waitlist of those fashion enthusiasts wanting to join the camp, registrants who find it necessary to cancel registration fourteen (14) days prior to the camp start date or earlier for the DAY CAMP will receive a refund, less a $150 fee to cover the costs of food, supplies, and a T-shirt already purchased. Registrants who find it necessary to cancel registration fourteen (14) days prior to the camp start date or earlier for the OVERNIGHT LODGING PACKAGE will receive a refund, less a $50 fee to cover incidental costs. To receive a refund, you must submit a written notification 14 days prior to the camp start date to FT@twu.edu.
Within the 14-day period prior to the camp start date, a refund for the DAY CAMP, less a $250 fee, and the OVERNIGHT LODGING PACKAGE, less a $220 fee, would be issued ONLY if another camper, who is on a waitlist, registers for the opening. Once the Fashion Camp begins, no refunds will be issued for DAY CAMPS or OVERNIGHT LODGING, regardless of the reason for not attending.
All refunds will be issued to the debit or credit card used for the original registration no later than August 31, 2023. No cash or check refunds will be granted. The University reserves the right to cancel this event if sufficient enrollment is not met or if the University is required to cancel the camps for any reason. In that case, all registrants would receive a full refund, and Texas Woman's University's liability will be limited to the registration fee.
Register for Fashion Design Camp
Registration for Summer 2023 Fashion Design Camps and the Overnight Lodging Package is now open.
If you have any questions about registration at any time, please email FT@twu.edu or call 940-898-2674 for assistance. Payment can be made with a debit or credit card only — no cash or checks accepted. Also, there is no ability to pay through an installment plan or partially pay at different times. However, the day camp and the Overnight Package, if needed, can be purchased separately.
Please note that registering for the Overnight Lodging Package does not register the camper for a Fashion Design Camp. In addition, be certain that if you are registering for an Overnight Lodging Package, the registration is for the same dates as the Fashion Design Camp for which you previously registered. Any lodging package purchased without a respective Fashion Design Camp registration and purchase will be refunded immediately.
After you have registered and your payment has cleared, you will be sent a confirmation email. Around two weeks prior to the beginning of your selected camp, you will be sent an additional email with detailed information about directions to the campus, parking, pick-up and drop-off locations, supplies, and any other information needed.
Because all camp correspondence will be delivered via email, it is very important to provide a current and accurate email address on the registration form.
Day Camp Registration
Registration deadline for the June 12-16 Junior Camp is June 4.
Registration deadline for the July 17-21 Junior Camp is July 9.
Register for Junior Camps, Ages 9-12
Registration deadline for the June 19-23 Teen Camp is June 11 .
Registration deadline for the July 24-28 Teen Camp is July 23.
Register for Teen Camps, Ages 13–18
Overnight Lodging Package Registration
Reserve Overnight Lodging Packages
Page last updated 2:58 PM, May 22, 2023