Pioneer Service Scholars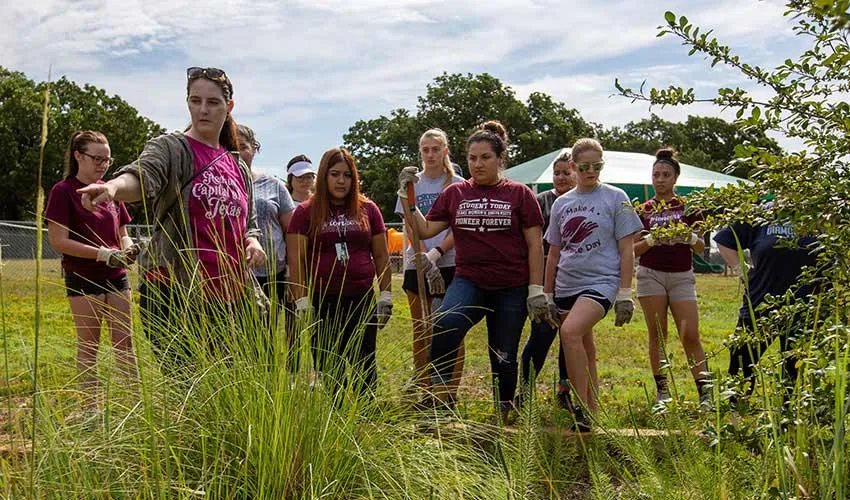 The Pioneer Service Scholars are students who have demonstrated their commitment to community service and to addressing social problems, but are sometimes unable to do unpaid community service work due to financial constraints. In addition, these are students who want to develop their community leadership skills while at Texas Woman's University. Funding provided by Jane Nelson Institute for Women's Leadership.
Approximately, fifty (50) Pioneer Service Scholars will be selected per year who will receive a stipend of $500 per fall/spring semester. Pioneer Service Scholars may also just be selected for a single semester. The semester stipend is credited at the end of the semester following the completion of program requirements for that term.
Join this illustrious group of service minded students today!
Fall 2023 Pioneer Service Scholar applications will be open from June 1 - August 20 on Pioneer Engage.
For any questions, contact Josh Walton.
Program Objectives
Engage in social and civic responsibility
Promote intellectual growth
Increase an appreciation of diversity
Encourage a collaborative skillset
Criteria
Eligibility is assessed each semester
Enrolled as an undergraduate student
Enrolled in a minimum of 12 hours to be eligible in the Fall & Spring semesters and 6 hours during the Summer semester
Be in good academic and disciplinary standing with the university
Have a minimum semester GPA of 2.25
Approval through Financial Aid. Pell Grant eligibility is preferred, but not required.
Students must be classified by the institution as a Texas resident and be a US Citizen or Lawful Permanent Resident
Student Investment
A minimum of 30 hours of service each semester
Students new to the program will attend a Volunteer Advising appointment
Attend a program Orientation at the beginning of the semester
Participate in monthly group reflections
Submit all service hours through Pioneer Engage
Complete pre-survey & post-survey assessments of the program
Page last updated 10:32 AM, June 6, 2023