About Dr. Woodcock
About Richard W. Woodcock, Ed.D.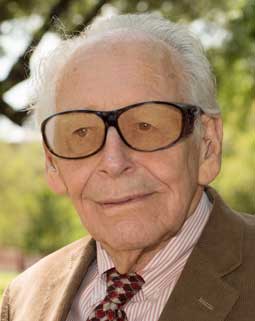 Dr. Richard W. Woodcock is considered the world's foremost educational test developer and is one of the most prolific and influential figures in the field of applied psychological assessment. His Woodcock-Johnson series of tests for cognition, achievement, and reading are widely used in the U.S. and internationally.
He is renowned for setting the standard for cognitive and achievement assessments worldwide as the author of such tests as the Woodcock–Johnson® III (WJ IIITM) Tests of Achievement, the WJ III Tests of Cognitive Abilities, the Batería III Woodcock–Muñoz®, the Dean–Woodcock™ Neuropsychological Battery, and the Woodcock–Muñoz Language Survey®—Revised.
Dr. Woodcock has an extensive background in education and psychology. He has held a variety of positions, including elementary school teacher, school psychologist and director of special education. He earned his doctorate from the University of Oregon with a dual major in statistics and psycho-education. He has published more than 135 professional books and articles.
Dr. Woodcock was an associate professor at the University of Northern Colorado and then research professor of special education at George Peabody College for Teachers (1963-68). Dr. Woodcock left Peabody College in 1968 to become editor and director of research for the American Guidance Service, Inc. (1968-72). He was the vice-chair of the Board of Governors for the National Forum Foundation for American Education (1971-73); and in 1972 he founded and became director of Measurement Learning Consultants, a private research and test development company. In 1974-75 he completed a postdoctoral fellowship in neuropsychology at Tufts University School of Medicine.
Dr. Woodcock has been a visiting scholar in special education and rehabilitation at the University of Arizona (1985-88) and in psychology at the University of Southern California (1988-92). He was research professor of psychology at the University of Virginia (1993-98). He then was a visiting professor of hearing and speech at the Vanderbilt University School of Medicine. Starting in fall 2015, he will serve as a research professor in the Texas Woman's University Department of Psychology and Philosophy.
Dr. Woodcock is a Fellow of the American Psychological Association and the American Academy of School Psychology and a Diplomate of the American Board of Professional Psychology. In 2013, the Texas Statewide Evaluation Project Conference honored Dr. Woodcock with is first Lifetime Achievement Award.
Oral History Video Interview of Dr. Woodcock (40 minutes in length)
On December 3, 2015, Dr. Richard W. Woodcock was interviewed by Dr. Daniel C. Miller. The purpose of the interview was to obtain an oral history of Dr. Woodcock's life and major contributions to the professions of psychology, school psychology, and education.
Graduate programs in school psychology are urged to share this video with future school psychologists as part of their professional issues class or their cognitive assessment class.
Page last updated 5:03 PM, October 8, 2021