Ceramics
Facilities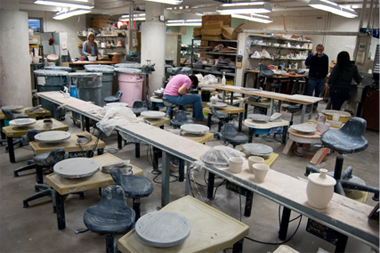 Glaze room
This room is used for mixing and application of glazes. It is equipped with a spray booth, a slot-hood ventilation system, a slip mixing table, storage areas and work areas.
Mold room
This room is reserved for plaster mixing, and it also houses a power sprayer for silk-screen cleaning as well as a sand-blasting booth.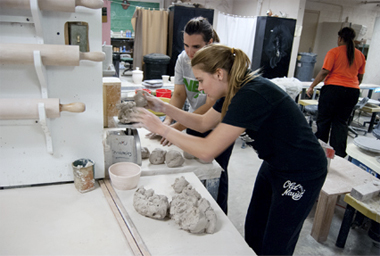 Clay mixing room
This area serves for general bulk material storage as well as clay mixing, and features a powerful ventilation system for safety.

Kiln area
This area includes both a covered outdoor area which houses most of the kilns, and an adjacent area which is walled in but exposed. This area is the site for our raku and wood/salt kilns.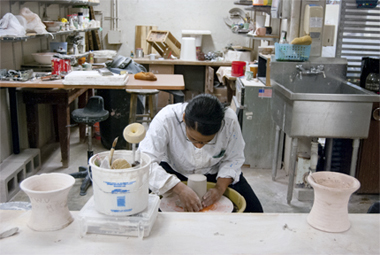 General studio area
Classes are held in our general studio area. There are 18 pottery wheels, extruders, a slab roller and plenty of tables for work space. Individual studios for advanced and graduate students line the perimeter of the room (these are 11 by 8 feet in size, and usually house one graduate student or 1-3 advanced students).
Kilns
Gas kilns
1 large gas kiln (24 and 36 cu. ft.)
Electric kilns
6 electric kilns (3, 3, 5, 10, 10, 10 and 15 cu. ft.)
Equipment
Wheels
18 electric wheels
2 kickwheels
Mixers
Clay mixer (Soldner, 150 lb. capacity)

Slip mixing table

Peter Pugger vacuum pugmill
Additional items
1 slab roller (24" wide)

2 extruders (Bailey)

1 ball mill

1 spray booth

1 hydraulic lift cart

1 hydraulic pallet lift

1 pallet jack

1 sandblasting booth

1 tile press




2 silkscreen exposure units
Page last updated 4:43 PM, June 2, 2021