Houston Center
The TWU Institute of Health Sciences – Houston Center is part of a world-class list of health care educators, researchers and providers at the renowned Texas Medical Center.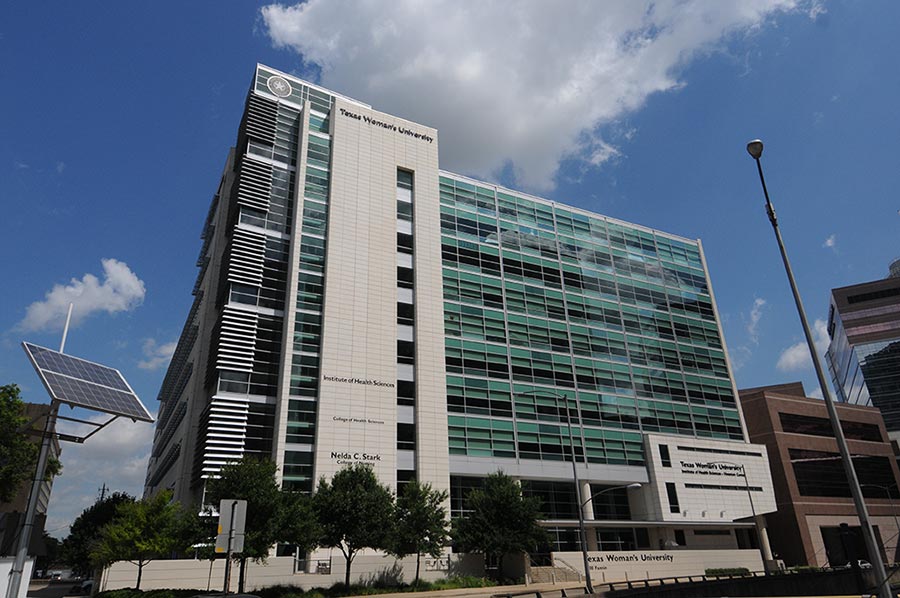 Innovation is at the heart of the work being done across the medical center each day, including through education at our Houston Center. It's an education augmented by clinical and advanced technologies in simulation and online learning.
The Houston Center is where you can earn a DPT or PhD.
By the Numbers
54 – medicine-related institutions housed at the Texas Medical Center
3,300 – patient visits per day at the Texas Medical Center
1969 – Physical therapy students began receiving training at the Medical Center of Houston.
150 – Physical therapy students enrolled at the Houston Center in Spring 2016
Physical Therapy Programs in Houston
Doctor of Physical Therapy Program
The Doctor of Physical Therapy (DPT) is the entry level degree for physical therapists, and is offered at the Houston campus.
Post-Doctoral Programs
At the Houston Center, we offer the following doctoral programs:
About the Houston Center
The TWU Houston Center is a state-of-the-art, 10-story, 202,000 square-foot "campus in one building." It was built in 2006 and houses the School of Physical Therapy, right in the heart of the Texas Medical Center. TWU is currently the only PT program located in Houston.
Students on the Houston campus have access to state of the art computer labs, supplemental learning labs, research tools, hands-on PT equipment, online access to the Texas Medical Center libraries, building access seven days a week, work-out facility and nap pod.
Learn more about the Houston Center.
Contact the Houston Center
TWU School of Physical Therapy
6700 Fannin Street
Houston, Texas 77030-2897
(713) 794-2070
Page last updated 10:17 AM, November 14, 2017