Hispanic-Serving Institution / Institución al Servicio de los Hispanos
We are proud to be a Hispanic-Serving Institution!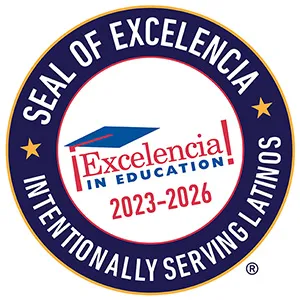 A Hispanic-Serving Institution is an institution of higher education that has an enrollment of undergraduate full-time students that is at least 25 percent Hispanic students. This year we were awarded the Seal of Excelencia, a prestigious certification that recognizes institutions that help accelerate the success of Latino students and distinguishes institutions among the best to meet their needs.
At TWU you will find many resources that will facilitate your sense of belonging from providing tours, admissions checklists, and appointments in Spanish. TWU has implemented a broad array of experiences to support Latinx students including a required first-year seminar.
The Latinx Prepa program is a 5-week program designed to prepare First-Generation, Latinx undergraduate students with the knowledge, experience, and confidence to apply for highly competitive internships and connect with employers. HACU representatives attend our meetings to conduct mock-interviews, LinkedIn presentations, and networking and informational interview sessions.
Resources
We have many other services to help you including:
Orientation, tours, and appointments in Spanish for parents and students.
PIONERAS Project — organizes family participation activities in Spanish. It offers an education abroad program that includes Spanish courses, internships, and tutoring.
Scholarships for Disadvantaged Students (DSD), Last-Dollar Scholarships, TWU STAR, Zero Tuition Guarantee, among other opportunities.
Project HELP (Hispanic Educators Leading the Profession) provides academic, emotional and financial support for future bilingual teachers and can be used for undocumented and DACA.
The mentoring program is designed to integrate curricular and co-curricular experiences expanding classroom learning.
SUCCESS LLC — mentorship program to help first-year college students make a successful transition to college.
Latinx Students, Faculty, & Staff Networking Mixer — provides a space for Latinx students to connect with Latinx faculty and staff. Contacts are established to help, share experiences and provide support.
Among many other resources that will help you be successful at TWU.
¡Estamos orgullosos de ser una Institución al Servicio de los Hispanos!
Una institución al servicio de los hispanos es una institución de educación superior que tiene una matrícula de estudiantes de tiempo completo de al menos un 25 por ciento de estudiantes hispanos. Este año fuimos galardonados con el Seal of Excelencia, que es una prestigiosa certificación que reconoce a las instituciones que ayudan a acelerar el éxito de los estudiantes latinos y distingue a las instituciones entre las mejores para satisfacer sus necesidades.
En TWU encontrarás muchos recursos que facilitarán tu sentido de pertenencia, como recorridos, listas de verificación de admisión y citas en español. TWU ha implementado una amplia gama de experiencias para apoyar a los estudiantes latinos, incluido un seminario obligatorio de primer año.
El programa Latinx Prepa es un programa de 5 semanas diseñado para preparar a estudiantes universitarios latinos de primera generación con el conocimiento, la experiencia y la confianza para postularse a pasantías altamente competitivas y conectarse con empleadores. Los representantes de HACU asisten a las reuniones para realizar entrevistas simuladas, presentaciones de LinkedIn y sesiones de entrevistas informativas y de networking.
Recursos
Tenemos muchos otros servicios que te ayudarán como por ejemplo:
Orientación, recorridos y citas en español para padres y estudiantes.

Proyecto PIONERAS — organiza actividades de participación familiar en español. Ofrece un programa de educación en el extranjero que incluye cursos de español, prácticas y tutoría.
Becas para estudiantes desfavorecidos (DSD), Last-Dollar Scholarships, TWU STAR, Garantía de Cero Cargos por Matrícula, entre otras oportunidades.
Proyecto HELP (Hispanic Educators Leading the Profession) proporciona apoyo académico, emocional y financiero para futuros maestros bilingües y puede usarse para indocumentados y DACA.
El programa de mentores está diseñado para integrar experiencias curriculares y cocurriculares ampliando el aprendizaje en el salón de clases.
SUCCESS LLC — programa de tutoría para ayudar a los estudiantes universitarios de primer año a realizar una transición exitosa a la universidad.

Latinx Students, Faculty & Staff Networking Mixer — brinda un espacio para que los estudiantes latinos conecten con profesores y personal latino. Se establecen contactos para ayudar, compartir experiencias y dar apoyo.
Entre muchas otros recursos que te ayudarán a ser éxitosa en TWU.
Page last updated 9:26 AM, November 6, 2023