TWU partners with iCivics to celebrate Justice Sandra Day O'Connor's life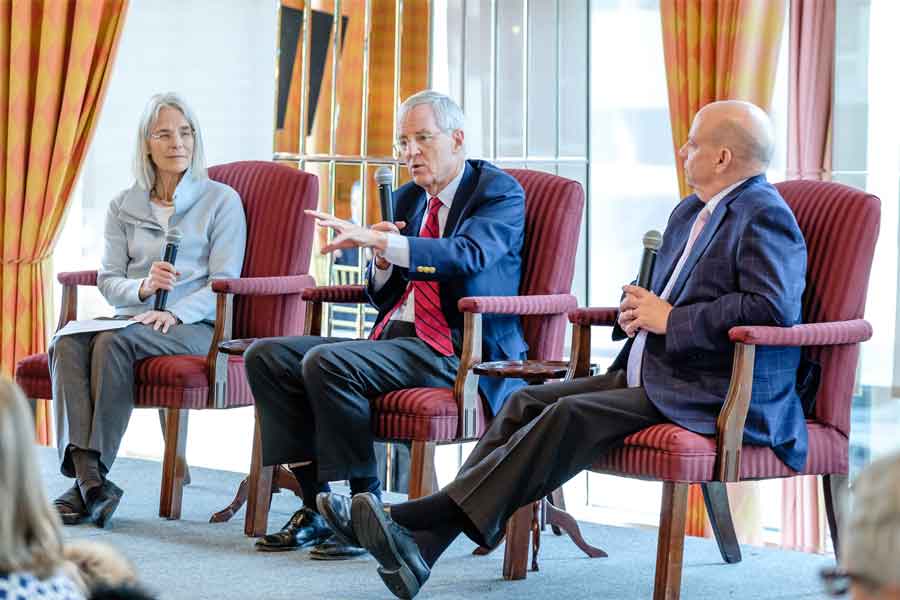 The Jane Nelson Institute for Women's Leadership at Texas Woman's University partnered with iCivics and the Tarrant County Bar Association to host a discussion about the life and career of Justice Sandra Day O'Connor with the Justice's son, Jay O'Connor, and her award-winning biographer, Evan Thomas, on Nov. 13 in Fort Worth.
Thomas discussed his New York Times Bestseller First, an intimate portrait of America's first female Supreme Court Justice—and Texas native—that draws on exclusive interviews and first-time access to Justice O'Connor's archives.
The event was part of an ongoing effort to promote the importance of civic education in Texas, and of iCivics, which the Justice founded in 2009 and is now the largest provider of high quality, non-partisan and free civic educational material in the country. It also was part of an ongoing effort by TWU to tell the story of Justice O'Connor's inspiring life. In 2008, she was inducted into the Texas Women's Hall of Fame housed at TWU, and the university will feature her as one of its pioneering women in the Sue S. Bancroft Women's Leadership Hall, an interactive history exhibit set to open in spring 2020. Artifacts from her personal and Supreme Court collection, loaned to the exhibit by her family, also will be on display.
TWU also is one of the founding members of the iCivics-led Texas Civics Education Coalition. In support of the coalition's efforts to improve and expand civic education in Texas, TWU faculty members Dr. Wouter van Erve and Dr. Clare Brock have developed a survey that will measure civic education attitudes and training among Texas teachers and administrators. The survey also asks questions about the participants' own civics knowledge and engagement. From this survey, they will produce a white paper that iCivics will present to the Texas Legislature on the state of civics education in Texas, and on what kind of additional training educators desire in this particular area. They also will publish research on the relationship between educators' own civics knowledge and behaviors and their confidence in teaching such material to students.
"TWU is proud to partner with iCivics on these and future endeavors, and I believe that together we will accomplish great things," said Maj. Gen. Mary Saunders (Ret.), executive director of The Jane Nelson Institute for Women's Leadership.
Media Contact
Ray Willhoft
Director of Communications, Jane Nelson Institute for Women's Leadership
940-898-4584
rwillhoft@twu.edu
Page last updated 9:35 AM, November 18, 2019