TWU community learns about women in politics from experienced office holders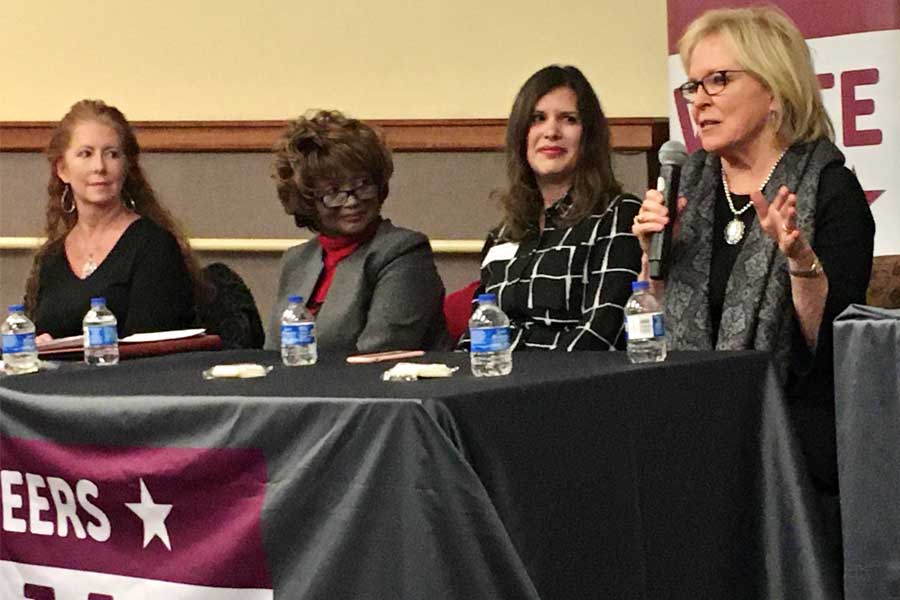 TWU students, faculty and staff learned the creative ways women get involved in politics to make a positive difference in their communities with Pioneering Politics: How Far Have We Come? on November 13. Sponsored by the Department of History and Political Science, the Center for Women in Politics & Public Policy and Student Life, the event featured a panel discussion with Myra Crownover, former Texas state representative, Jane Nelson Institute for Women's Leadership Advisory Council member and TWU Minerva Fellow; Bobbie Mitchell, Denton County commissioner; Cheryl Williams, Collin County commissioner; and Frances Cruz, deputy mayor pro tem of Carrollton.
The speakers addressed questions on the impact of gender on campaigns, work environment and serving constituents. They also discussed policy initiatives important to their areas of service and provided advice and answers to students.
According to the speakers, while gender did create camaraderie for women serving and provided increased awareness of issues affecting the community and state, gender stereotyping was decreasing and was less prevalent in local political campaigns.
Students were asked to complete both pre- and post-event surveys, and the results showed that based upon the experiences of the speakers, students adjusted their thinking about women serving in public office, gender bias women face when running for office and the frequency with which women candidates and office holders encounter stereotypes.
"Our students learned a great deal from the speakers, and the speakers were equally impressed by our students," said Jennifer Danley-Scott, PhD, event organizer and visiting adjunct professor with the Department of History and Political Science.
Page last updated 8:27 AM, December 5, 2019