Michelle Geng: Applying business and leadership lessons to a future career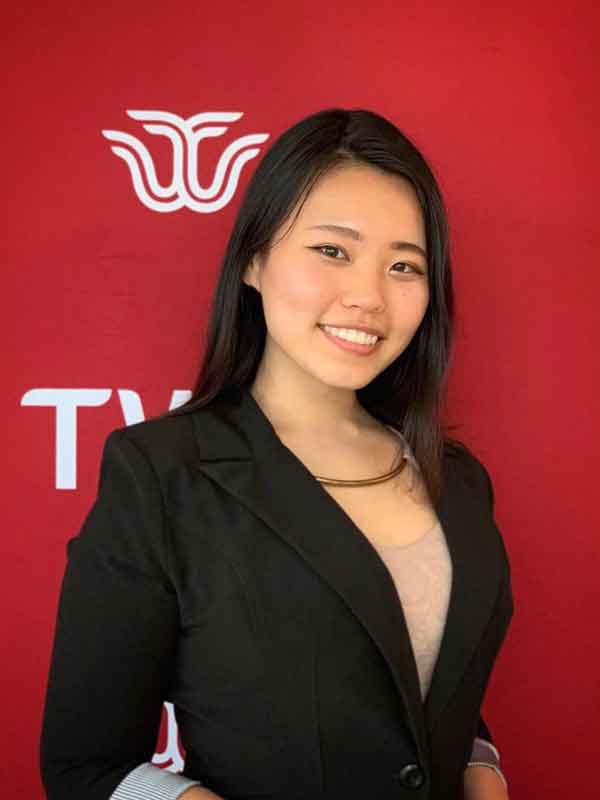 As Texas Woman's University student Michelle Geng is discovering, business owners need training and leadership skills in order to be successful. Fortunately, through her participation with the Center for Women in Business and the Center for Student Leadership, Geng is receiving both.
Geng initially was attracted to TWU for its majority woman population.
"I wanted to see women support and build each other up," she says. "Having graduated from a small private school, I loved the size of this school, too."
Although she originally came to TWU to study dental hygiene, Geng soon realized it wasn't her passion and discovered a new career path to pursue.
"I really enjoy art, building websites and digital stuff in general, so I felt that graphic design would be a better option for me," she says.
Geng plans on starting her own print shop and maybe working as a freelance web designer on the side after she graduates in May 2020. With both her parents as self-employed business owners, she knew that she needed more than a classroom education for business success, so she applied for and became a Minerva Scholar through the Center for Women in Business. The program provides annual scholarships valued up to $1,000 toward tuition and fees for undergraduate, graduate and post-baccalaureate women who are interested in becoming business owners.
"The center has offered many great workshops and has encouraged us to make business plans/models and SWOT analyses in order to help us implement our ideas," says Geng.
Geng also is a member of the Center for Student Leadership, which prepares TWU students to be leaders through workshops, seminars, national conferences and community service. She joined the center in order to improve herself as a person and as a leader, but she has learned so much more.
"I've received a plentiful amount of good advice and guidance," she says. "We've learned about working together as a team, how important communication is and how we can use not only each other's strengths, but also weaknesses to be successful. I've received so many helpful tips and advice and am actually sharing what I've learned with my dad and friends to help them too."
With the business training and leadership skills Geng is acquiring, her future as a successful entrepreneur is looking bright.
Media Contact
Ray Willhoft
Director of Communications, Jane Nelson Institute for Women's Leadership
940-898-4584
rwillhoft@twu.edu
Page last updated 11:14 AM, July 2, 2020