Virginia Chandler Dykes Leadership Award
About the Award
The Virginia Chandler Dykes Leadership Award, established in 2002, is given annually to a Dallas leader(s) with a lifelong commitment to improving the quality of life in the community and to furthering the importance of education. The award also recognizes the life work of Virginia Chandler Dykes as an outstanding healthcare provider, whose professional and civic achievements represent a lifetime committed to helping others.
About Virginia Chandler Dykes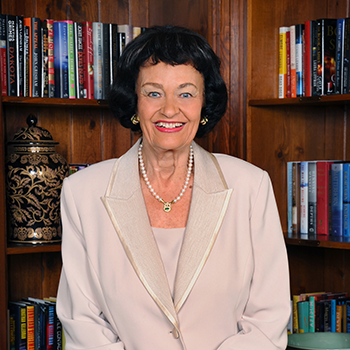 The Virginia Chandler Dykes Award namesake, Virginia Chandler Dykes, is known internationally for her work in occupational therapy. In 2012, Virginia and her late husband Roland were honored by the American Occupational Therapy Association for their sustained philanthropic service to occupational therapy education, and in 2011, they were honored with the Texas Occupational Therapy Distinguished Service Award. Locally, Mrs. Dykes is known for her leadership in many cultural and charitable organizations. She was named the 2016 Visionary Woman by the Juliette Fowler Communities, and in 2014 she was honored as one of six Women of the Year by Les Femmes du Monde. In 2005, she was appointed by Gov. Rick Perry to serve on the Texas Woman's University Board of Regents, where she served until 2011.
Mrs. Dykes completed the graduate occupational therapy program at TWU in 1954 after earning her bachelor of arts in art and psychology from Southern Methodist University. She was the director of the Occupational and Recreational Therapy Department at Baylor University Medical Center for 25 years. In 2002, she established The Virginia Chandler Dykes Scholarship Endowment at TWU for graduate students in occupational therapy.
Mrs. Dykes and her late husband Roland also helped to establish the Fanny B. Vanderkooi Lectureship Endowment for the School of Occupational Therapy at TWU, which has grown to be one of the premier continuing education offerings in Texas. She is also well known for her leadership in organizations such as The Dallas Opera, the Dallas Arboretum's Women's Council and the Fort Worth Opera.
Page last updated 3:08 PM, November 8, 2019