Nutrition graduate uses education, experience to combat campus food insecurity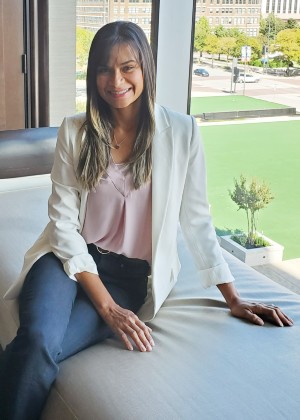 April 7, 2022 – DENTON – Texas Woman's May 2022 nutrition doctoral graduate Francilia Brito Silva is on a mission to improve the eating habits of students and combat food insecurity on campus. As a vital contributor to the TWU Health and Wellbeing Initiative, she has already made a huge impact on campus and plans to do even more after graduation.
Originally from Bragança, a small town in Brazil, Brito Silva discovered an interest in nutrition early on in her life.
"When I was a child, I wanted to be a physician because I wanted to help people heal from diseases," she said. "When I was a high school student, I watched a documentary about nutrition and how a healthy diet can prevent several health issues. I was amazed and immediately thought that preventing is better than healing, so I decided I wanted to be a dietitian to help people to eat better and thus prevent them from experiencing many health issues."
She earned her bachelor's degree in nutrition and food sciences and her master's degree in genetics and molecular biology with an emphasis in medical genetics in Brazil, which confirmed her passion for the field.
"What I most enjoy about nutrition is how broad the field is," she said. "I have worked in several areas of nutrition, such as food service, clinical nutrition, education and medical genetics, and there are still other nutrition fields to explore. This fascinates me because it challenges me to embrace different journeys throughout my life."
Studying in the United States was one such journey Brito Silva always dreamed of taking, so with the encouragement of her husband, she moved to the country as an ESL student and began looking for a PhD program that would further her career goals. TWU proved to be the perfect fit.
"While searching for universities, I found TWU was well known for being diverse, had affordable tuition and had the PhD in Nutrition program I was looking for," she said. "So, I decided TWU was the right fit for me, especially as an international student, since studying with peers from diverse backgrounds would help me not feel like a stranger among the American students."
Brito Silva began working as a graduate assistant for the TWU Health and Wellbeing Initiative (HWI) in fall 2018 under the guidance of Kathleen Davis, PhD, assistant professor and co-lead for the Eat Well theme of the HWI. She created nutrition educational materials for the TWU community, as well as events such as Ask the Nutritionist, Info Bites and College Cooking. She also served as a guest speaker for kinesiology and nutrition classes, the Chartwells' Teaching Kitchen and other TWU organizations' events. Additionally, she helped with the Eat Well committee meetings; volunteered with the Minerva's Market, mobile food pantry and other food distributions; and created educational social media content, an IRB application of food insecurity assessment among TWU freshmen and an HWI Eat Well Canvas module.
She also was involved with data analyses of an HWI graduate student survey that will indicate the kind of resources needed to help graduate students have a better experience during their programs.
If that wasn't enough, she was involved with the development of a food environment project; was a co-founder of the HOPE (Helping Other PhDs Excel) peer-led support group; and assisted with food insecurity research and efforts during COVID, which was a project conducted in partnership with the professors of the Department of Nutrition and Food Sciences on the TWU Houston campus.
Brito Silva's dissertation topic was an intervention to mitigate food insecurity among college students, a subject that spoke loudly to her given the scientific evidence that food insecurity affects students' physical and mental health, and even their academic achievements.
"Having adequate quantity and quality food to nourish the body is a human right, and I believe that no student should go hungry to classes," she said. "My dissertation topic provided me a chance to do something for my peers. I assessed the food insecure students and learned what would be the solutions for their food insecurity based on their own opinions. Taking my preliminary data and the scientific evidence from the literature together, I created an intervention to mitigate food insecurity among first-year students on the TWU Denton campus. It can be further expanded and tested for all TWU food-insecure students in the future, and the College Cooking Canvas course can still serve as an educational food literacy course to be used by TWU."
Brito Silva's dissertation project also had a secondary component called the food pantry program, which assessed what barriers TWU Denton students face utilizing the on-campus food pantries.
"TWU food pantries can use my dissertation findings to address the major barriers that were found by offering after-hours access through the libraries or campus police, partnering with DCTA on transportation and normalizing accessing food assistance," she said.
Thanks to her work with the HWI, Brito Silva also found a new passion—student life—and plans to combine it with her nutritional background for an inspiring career path.
"I hope to find a position where I can help increase awareness and build a sense of health and wellbeing among university communities and continue to fight against food insecurity among college students," she said.
Given her extraordinary work at TWU, she is sure to continue making a difference in the lives of many students.
Media Contact
Ray Willhoft
Director of Communications, Jane Nelson Institute for Women's Leadership
940-898-4584
rwillhoft@twu.edu
Page last updated 9:17 AM, April 7, 2022