News
Women in STEM Leadership host watercolor painting at Butterfly Garden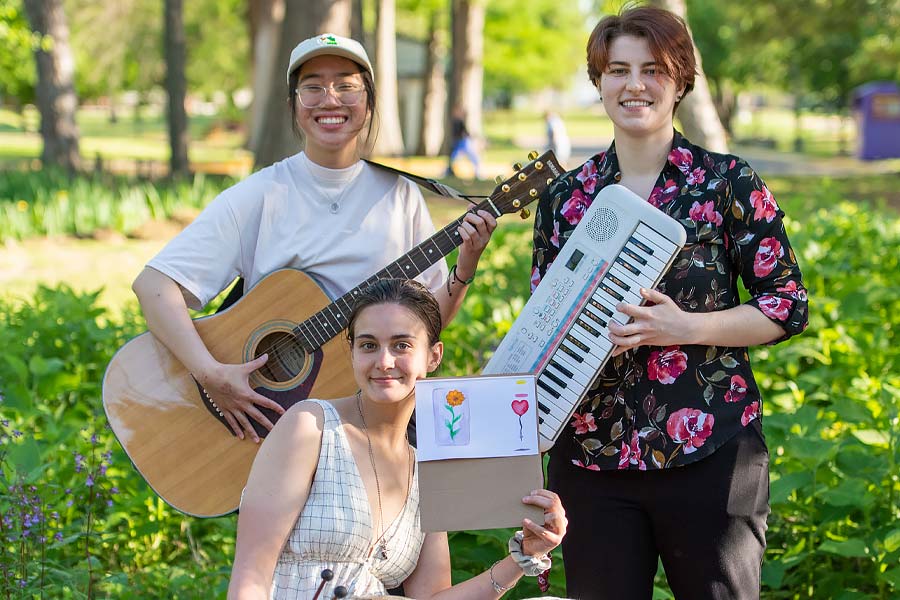 The Women in STEM Leadership hosted watercolor painting in the Dr. Bettye Meyers Butterfly Garden. The event was sponsored by the School of the Sciences.
Sheli Petersen of the division of Visual Arts provided paint and color-theory lessons, and Karlee Collins, Jasper Lee, ToQuyen Nguyen, Helena Song and Britney Bennett of the Student Association of Music Therapy played background music.
TWU student photo contest
The Women in STEM Leadership hosted a student photography contest involving photos of the Butterfly Garden. Nine entries were submitted, and the winners were:
First place: Sebastian Perez
Second place: Md Shabab Mehebub
Third place: Tessa Nester
11/8/22
Texas Woman's University celebrated one of the people most responsible for TWU's butterfly garden when it held a ribbon-cutting ceremony to inaugurate the Jeff Robb Outdoor Classroom. The outdoor classroom is named in honor of Jeff Robb, TWU legal studies professor, lifetime lepidopterist and initiator of the butterfly garden. Robb passed away in 2017.
5/19/20
The TWU Bettye Myers Butterfly Garden has received the May Business Yard of the Month award from Keep Denton Beautiful. Designated as a Monarch Waystation, the butterfly garden boasts a lovely variety of flowers, including coneflowers (bachelor buttons), poppies, evening primrose, larkspur, phlox, gerbera daisy, and cornflowers. Find Phase II of this garden by the Little Chapel in-the-Woods and enjoy the Carroll Abbott Wildlife Sanctuary. The sanctuary is a section of the garden dedicated to the memory of Carroll Abbott.
4/15/19
Texas Woman's University biology professor and herbarium director, Camelia Maier, Ph.D., received the National Society Daughters of the American Revolution (NSDAR) Conservation Medal at the 120th Annual State Conference of the Texas Society Daughters of the American Revolution. In addition to the medal, Maier received a certificate from Texas State Regent Susan Tillman at the awards dinner in Houston in March.
10/15/18
The TWU Dr. Bettye Myers Butterfly Garden (Phase 1, located on the south end of the ASSC) has officially been designated Monarch Watch waystation number 22127. Monarch Waystations provide milkweeds, nectar plants, and shelter for monarchs throughout their annual cycle of reproduction and migration. Creating and maintaining a Monarch Waystation contributes to monarch conservation and helps to assure the continuation of the monarch migration in North America.
5/24/18
Today, the U.S. Environmental Protection Agency (EPA) announced more than $557,000 in funding for eight student teams as part of Phase II of the People, Prosperity and the Planet (P3) grant program. This includes $74,932 to a team at Texas Woman's University in Denton for their work to develop sustainable pollinator gardens for habitat, water conservation, and education.
"These students are applying what they have learned in the classroom to create innovative solutions to environmental challenges," said EPA Administrator Scott Pruitt. "These awards support the next generation of scientists and engineers in their commitment to environmental protection, while helping states, tribes, and local communities find solutions to their environmental issues."
Page last updated 1:37 PM, April 28, 2023