Interested Students
Students interested in receiving services and participating in the TRiO SSS STEM-H or Classic programs must be formally admitted to the program; space is limited.
Eligibility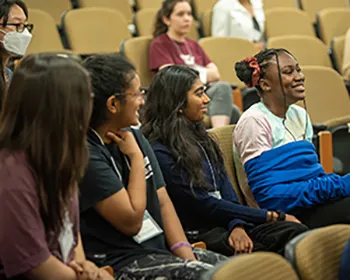 TRiO SSS follows federal regulations; students must meet the following requirements to be considered:
U.S. Citizen or meet the residency requirements for federal student financial assistance
Enrolled or accepted for enrollment in the next academic term at TWU
Need academic support, as determined by the program staff, to pursue or continue successfully in a bachelor's degree program
One of the following: Income-eligible, first-generation college student or individual with a disability
Application process
Step One: Submit a completed application for the SSS STEM-H or SSS Classic program; apply to only one program. Our office will contact you regarding any additional verification forms we may need.
Step Two: Once your application has been processed, we will contact you to schedule an interview with our staff.
Step Three: Students accepted into the SSS programs must schedule an initial meeting with program staff to further discuss their needs and review their Individual Service Plan. Staff will also discuss resources available exclusively to SSS students and discuss program requirements.
Page last updated 10:19 AM, September 16, 2022