TWU takes top honors at Graduate Student Research Symposium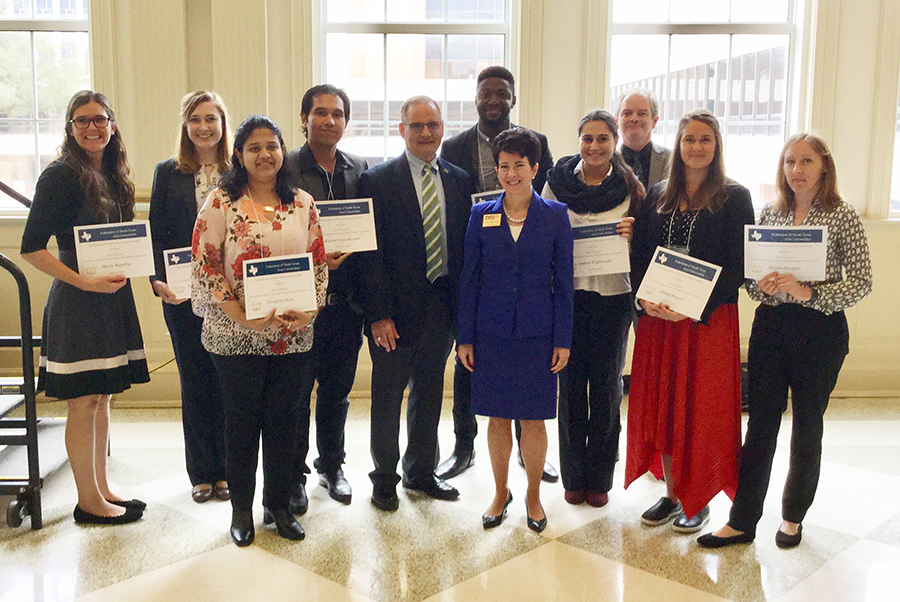 April 20, 2018 – DENTON - Texas Woman's University students won first prize at the Graduate Student Research Symposium, topping both the STEM and the humanities (education, humanities, social sciences and business) categories. The event, held on TWU's Denton campus in March, was sponsored by the Federation of North Texas Area Universities.
Multicultural Women's and Gender Studies doctoral student Sheila Bustillos won the top honor in the humanities category for her dissertation research "Former Foster Care Parenthood: Investigating Multigenerational Involvement," which looks into the lives of people who had been in the foster care system and are now parents. Through interviews and surveys, Bustillos analyzed outcomes for both parents and children to provide insight for further research and practice.
The STEM category first prize award went to Molecular Biology doctoral student and lead researcher Paramita Basu, who won the poster competition along with Taylor Harris, Sirima Tongkhuya, Angela Riley, Jennie Wojtaszek and John Granger for work on "Phytochemical Analysis and Analgesic Properties of Euphorbia Bicolor Latex Extract." The project focuses on the development of an alternative pain relief source through plant bioactive compounds. With the side effects of NSAIDS and addiction issues associated with opioids, the project is showing progress in alleviating pain through the plant-based compound.
Additional winners included: (STEM) Ridwan Fayez Hossain and Allison Osmanson (both of the University of North Texas; and (Humanities) Jordan Rogers and Meagan Douglas (University of North Texas), Armine Poghosyan and Ajogu Idoko-Akoh (both of Texas A&M University – Commerce).
"Our country needs research," said Alan Utter, TWU's provost and vice president for academic affairs, who served as keynote speaker at the event. "Our future depends on new discoveries, new knowledge generation and exciting new bodies of work in both STEM and humanities. It's hard work, but we need it."
###
The Federation of North Texas Area Universities, established in 1968 with guidance from the Texas Higher Education Coordinating Board, enables the sharing of resources between the Texas Woman's University, the University of North Texas at Denton (UNT) and Texas A&M University-Commerce. A graduate student entering a Federated program has access to the combined academic resources of all three universities. Benefits include the flexibility of cross-registration at member universities and the option to select major professors, advisors, and thesis or dissertation committee membership from any of the schools involved in a particular program area.
Page last updated 10:20 AM, April 20, 2018