Ticket Information
December 2022 Commencement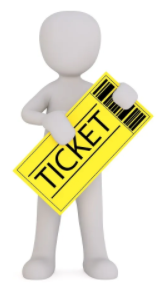 Congratulations on your upcoming graduation!
All graduating students participating in the December 2022 commencement ceremonies will receive 6 guest tickets. Children under 3 years of age do not require a ticket.
Commencement Tickets are now available!
To obtain your commencement tickets, please follow these instructions.
Navigate to https://twugradtickets.universitytickets.com/. Please Note: Use Google, Firefox, or Microsoft Edge. Click on Log In/Register
Select Student Login and sign in using your TWU credentials
Select Get Tickets
Select the number of tickets you need from the drop-down box
Once the number of tickets has been selected, click Find Tickets.
If you selected less than the maximum number of tickets and wish to donate the remainder, check the box in the "Tickets Donation" section located on the right side of your screen. Please note you cannot donate your tickets to a specific student. If you want to give your tickets to someone in the same ceremony as you, please claim your tickets, then send them to the individual after completing the checkout process.
Follow the checkout process to reserve your tickets. After checking out, you will receive a confirmation email with your tickets.
Tickets are ceremony-specific and may only be used for the ceremony displayed on the ticket. If you need step-by-step instructions on how to reserve your tickets, please view the Commencement Ticket Retrieval Instructions. Once you claim your tickets, you can access them at any time by going to the site above. After logging in, you must click the drop-down arrow next to your name and select Your Orders.
All guest tickets must be claimed and printed in advance. No tickets will be available at the venue. Doors open one hour before each commencement ceremony. Bags will be checked at the door. Guests should arrive early to locate parking and be seated at least 10 minutes prior to the start of the ceremony.
If additional tickets are available, you can collect up to two starting Monday, December 5th, at 9:00 a.m. by logging into https://twugradtickets.universitytickets.com/ and following the directions above. Additional tickets are on a first-come, first-serve basis. If no additional tickets are available when you checkout, you may try again at another time. *There is no guarantee of extra tickets.
Page last updated 8:50 AM, November 17, 2022