Ticket Information
May 2022 Commencement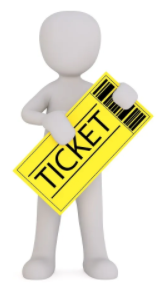 Ticket Information
Congratulations on your upcoming graduation!
All graduating students participating in the May 2022 Commencement ceremonies will receive 6 guest tickets. Children under 3 years of age do not require a ticket.
Commencement Tickets are now available!
To obtain your commencement tickets, please follow these instructions.
Navigate to https://twugradtickets.universitytickets.com/. Please note: Use Google, Microsoft Edge, or Firefox. This site will not work on Internet Explorer.
Click on Log In/Register
Select Student Login and sign in using your TWU credentials.
Select "Get Tickets"
Select the number of tickets you need from the drop-down box.
Once the number of tickets has been selected, click "Find Tickets."
If you selected less than the maximum number of tickets and wish to donate the remainder of them, check the box in the "Ticket Donation" section located on the right side of your screen.
Follow the checkout process to reserve your tickets.
The Summary of Reservation screen will appear with your tickets to download and print or send to an individual via mobile. You will also receive a confirmation email with your tickets.
You can access your tickets at any time by clicking on the drop-down arrow next to your name in the upper right-hand corner of the screen and selecting"Your Orders."
If you need step-by-step instructions on how to reserve your tickets, please view the Commencement Ticket Retrieval Instructions.
IMPORTANT:
Please print each ticket. Each guest will need a separate, unique ticket for entry.
All tickets will have a bar code needed for entry into the ceremony. Upon entry, the barcode will be scanned and will no longer be valid for entry after being scanned. Please keep in mind that tickets are ceremony specific.
Guests should plan to be seated 10 minutes prior to the start of the ceremony.
Children under the age of 3 (sitting on the lap of a parent) will not need a ticket.
For safety purposes, we highly encourage each guest to wear a mask.
Extra Ticket Pool
The pool for extra tickets will become available Monday, May 2, 2022, after 8:00 a.m. Additional tickets are available on a first-come, first-served basis. If extra tickets are available for your ceremony, graduates may claim up to two tickets following the instructions to retrieve extra tickets.
*There is no guarantee of extra ticket availability.
Page last updated 10:45 AM, July 1, 2022