Daisy Cantu, Class of 2018 and Frontiers student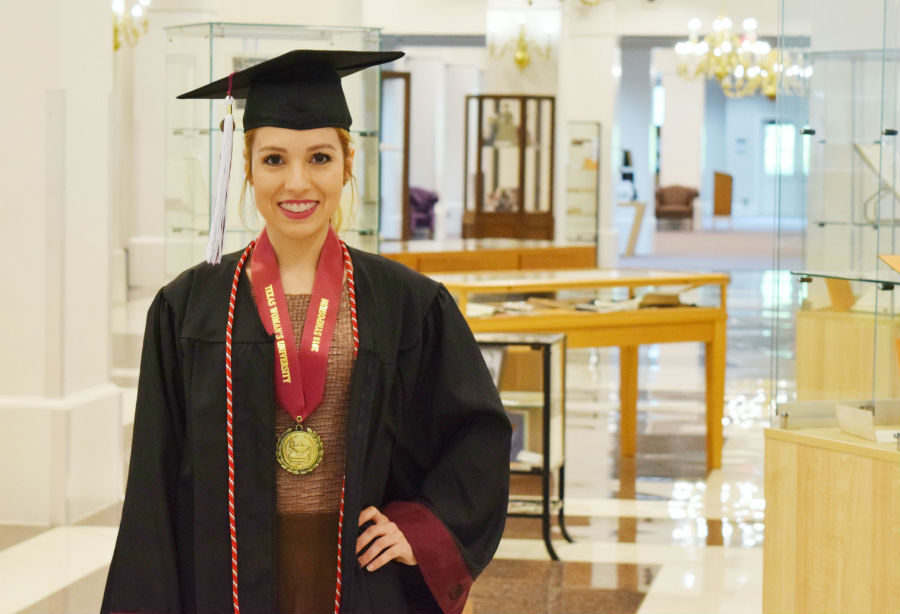 Daisy J. Cantu came to the United States from Nuevo Laredo, Mexico when she was 15 years old. As a high school student she spoke little to no English. Daisy had to not only learn the usual subjects, but the English language on top of it all.
She had a simple vision: work very hard to learn the language and get into a good college with scholarships. She noticed early on that the sciences came easy to her.
Growing up in Mexico, she said she never had a stable home—she bounced from house to house in foster care between relatives. At age 15 she was adopted and given the chance at a stable home-life and an education in the United States.
Daisy qualified for the TWU Frontiers Foster Care Alumni Program. The program was designed to help students who have experienced foster care by giving the students an extra measure of support and care to see them through to graduation. Some of the support includes mentoring, guidance, counseling, a food pantry, social activities, workshops and a dedicated center for students in the program.
Daisy is grateful for the support of the Frontiers Program and the role it played in obtaining her dream of a college education. She said, "You're in a close community with people in similar situations. You get to connect with everyone and realize that you're not the only one. It's a great support group that can really make a difference throughout your college career."
Daisy is thankful for her mom, too. She realizes that most children are adopted at a much younger age, and not typically at 15 like she was.
Through all of the difficult experiences Daisy has had in her young life so far, she's confident, optimistic and charming. She remained concentrated on her vision for herself to avoid the common missteps made by others who have had a similar journey. She knows her focus on her future was supported by many others. Her professors, she said in particular, played a large role in her success.
Daisy graduated this month with a bachelor's of science in biology, with a research emphasis. She will put that degree to good use as she continues her studies at TWU for a masters in biology. She will continue working on a research project titled, "Sex Differences in Steroid-Sensitive Neural Projections to the Periaqueductal Gray: Identification of Novel Pain Pathways in Female Rats," under the mentorship of Dr. Dayna Loyd Averitt. She plans to apply to medical school next.
Daisy might not consider herself "bold," but given her past, she makes for a bold present and a future that is even more bold.
If you want to support students like Daisy, consider a gift to the Frontiers Foster Care Alumni Program.
Story and photo by Adam Hengeveld
Media Contact
Staff Reporter
940-898-3456
Page last updated 11:39 AM, October 1, 2021