Academy of Teaching & Coaching (Physical Education)
BS in Kinesiology—Teaching Physical Education EC-G12
If you have a passion for sports and exercise and would enjoy coaching a sports team or would like to help kids become more confident and excited about physical activity, a Bachelor of Science in EC-12 Physical Education, offered through the TWU Academy of Teaching and Coaching, can help you reach your goals.
Program Features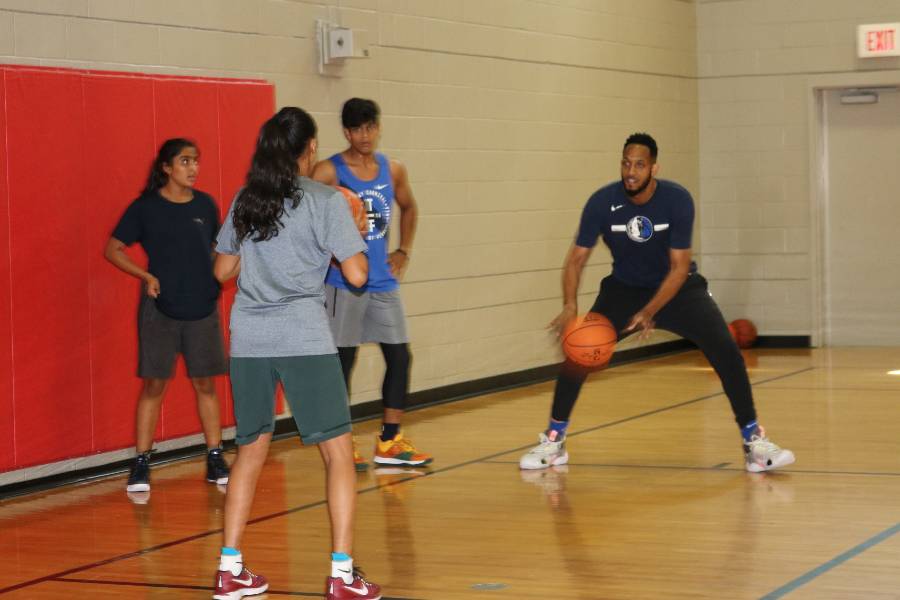 Become an expert physical education teacher and coach by helping young people learn about movement skills, physical activity, physical fitness, inclusiveness, responsibility and teamwork.
Develop skills and strategies to teach physical education and coach sports at various levels.
Observe and teach in school settings.
Engage in practicums at the elementary, middle and high school levels prior to your 120-hour internship/student teaching.
Complete practicums in elementary physical education, secondary physical education, adapted physical education/activity, physical education assessment and sport coaching.
Work with individuals with disabilities at a university that is world-renowned in Adapted Physical Education/Activity.
Why Get a Physical Education Teaching/Coaching Degree at TWU?
Teach and improve the health of youths
Become a certified K-12 physical education teacher and teach youths to be skilled movers as well as to be physically fit and active through physical activity and a healthy lifestyle. Learn how to improve skill levels, fitness levels and health through games, sports and other physical activities while taking courses that blend classroom teaching and hands-on learning.
Receive hands-on learning experiences
Small class sizes, individualized attention and hands-on learning experiences—these attributes set TWU's undergraduate kinesiology degree with teaching/coaching focus apart from those at many other universities. TWU also offers a unique adapted physical education program that teaches you how to work with students with special needs. Upon completion of this kinesiology degree, you will be certified to teach physical education to all levels of students, early childhood through 12th grade.
Earn education certifications
On average, 100% of the graduates from this program pass their state certification exams and become certified teachers and coaches in Texas each year. Students have the opportunity to obtain state and national coaching, outdoor education and adapted physical education certifications. Many successfully complete certifications in other areas as well to broaden their career options.
Careers and Salaries
The average salary for a teacher in the State of Texas is $57,000 according to Salary.com. If a physical education teacher chooses to coach, there is an additional stipend for coaching. Salaries for teachers increase based on years of experience and completion of a higher degree of education.
According to careerexplorer.com, "aspiring physical education teachers who are themselves fit and have experience in team sports and knowledge of kinesiology and age-level appropriate nutrition will find that they are in demand and have an employment advantage over their competitors. This has become increasingly true in face of the growing rates of childhood and adolescent obesity. Children and youth, more than ever before, are in need of role models who live healthy and active lives. There are currently an estimated 20,600 physical education teachers in the United States. The physical education teacher job market is expected to grow by 9.7% between 2016 and 2026."
According to the U.S. Bureau of Labor Statistics, the demand for coaches is growing faster than the average demand for all occupations, with the number of jobs expected to increase by 13% over the next decade.
What are some career options for physical education majors?
Teaching and Coaching majors have found careers in various fields:
K-12 Physical Education Teacher
Sports Coaching
Adapted Physical Education Teacher/Specialist (with additional certification)
Athletic Trainer (with additional certification)
Recreation Center Program Director
Fitness Instructor
Program Requirements
This program requires 120 hours. Upper-level courses focus on methods of teaching physical education, adapted physical education and sport, principles of coaching and practicums in elementary/secondary physical education, adapted physical education/sport and coaching.
Must be admitted into the Educator Preparation Program. Additionally, during your final semester in the program, you will have 14 weeks of student teaching, split between elementary and secondary physical education placements. Completion of certification exams before internship/student teaching is required.
See full program requirements in the Undergraduate Catalog.
As a full-time student, you can complete the coursework for this degree within four years.
Admission Requirements
Undergraduate Admission
When you apply to TWU, we will evaluate your academic achievement and preparation, as well as your standardized test scores. Admission to TWU is valid for four terms, unless you have attended another higher education institution.
Check out the links below for specific admissions information:
Questions about the admissions process? Contact the Office of Admissions Processing.
Office of Admissions
Texas Woman's University
P.O. Box 425649
Denton, TX 76204-5649
oap@twu.edu
940-898-3076 or 1-866-809-6130 ext. 3076
Admission to the Educator Preparation Program
Application Deadlines
There are three application periods per year (Fall, Spring, and Summer). Students must have their applications in by the deadline the semester before they intend to take ECE 3223, EDUC 3003, EDUC 3482, or READ 4223. (see schedule below).
Spring Application Deadlines* (Admission to the EDUC 3000s Summer)
May 1 - Deadline to apply for Summer admission
May 31 - Deadline for Transfer Grades, Grade Changes, or Any Other Requirement
Summer Application Deadlines (Admission to the EDUC 3000s Fall)
July 1 - Deadline to apply for Fall admission
July 31 - Deadline for Transfer Grades, Grade Changes, or Any Other Requirement
Fall Application Deadlines* (Admission to the EDUC 3000s Spring)
December 1 - Deadline to apply for Spring admission
December 21 - Deadline for Transfer Grades, Grade Changes, or Any Other Requirement
Guidelines
Please adhere to the following guidelines:
We recommend preparing your application well in advance of the deadline. That way you will be able to identify and resolve any potential issues before the deadline date.
If you intend to register early for ECE 3223, EDUC 3003, EDUC 3482, or READ 4223 for the Summer or Fall semesters and have met all admission requirements, it is recommended that you apply to the EPP by December 1.
If you apply for admission to the Educator Preparation Program while enrolled in EDUC 2003 or are taking coursework to increase your GPA to a 2.75, the Office of Educator Preparation Services will process your application. If the GPA requirement, along with all other admission requirements are met at the end of the semester, an admission decision will be made at that time.
No late applications will be accepted. If the deadline date falls on a weekend or a day that TWU is closed, applications will be accepted until 5 p.m. on the next day that TWU is open after the deadline day.
Requirements
In addition to the general undergraduate admissions requirements, to obtain acceptance into the undergraduate Educator Preparation Program (and prior to taking ECE 3223, EDUC 3003, EDUC 3482, EDUC 4113, EDUC 4243, READ 4223, and Clinical Student Teaching) students must have:
A cumulative GPA of 2.75

(includes all courses, whether posted to TWU transcript or used on a degree plan. Excludes developmental and repeated courses);
Demonstrated basic skills in reading, written communication, and mathematics by meeting the requirements of the Texas Success Initiative;
A minimum of 12 to 15 semester credit hours in the subject-specific content area for the certification sought;
Completed EDUC 2003 with a C or higher;

Completed department application for admission to the Educator Preparation Program in Tk20;

Completed the Digital Literacy Pre-assessment;
Submitted a non-refundable Texas Education Agency Fee;

Completed a Commitment Contract acknowledging awareness and understanding of the Professional Dispositions Policy and Educators' Code of Ethics;

Successfully completed a pre-admission departmental interview with an interview panel; and

Acknowledged and accepted admission to the Educator Preparation Program.
Please note:
All accepted students must maintain the admission requirements to remain in the TWU Education Preparation Program.

Admission requirements are determined by Texas Education Agency policies and are subject to change without notice.

Students seeking Bilingual certification must meet minimum proficiency in Spanish.
Students seeking Deaf/Hard of Hearing certification must meet minimum proficiency in sign.
Contact the Office of Educator Preparation Services (OEPS) at copeadvising@twu.edu or 940-898-2829 with any questions.
For more information
Dennise Mendez
Coordinator of Academic Advising, School of Health Promotion & Kinesiology
Undergraduate Academic Advisor II
Office: PH 212
P: 940 898 2606
Dmendez5@twu.edu
Shaun Stokes
Academic Advisor II
Office: PH 211
Phone: 940-898-2431
Email: sstokes3@twu.edu
Page last updated 2:57 PM, August 3, 2023