TX Incubator program takes women entrepreneurs to the next level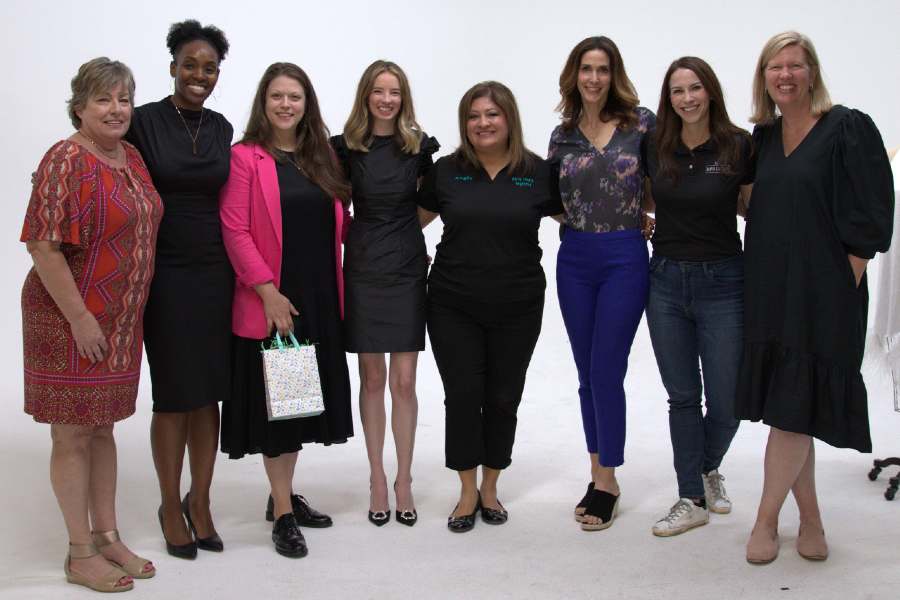 June 15, 2022 — DENTON — Fast-tracking a start-up into a scalable and successful business is no easy task, but six women entrepreneurs were able to do just that through the TX Women Owned Incubator Program, offered by the Jane Nelson Institute for Women's Leadership at Texas Woman's University and The Slate, a woman-owned coworking space in Dallas.
The incubator program was created specifically for women-owned start-ups in the Dallas area and provided early-stage entrepreneurs with resources and education to grow their businesses. It was co-facilitated by The Slate and the Center for Women Entrepreneurs (CWE) at Texas Woman's University, which is committed to helping women in Texas become successful business owners.
"We partnered with the JNIWL and the CWE to help women grow their businesses in the Dallas entrepreneurial ecosystem because we value the center's mission to provide the necessary tools to help women-owned businesses succeed," said The Slate. "This type of program is so important because it offers women a constructive, positive space to develop their business at any stage into a successful long-term venture."
Six program participants were selected for the cohort and included: Angie Aranda, We're Simply Organized, Wylie; Maria del Carmen Uceda, Surgical Sherpa, The Colony; Lovell Cox, Lovellfaye, LLC, Coppell; Erin England, Diaper Concierge, Dallas; Roni Proter Kelly, Dinner Reinvented, Dallas; and Ifeyinwa "Ify" Seales, Legacy Incubator, Dallas.
The participants met weekly from January through May and received intensive entrepreneurial training from industry experts on topics such as Business Planning 101, How to Get Customers, Financials, Marketing and Strategy. They also received 24/7 access to a private dedicated workspace at The Slate, Dallas; direct access to a business advisor and mentors; and video and photography support, including an updated media kit.
"I applied for the program because I truly didn't know where to start with my business," said participant Angie Aranda. "I had an idea, and I looked into hiring coaches, but the amount of money needed to get started was out of reach for me. This turned out to be a great partnership, and I'm so grateful for everyone that made this happen and allowed us to grow in our businesses."
Resource builder and startup advisor Holly Burrow, consultant with the CWE, served as the facilitator and advisor for the program, bringing her own experiences and lessons learned as an entrepreneur to the table.
"Women, myself included, often struggle to put what they are building at the center of a conversation, but to grow a business, we must be able to speak to why and how we are building it and ask for the support of every listener," she said. "I wanted each of the cohort members to emerge from the program with a strong message to share with the world about what they are building and why they are the best choice to build it."
And the cohort format proved to be exactly what was needed.
"It is very easy to feel isolated as a founder, but the environment created by the small cohort led to deeper relationships between the women and many instances of support away from our sessions together," said Burrow.
The participants agreed.
"Talking to other entrepreneurs and relating to people that are on the same journey as you makes it easier to move forward and bounce ideas off of," said participant Lovell Cox. "This program was perfect because I got to learn about business, and specifically about my business, and be surrounded by like-minded people."
The program reached its culmination with a Pitch Finale on May 27, where each participant created a 60-second pitch video highlighting their business, and a celebration of the hard work and success of the cohort.
"It was exciting to see the growth each woman made and the confidence they gained as business owners," said Tracy Irby, CWE director. "They are now more prepared to face the joys and hurdles of entrepreneurship."
Due to the program's success, plans are already underway to offer training to a new cohort of entrepreneurs. Applications will open in the fall, and the cohort will start in January 2023.
The Center for Women Entrepreneurs is a program of the Jane Nelson Institute for Women's Leadership at Texas Woman's University. The institute is dedicated to preparing more women to take on successful roles in business and public service. Its three specialized centers ensure women have the education to establish careers as successful C-suite executives, the skills for building entrepreneurial businesses and the framework needed to run for public office.
Media Contact
Ray Willhoft
Director of Communications, Jane Nelson Institute for Women's Leadership
940-898-4584
rwillhoft@twu.edu
Page last updated 12:49 PM, September 27, 2022