TWU students learn about women in health policy through PLEN seminar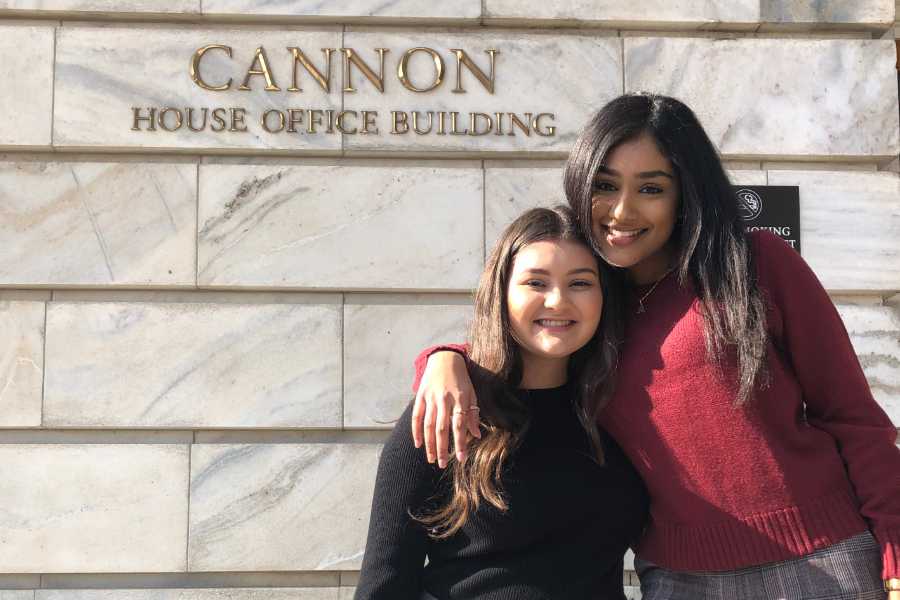 The TWU Center for Women in Politics & Public Policy sponsored two students, Lauren Corbett and Aesha Desai, to attend the PLEN Women in Health Policy seminar in Washington, D.C., November 14-16.
At the three-day seminar, college women from across the U.S. considering a career in health policy learned how to make an impact in the legislative and political processes, explored hot-button issues on Capitol Hill and expanded their professional networks in Washington, D.C., and beyond. Experienced women who have broken the glass ceiling on both sides of the aisle served as the faculty, and government, nonprofit and corporate offices across D.C. were the classrooms.
"What I learned most from PLEN was that everyone there had such different experiences of how they got where they are, and if you are passionate about what you want to do, you will find any way possible to achieve it," said Corbett, a communication sciences and disorder major with a minor in applied psychology. "Another thing I enjoyed about the conference was how many networking opportunities we got to take advantage of and all of the speakers we got to meet."
Corbett plans to work as a speech and language pathologist after graduation and felt the conference gave her valuable insight into her future field.
"In the medical field, you need to know what is going on and what barriers people have to deal with, and PLEN informed me on everything from telehealth to the opioid addiction crisis," she said.
Recognizing the importance of PLEN seminars to students, the Center for Women in Politics & Public Policy is creating a program that will sponsor their conference attendance each semester.
"The PLEN policy seminars are life and career changing for our students," said Tammy Key, associate director for the Center for Women in Politics & Public Policy. "Students have the opportunity to learn about important policy issues at every level from experts who are working in that field. PLEN seminars lay out the issues so students can understand how policy impacts all of us on a daily basis and emphasize how important student voices are. Our hope is that these seminars will ignite passion in these students to start a deep conversation on significant issues within the TWU community."
Page last updated 12:46 PM, December 19, 2019