TWU students learn about politics and leadership through New Leadership Texas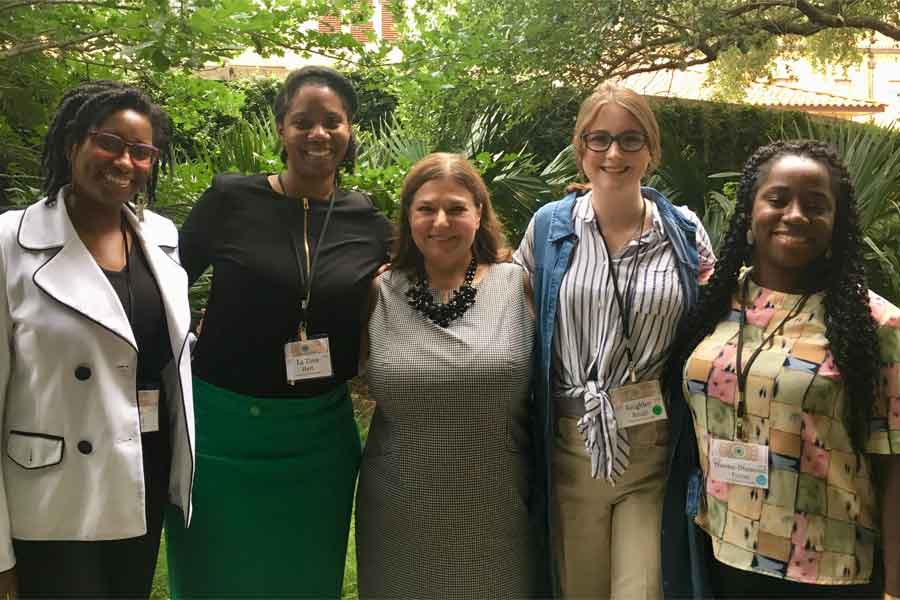 Four TWU seniors—Reighley Baugh, LaToya Hart, Chelsie Raymond and Dawna-Diamond Tyson—received an in-depth political education offered through New Leadership Texas thanks to sponsorship from the Center for Women in Politics & Public Policy.
The annual six-day residential summer institute, held in June and sponsored by UT Austin's Center for Women's & Gender Studies, educates college women of all majors about the important role that politics plays in their lives and encourages them to become effective leaders in the political arena. The program exposes students to new ideas and opportunities as they consider their future careers.
During the program, students hear from women who are shaping public policy as elected officials, community leaders and issue advocates. They also participate in interactive workshops and hands-on exercises that encourage them to practice their leadership skills.
Center for Women in Politics & Public Policy Director Nancy Bocskor, who has served as a faculty-in-residence and guest speaker for the program, encouraged the students to apply, having seen for herself the impact it can have.
"New Leadership Texas opens doors for diverse, motivated and passionate college women who want to affect change on their campuses and in their communities," Bocskor says. "Women who attend the program become part of a larger 'new girls' network. Participants have run for office, obtained paid positions on political campaigns and in public policy and secured highly competitive paid fellowships in Washington, D.C."
TWU Associate Professor and Social Work Program Director Nila Ricks, Ph.D., LMSW, also was instrumental in notifying two of the students about the program and encouraging them to apply.
The four TWU students all praised the program and felt the experience and the connections they made will assist them with their future careers.
Media Contact
Ray Willhoft
Director of Communications, Jane Nelson Institute for Women's Leadership
940-898-4584
rwillhoft@twu.edu
Page last updated 10:56 AM, August 7, 2019