TWU exhibit hall touting women leaders to open Sept. 23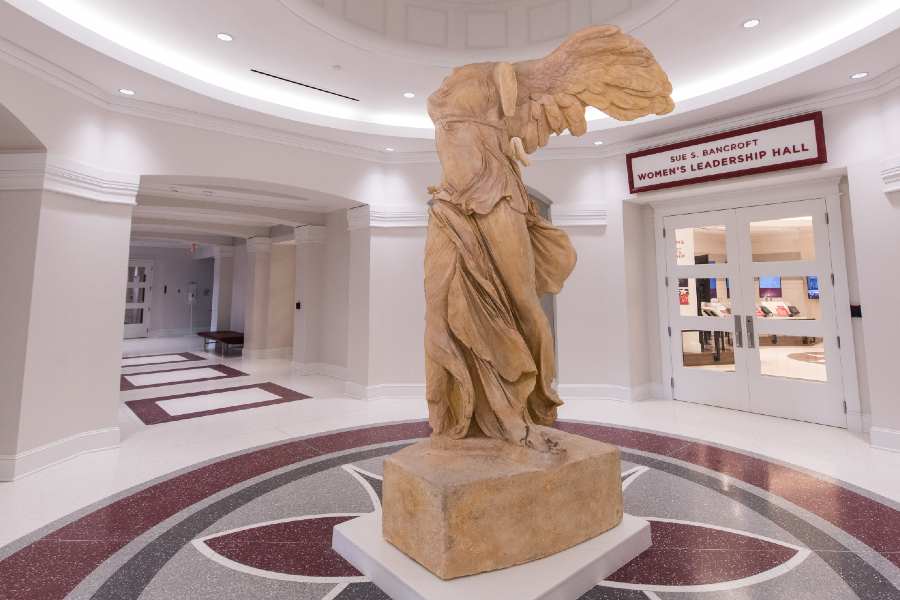 Sept. 13, 2022 — DENTON — A women's leadership hall featuring digital and interactive exhibits that focus on the contributions of Texas historical figures such as Gov. Ann Richards, U.S. Supreme Court Justice Sandra Day O'Connor and U.S. Congresswoman Barbara Jordan, among others, is slated to open to the public on Sept. 23.
The Sue S. Bancroft Women's Leadership Hall on the Denton campus of Texas Woman's University will offer a one-of-a-kind experience to visitors, including a digital history gallery that highlights the achievements of hundreds of Texas women who were pivotal in advancing women's leadership.
The facility is inside Texas Woman's Old Main Building and is the centerpiece of the Jane Nelson Institute for Women's Leadership, which aims to place more women in leadership roles in politics, public service and business. A ribbon-cutting ceremony will take place at the facility at 10 a.m. Sept. 23.
"This innovative space highlights the outstanding efforts of women who helped transform our state and nation, oftentimes demonstrating extraordinary perseverance in overcoming obstacles to achieve success," said Mary Anne Alhadeff, the institute's executive director and chief officer. "It is fitting that their stories are part of this leadership hall, where they will inspire generations of girls to become leaders themselves."
The hall features touchscreens that allow visitors to navigate through content including quotes, factoids, video and audio recordings; a "Rising Star" interactive lectern that allows visitors to simulate a breaking news event or deliver excerpts of a speech; and other screens that facilitate voter registration and help visitors contact their elected officials.
Another feature includes an exhibit on the historic 2018 mid-term election in Texas, in which more than 200 women were candidates, among them 17 Black women elected to judgeships in Harris County.
Additional exhibits include a civics learning center that features an interactive game in which participants take on the roles of county officials; and an exhibit on Texas suffragist Minnie Fisher Cunningham, who was instrumental in the movement that led to the passage of the 19th Amendment, which granted women the right to vote in the United States.
The hall is named in honor of former TWU System Board of Regents Chair Sue S. Bancroft, who is known for her community engagement and support of education, the arts and women's leadership. Beginning Sept. 23, the hall will be open from 10 a.m. to 4 p.m., Tuesday through Friday.
Media Contact
Matt Flores
Assistant Vice President, University Communications
940-898-3456
mattflores@twu.edu
Page last updated 1:01 PM, September 13, 2022