TWU alumna finds true calling helping others succeed in the horse arena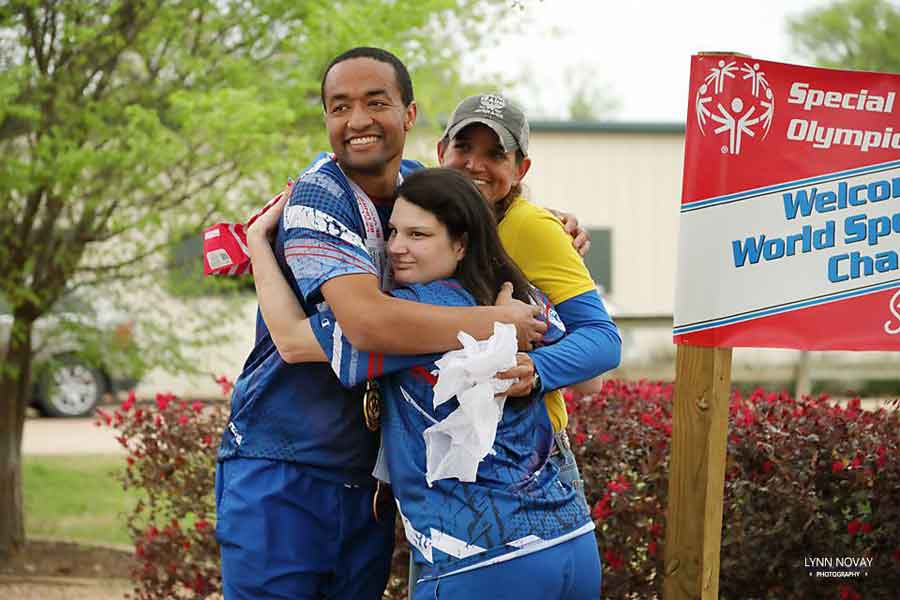 TWU education alumna Mandy Cleveland (BS '01) originally thought she wanted to be an educator in the classroom but discovered her true calling teaching in the horse arena. Cleveland is the founder, program director and advanced instructor for Stable Strides Farm, a nonprofit organization that teaches children and adults with disabilities and military veterans to become confident, independent and competitive equestrians.
Cleveland started her business in 2001 in Denton, Texas, after working for another center that taught disabled students to ride but did not allow them to compete in horse shows.
"I noticed when the students were on their horses they were just as good at riding as their typically developing peers," says Cleveland. "Horse showing is fun, it's competitive, and it gives concrete awards for hard work. I thought this would be a great area of growth not just for our riders but also for the horse industry as a whole. Our focus has always been teaching correct and effective riding, and horse showing has never been mandatory, but it has been incredible to watch everything that has happened in the last 20 years in the horse industry and the therapeutic riding industry. I am glad to say we were a part of that."
Stable Strides Farm eventually relocated to its home within Bridlewood Stables and Equestrian Center in Flower Mound. It features approximately 20 exceptional horses, many of them retired show horses, 12 manicured acres and amenities to ensure anyone can learn to ride.
"We do not focus on the riders' disabilities, but rather their abilities and the possibilities," says Cleveland. "Each rider is met in the place they are and asked where they want to go."
Riding a horse has many physical and mental health benefits, including improving muscular strength, building self-esteem and enhancing socialization skills. Individuals with emotional challenges also can form unique relationships with the horses, leading to increased confidence and patience.
Stable Strides Farm and its riders also are winning in the arena. The organization has received several Top Club and Reserve Top Club awards, and riders have won national and world recognition from the American Quarter Horse Association (AQHA), the National Snaffle Bit Association (NSBA) and the Palomino Horse Breeders of America (PHBA).
Three Stable Strides Farm riders and six other athletes from Texas competed in the Special Olympics World Games 2019 in March in Abu Dhabi. One of the riders, Spencer Roberson, who has autism and ADHD, has trained with Cleveland for many years and won three gold medals at the games. He also volunteers at Stable Strides Farm each week, assisting veterans with riding lessons.
For Cleveland, there is nothing better than watching her riders succeed.
"I am beyond proud of the perseverance, trust and dedication shown by all our riders and their families," she says. "I learn so much from each rider, and I love watching them shine."
Media Contact
Ray Willhoft
Manager of Public Relations, Institute for Women's Leadership
940-898-3452
rwillhoft@twu.edu
Page last updated 10:54 AM, August 7, 2019