TB Winds instrument repair shop uses TWU microgrant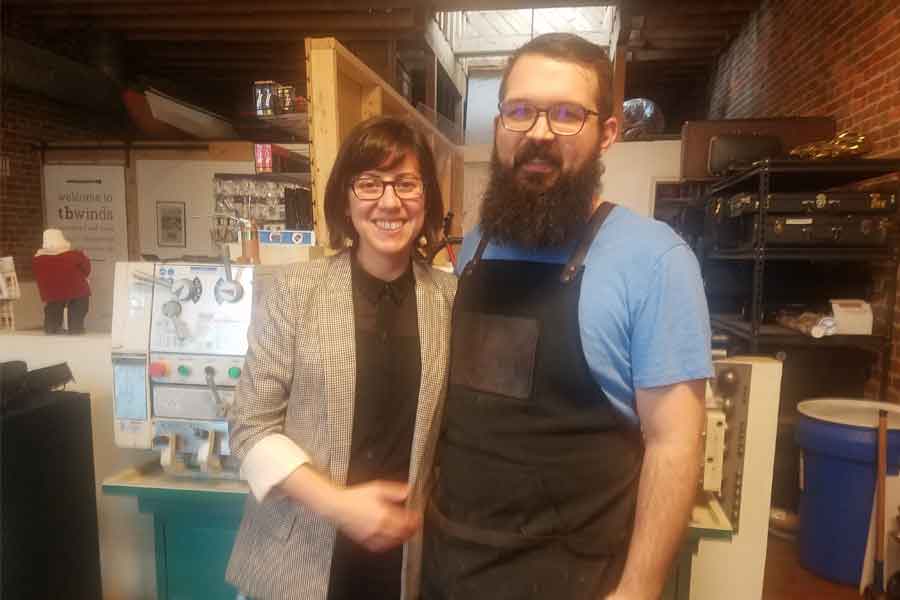 For many musicians, their instruments are the key to their livelihoods, so naturally they look for the best in choosing a repair shop. That's where Jennifer Guzman and Tony Barrette, co-owners of TB Winds, LLC, in Denton, Texas, come in, and thanks to $5,000 microgrant from the TWU Center for Women in Business, they are able to cater to musicians with even more care and detail.
TB Winds, which opened in late 2017, is a professional-level instrument repair and retail store that meets the needs of musicians from North Texas and the surrounding area. The company's two major focuses are instrument repair services and sales of woodwind and brass accessories. TWU and UNT musicians—both faculty and students—make up the majority of their customers as do high school musicians living in the Dallas-Fort Worth metroplex. Their clients also regularly include professionals from the Dallas and Fort Worth Symphonies, and they have customers who travel from Lubbock, San Antonio, and Oklahoma to receive instrument repair services. Customers often ship instruments in need of repair from as far away as Boston.
Wanting to continue offering the best service to their clients, TB Winds applied for and received a TWU microgrant to buy a lathe, which is a large tool used to shape wood, metal, brass or other material.
"While we have been able to complete a large amount of instrument repair jobs without this tool at our location, there are some more complicated jobs that can only be completed with a lathe," says Guzman. "We have steadily grown since opening our doors, and owning a lathe is essential for TB Winds to reach the next level of growth."
With their new lathe, TB Winds now is able to offer more professional and varied repair services to instrumentalists in DFW and around the country.
"Many musicians are as picky about choosing their repair technicians as most people are about choosing the right doctor," says Guzman. "Instruments are not only valuable monetarily, but they also have a high sentimental and emotional value. Owning a lathe allows us to communicate to current and potential clients that we can perform specialty repair work that not every repair store can offer."
About the Microgrant Program
The TWU Center for Women in Business' Women's Enterprise Training and Microgrant Program, now in its third year, helps women business owners—current or aspiring—to undertake new and innovative projects with a $5,000 grant. The grants are awarded once per year. For more information on the program, visit https://twu.edu/center-women-entrepreneurs/.
Media Contact
Ray Willhoft
Director of Communications, Jane Nelson Institute for Women's Leadership
940-898-4584
rwillhoft@twu.edu
Page last updated 10:41 AM, September 27, 2022