Residence Hall Association (RHA)
RHA serves over 2000 residents living on campus. The best way to describe the goal and mission of TWU RHA is found in our Constitution which states:
"This organization's policies and programs shall be designed and implemented for improving the community within the residence halls and is established to govern, serve, represent, and promote the interests of all residential students at TWU."
RHA believes that, as a campus resident, you have the right to be heard! RHA is the government body that prides itself on voicing resident concerns and serves as a liaison between students living on campus and Housing administration. Any student living on campus is already a member and is encouraged to attend meetings to discuss any improvements or ideas they have concerning ResLife. You can find us on Blackboard or Facebook. (Type in: Residence Hall Association.)
NETWORK, BUILD RELATIONSHIPS & MAKE A DIFFERENCE
From RHA to Community Councils and residents, you will find numerous opportunities for personal growth within your college. Because of these opportunities, members of our organization have become leaders, respected students, and the voice of residents.
Work directly with Community Councils, residents and Housing administration.
Any change in housing facilities can only be started by students like you.
Learn more about the organization by reading the Bylaws.
Join RHA and become active in one of the most effective organizations on campus. Let your voice be heard!
National Residence Hall Honorary, Nancy Murphy-Chadwick Chapter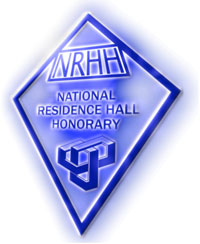 The National Residence Hall Honorary (NRHH) is the premiere honorary supported by the leading national organization advocating for the interests and welfare of residence hall students, while also providing opportunities for their personal growth and development. NRHH strives to provide recognition for individuals who have contributed to the advancement of college and university housing.
Contact Us
Our office is located in Guinn Commons
phone: (940)-898-3618
Page last updated 9:32 AM, January 8, 2020