TWU Pioneer Pet Therapy
TWU Pioneer Pet Therapy was launched in the fall of 2021 with 7 volunteer dog handler teams on the Denton campus! The purpose of the program is to enhance the emotional wellness and overall wellbeing of TWU students, faculty and staff. In order to serve as pet therapy handlers, our faculty and staff volunteers have successfully completed the Pet Partners online course and evaluation process, as well as TWU specific training.
Support the TWU Pet Therapy Program
We aspire to grow our program so that we can make an even more significant impact on the daily lives of students who want to engage with animal assisted therapy. The donations we have received so far have allowed us to pay the cost of handler training and registrations, purchase capes for our dogs and shirts for our handlers. The TWU Pioneer Pet Therapy Program has made incredible strides, and we hope to expand our program even further. And your donation will make the difference!
Learn more
To learn more about the Therapy Pups, follow us on Facebook, Twitter, and Instagram.
Recruitment for our next class will begin in Spring of 2022.
Handlers Requirements
Be a full-time regular employee of TWU
Register with Pet Partners and successfully complete the online handler course and in-person evaluation
Successfully complete TWU in-person training
Contact Missy Bassett to learn more about the process.
Special thanks to Oklahoma State's Pet Therapy Program Pete's Pet Posse and Kathy Tomlinson for their help and support in developing TWU Pioneer Pet Therapy.
Apply to Volunteer
Interested in Volunteering at TWU Pet Therapy Events? Current TWU Faculty, Staff and Students can volunteer at Pet Therapy Events! Volunteers will go through a training orientation to help get you familiar with how to help during events!
If you are interested in becoming a Paws-itively amazing volunteer, please fill out our Volunteer Form.
In Memory
In memory to the Pioneer pets that loved and served, and gained their wings.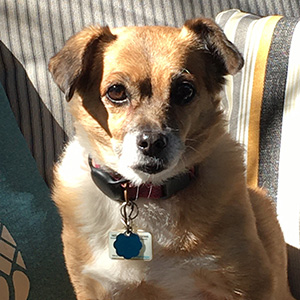 Bella
Handler: Missy Bassett
Department of Student Life
Served as a Pioneer Pet for the fall semester of 2021, she was one of the first dogs to become certified on the inaugural team. Bella gained her wings in February of 2022 at 12.5 years old.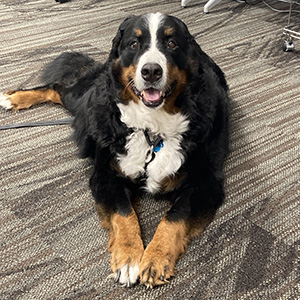 Boomer
Handler: Amber Geldersma
Department of Human Resources
Served as a Pioneer pet for the Fall 2021 and Spring 2022 semester, he was a member of the inaugural team. Boomer gained his wings in July of 2022 at 7 years old.
Page last updated 11:17 AM, March 29, 2023