Electronic Transcripts via Greenlight
Current TWU students: Get your full academic records whenever you need them for FREE, thanks to a partnership TWU now has with GreenLight Credentials.
Easily access your TWU transcript from your phone, tablet or computer— all you need is the app and an internet connection.
With the GreenLight service, you can send an official transcript electronically or print an unofficial copy for your own records. Also, your academic records are accessible 24-7, so you no longer have to wait for your transcript request to process during normal business hours.
Note: GreenLight does not provide official, printed transcripts. There is a fee for each official transcript, hard copy or electronic, ordered through our other options.
The GreenLight service is only available to current TWU students at this time. 2021 Graduates will have access to the free service for one year after graduation.
NOTICE: GreenLight is an additional service provided to current students along with our primary transcript service through Credential. If you are an alumni, you must use our primary transcript ordering service.
Getting Started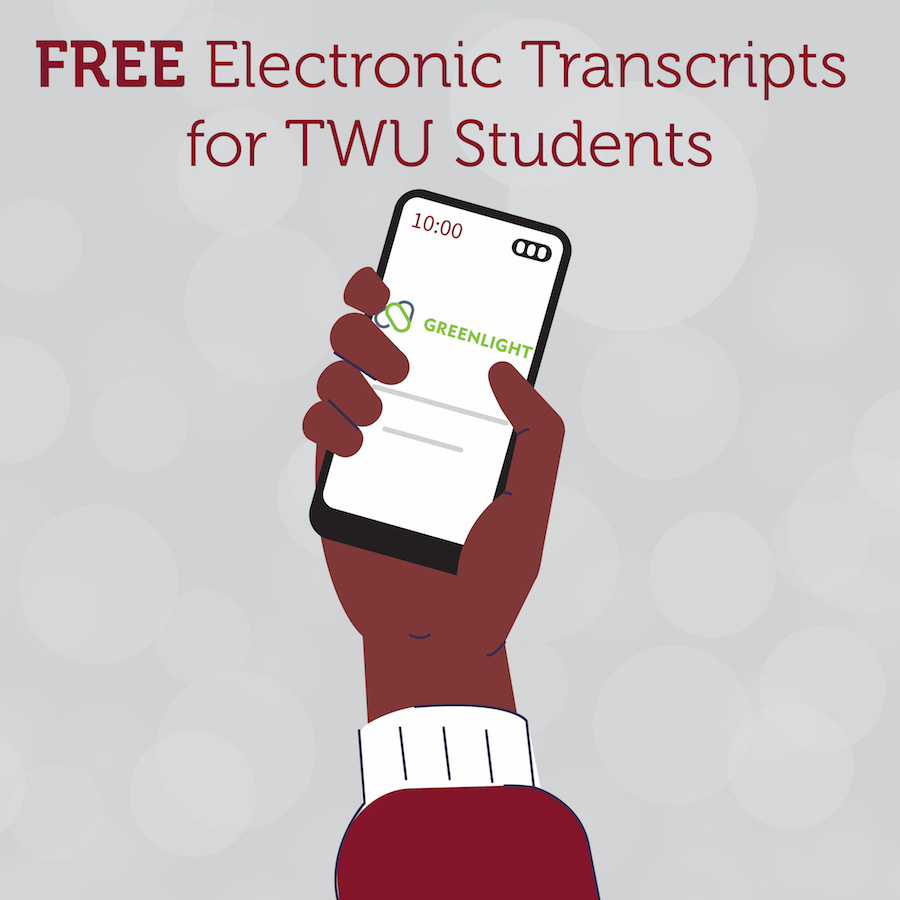 Use a desktop computer or download the app on your mobile device:
If you don't currently have a GreenLightLocker.com account, follow these steps:
NOTE: If you already have an account on GreenLightLocker.com through another school (such as DCCCD), there is no need to register again. Please follow these steps:
Log into your account on a computer and navigate to your profile by clicking on your name in the top right corner.

Click on "Claim Credentials" and paste your TWU GreenLight enrollment code. Press the "Verify & Add" button. You should now see your TWU transcript in your GreenLight Locker.
Transcript options:
After you verify and activate your account, you can request a digital version of your transcript to be sent electronically to any institution via email. Please inform the recipient they will receive an email from GreenLight.

Unofficial transcripts can be printed or kept for your own records.
More Information
Check out these tutorials for help with frequently asked questions.
How to use GreenLight:
https://www.youtube.com/watch?v=3QRjCJvmR30&feature=youtu.be
GreenLight registration troubleshooting:
https://www.youtube.com/watch?v=9rgL2E9uI2Y&feature=youtu.be
How to share your transcript via GreenLight:
https://www.youtube.com/watch?v=3QRjCJvmR30&feature=youtu.be
My transcript is outdated:
https://youtu.be/yUWLbdiUzfQ
I need to know about the FERPA release:
https://youtu.be/2XYvNzbJ1BI
I forgot my username:
https://youtu.be/iUytpwtVetA
I forgot my password:
https://youtu.be/Y3NbREVEPrQ
I am having issues with the registration form:
https://youtu.be/fGtSVVO1kzc
I am having issues with the enrollment code:
https://youtu.be/-wa1rH8uWa0
GreenLightLocker.com website is not loading:
https://youtu.be/HQf0ZB619-8
I need to know what browsers are supported:
https://youtu.be/tuqkH6gCa5A
I am having issues sharing a transcript:
https://youtu.be/U4w6DWJOXt0
Page last updated 2:33 PM, July 23, 2021