Theatre student takes the virtual stage at Spring 2020 commencement
Alexander Delacruz-Nunez (left) in the Spring 2020 TWU Theatre production of 'These Shining Lives.' Photo courtesy TWU Theatre Program.
Alexander Delacruz-Nunez (BA '20)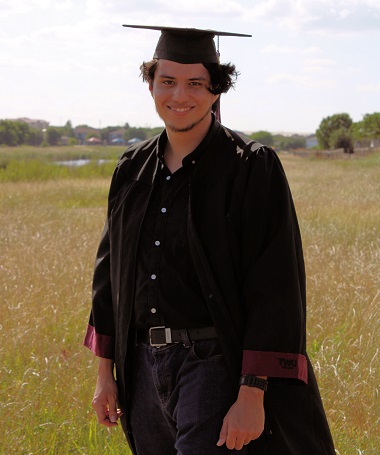 05/19/20
Alexander Delacruz-Nunez felt drawn to acting from an early age, but initially believed his disability would prevent him from becoming a successful performer.
Alexander has progressive hearing loss that borders on profound. At first, the audio-visual nature of theatre presented a number of challenges, and acting was especially difficult because he couldn't always hear what the next line would be.
To overcome this barrier, he took on the monumental task of memorizing everyone else's lines in addition to his own. Through repetition and prediction, as well as tech and visual cues from other actors, he now performs as if he doesn't have a disability at all. "I navigate life as if I don't have one, so I try my best to continue to do that on stage," said Alexander.
While pursuing his bachelor's degree, he has taken on a number of roles in TWU productions, including a leading part in this spring's "These Shining Lives." He has also been a member of the TWU Interactive Theatre Troupe since its inception.
Alexander is dead-set becoming a professional performer. However, he recognizes that due to COVID-19, he may have to put some of his goals on hold in order to get his bearings in the industry, focusing on developing new skills and making professional connections before moving forward.
On graduating with his bachelor's in theatre this spring, Alexander said: "It's a wonderful feeling to have achieved what I set out to accomplish. As I reflect on my initial years here at TWU, I was so clueless at the beginning, and I felt so unfulfilled. I was almost ready to give up, but I couldn't bring myself to. Then I enrolled in the theatre program and came to know so many people whose successes and passions inspired me. It was here that I discovered a drive that grew stronger over the years as I became closer to my peers and teachers. This degree is a representation of that drive, and it will stay with me throughout all of my endeavors."
Page last updated 2:54 PM, May 19, 2020