Grad student's plays win big on national, international stage
Lindsay Hayward (far right) at the IMPRINT Theatreworks First Impressions Festival. Photo courtesy Lindsay Hayward.
Sept. 24, 2020—DENTON—Texas Woman's University graduate student Lindsay Hayward is generating a lot of buzz in the theatre community. Already an accomplished performer with more than 80 productions under her belt, Hayward can now add "award-winning playwright" to her extensive list of talents and achievements, which includes singing, dancing and stage combat.
Her 90-minute play, "Petrichor," was selected by the Women Playwrights International Conference to appear as part of their Emerging Playwright Playroom. The conference, which takes place every three years in different host cities around the world, has been postponed until 2022 due to COVID-19. The event will be held at Dawson College from June 20-25 in Montreal, Canada, and expects to draw more than 700 theatre practitioners from more than 30 countries.
Hayward describes "Petrichor" as "a ghost story tucked between the last century's world wars, weaving together pairs of sisters, friends, lovers and nations to examine the past's true reality. Set in South Africa in 1938, the play's themes of duality, injustice and perceived morality conclude that the horrors which lurk in the dark are too often human."
This summer, Hayward was invited to attend the 2020 Kennedy Center Playwriting Intensive. The program took place virtually over two weeks and included rigorous writing workshops and discussions of the art, craft and business of playwriting with distinguished guest artists.
Those who use their words to lift up others are always such an inspiration. Art constantly adapts, so those who are still creating right now encourage me." Lindsay Hayward, MA in Theatre graduate student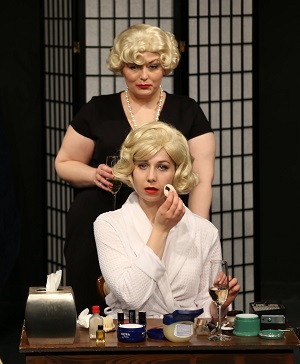 Since then, Hayward's piece "CROW EATS DEATH" was the winning finalist at IMPRINT Theatreworks First Impressions Festival and was also selected for a performance at the Festival of Independent Theatres. A second piece, titled "[INSERT NAME] Has Exited the Game" has been short-listed for the Unstaged New Works Festival, and her play "Upstart" was recently announced as a finalist in the Theatre Off the Square New Works Contest.
When asked how she is able to manage it all, Hayward credits her sons: "My two boys are the greatest support system," and notes that her experiences at TWU "gave me plenty of creative opportunities as well as the flexibility to work around my family and career schedule."
"Lindsay entered the master of arts in theatre program as a professional actress with credits in Dallas-Fort Worth and the United Kingdom. She quickly excelled through mentorship with our faculty in other areas such as dramaturgy, devising and playwriting," said Hayward's graduate adviser, Noah Lelek, Ph.D. "She is a dedicated and talented graduate student who is driven to continuously improve her craft as a theatre artist."
Hayward will complete her master's degree at the end of Fall 2020. Following graduation, she plans to keep writing and performing while teaching at the high school or collegiate level. Eventually, she hopes to pursue a doctoral degree.
Page last updated 5:03 PM, September 24, 2020