Student Organizations
Accounting and Finance Society (AFS)
Purpose: AFS serves to enhance your knowledge on how to become a CPA and provides information and extra support for the CPA exam.
Dues: Free
Location: Denton campus
Faculty Sponsors: Pamela Baker, PhD, CPA, and Sumu Shrestha, MBA (co-advisor)
Association of Latino Professionals for America (ALPFA)
Purpose: Involvement in ALPFA expands your opportunities to find careers in accounting, finance, business and business-related fields by allowing you to develop as a leader through workshops and networking events.
Dues: Free
Location: Denton campus
Faculty Sponsors: Maria E. Barua, PhD
American Marketing Association (AMA)
Purpose: Students can get more involved at TWU, develop leadership/team skills and enhance their professional networking and involvement.
Dues: $29 per year
Location: Denton campus (but open to students from the Dallas and Houston campuses as well)
Faculty Sponsors: Fernanda Muniz, PhD and Andrea Bennett, PhD
IMA/CMA TWU Chapter
The Association of Accountants and Financial Professionals in Business – Institute of Management Accountants IMA® is the certification organization for the CMA® Certified Management Accountant designation.
Purpose: As an IMA Student member, you can learn about the role of accountants and financial managers in business and explore your career options. IMA offers student members access to many of the benefits of regular professional membership. As a member of this group, you are automatically a part of the Dallas-Fort Worth chapter.
Dues: $25 per year
Location: Denton campus
Faculty Sponsors: Pamela Baker, PhD, CPA
National Association of Black Accountants (NABA)
Dallas-Fort Worth Chapter on Facebook
Purpose: NABA addresses the professional needs of its members and builds leaders that shape the future of accounting, finance and any business related profession with an unfaltering commitment to inspire the same in their successors.
Dues: Free
Location: Denton campus
Faculty Sponsors: Sandra Gates, PhD, CPA, and Gilbert Werema, PhD (co-sponsor)
National Society of Leadership and Success (NSLS)
Purpose: NSLS works to build leaders and inspire them to build a better world. Through NSLS you will gain leadership skills, networking opportunities, and build your community involvement. Scholarship opportunities are also available for graduate student members.
Dues: One-time registration fee of $85 guarantees lifetime membership
Location: Denton campus, Dallas and Houston campuses can participate virtually
Faculty Sponsors: Michael Raisinghani, PhD or email nsls@twu.edu for more information.
Society for Human Resource Management (SHRM)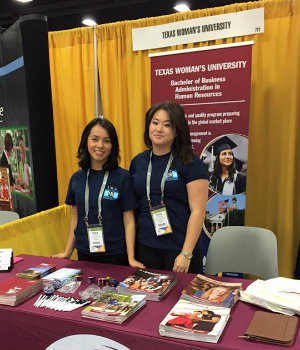 Purpose: You will gain knowledge and insight into the field of human resource management through this student chapter, which is affiliated with the professional SHRM organization.
Dues: $30 per year
Location: Denton campus
Faculty Sponsors: Shelia Hyde, PhD
Student Healthcare Administration Organization
Purpose: To promote professional interaction among individuals with responsibility in health care management. To endeavor to recruit qualified applicants for affiliation with health care organizations nationwide. To establish a liaison mechanism between members of the Student Chapter of ACHE, MGMA, HIMSS, NASHE and other health care organizations nationwide, and to encourage participation in health care policy issues; and to sponsor programs, including social activities, which will further any and all of the above, and will provide members of the Chapter with the necessary forums for professional and social fellowship.
Dues: Free
Location: Dallas and Houston
Faculty Sponsors: Anastasia Miller, PhD (Dallas) and Sandra Murdock, PhD (Houston)
World Affairs Council Chapter (WACC)
Purpose: WACC is a non-profit, non-partisan organization that promotes international awareness, understanding and connections through multifaceted programs, as well as educates citizens on crucial issues of international affairs and foreign policy.
Dues: Free
Location: Denton campus
Faculty Sponsors: Michael Raisinghani, PhD
Page last updated 9:01 AM, January 23, 2023