Workshops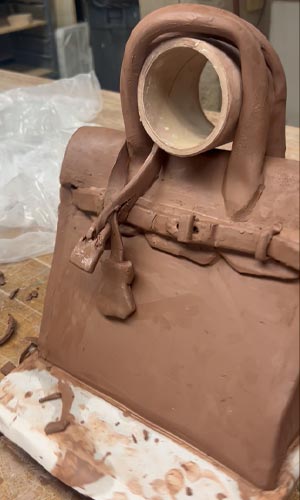 Ceramics Workshop
"That's My Purse, I Don't Know You!"
with artist and educator J.C. Neihardt
In this workshop students will be tasked with approaching "emotional baggage" through their artmaking. Through the premise of an internet meme, we will be talking about setting boundaries, speaking up for yourself, and protecting your purse-onal issues. Students will be tasked with constructing a purse planter (or a shopping bag/backpack) and treating the clay surface as a canvas for talking about important topics. Most importantly we will discuss the way art can be a great way for processing anxiety, stress and sometimes trauma.
Working in clay requires patience and understanding. If you work too fast and use too much water you can lose your project. Processing purse-onal stress is a very similar task, you may need to spend more time creating and taking care of connections, that way you can create a beautiful work of art (ie;YOU!!!)
Wellness Focus: Clay - Mind Well - Embrace body positivity and learn to love your body! All bodies are good bodies and sculpture is a positive outlet for empowerment. Working with clay can provide important time for mindfulness and reflection.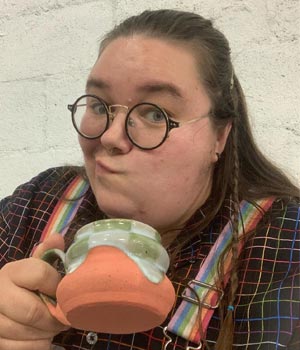 Instructor J.C. Neihardt
J.C. Neihardt is an artist based out of north Texas. They received their BFA in ceramics from the University of North Texas and their MFA in Intermedia Studio Art from Texas Woman's University. Their primary medium is ceramics, but they work extensively in video, performance, installation and projection. They currently work at several local colleges including TWU, UNT, TCCD, and Grayson College Respectively.
In their work, they discuss the issues of queer and trans body identity through the lens of consumer culture, as well as the perception of the value of fat bodies in contemporary culture. Their work touches on processing hard feelings and how that processing can break the value of a body down to the sum of its parts. Despite their difficult subject matter Neihardt's primary teaching values are centered around empowering students to be fearless in their making, as well as their conceptual practice.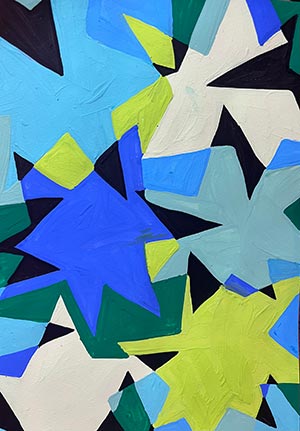 Painting Workshop
Flow State & Painting for Painting's Sake
with artist and educator Anna Galluzzi
During this workshop Galluzzi will show participants how they can create compelling non-representational paintings that don't require too much planning and let you get right to the painting process. Using a stencil of your making, paint pens and gouache, participants will leave the session with a small painting and a new technique to create their own "coloring pages." The focus of this workshop is to give students the opportunity to find ways to engage in the artistic process even when they may not have the mental energy to plan out a piece.
Wellness Focus: Painting - Mind Well - Use paint to learn more about the mental health benefits of flow-state. Finding your flow-state in painting (or any creative activity) provides deep-focus and clarity to your art.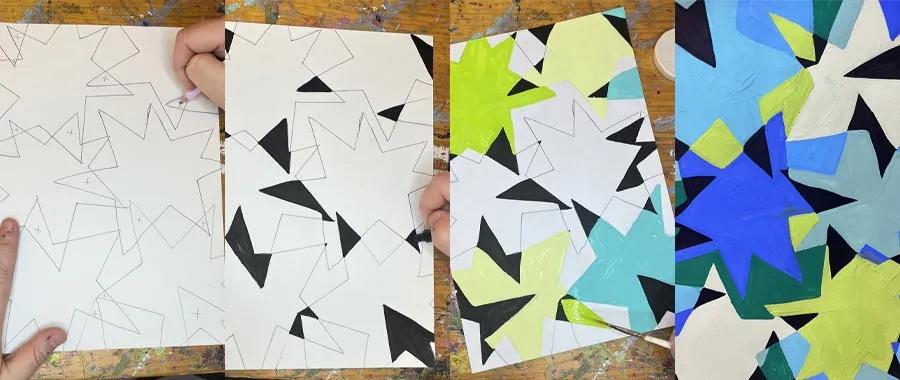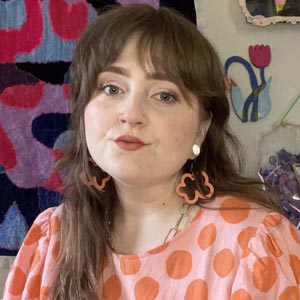 Instructor Anna Galluzzi
Anna Galluzzi (they/she) is a studio artist and educator currently working out of the DFW Metroplex who specializes in painting and fibers.
Originally from the Texas Hill Country, Galluzzi moved to Dallas in 2013 and received their BA from The University of Texas at Dallas in 2017. In May of 2021 they earned their MFA in painting and drawing from Texas Woman's University. While the media they use ranges, the underlying themes of self discovery and emotional coping are present throughout their varying bodies of work. They are heavily inspired by literature, popular culture and all things kitsch.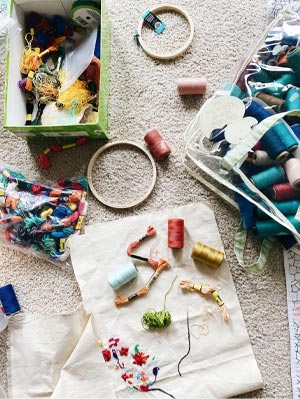 Embroidery Workshop
"Grow" (sew) a plant patch
with Christine Adame, professor of Graphic Design & Foundations
In this workshop, attendees will stitch their own plant patch design using simple embroidery techniques. Plant models will be available during the session for inspiration.
Wellness Focus: Fibers - Spend Well - Fiber art is an exciting creative outlet, and it can be done frugally! The mindfulness of using a needle and thread allows you to destress while creating something unique for yourself or others. Working with fibers can also be an outlet for sharing history, activism and awareness.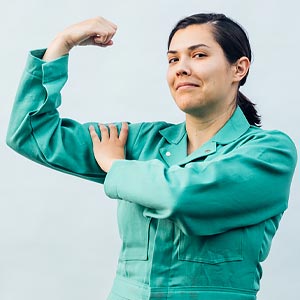 Instructor Christine Adame
Christine Adame is an intermedia artist and professor of graphic design at Texas Woman's University. She uses her design skills to make sewing patterns for quilt installations. She also is a dedicated plant mama to over 50 plants.
Mixed Media & Collage Workshop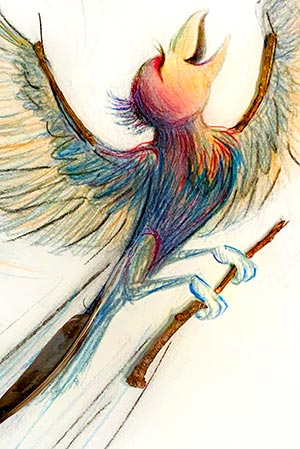 Mark-making and repurposing materials
with Sheli Petersen, professor of Graphic Design & Illustration
You don't need a lot of fancy supplies to make great art! In this workshop we'll delve into how to repurpose house-hold items, found human-made and natural objects, and used art materials to make expressive, richly-layered images. Together, we'll cover how to:
Explore expressive mark-making by varying the speed, control and pressure of the drawing tool
Achieve rich color and modeling with layering and hatching
Collage and/or draw with natural and/or human-made objects and/or stamps
Sand and scrape with sandpaper to bend and erase
These techniques work with any style—realistic, cartoony or abstract! You can choose to draw from:
Life —Taxidermy and/or anatomical models
A reference you bring on your phone or a print-out
Your imagination
Any or all of the above
Look forward to seeing you there!
Wellness Focus: Mixed Media - Build Well - Take charge of your own environment and make it what you want it to be! Collage art is a great way to customize your space with endless possibilities for creative potential.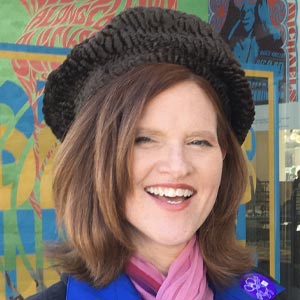 Instructor Sheli Petersen
Petersen teaches graphic design and illustration at TWU. In her creative practice, she focuses on visual story-telling for children's books, combining research and scientific observation with her love of world-building, character design, lively interaction and a whimsical humor that engages young readers.
As an award-winning illustrator, Petersen is also a proud and active member of the Society of Children's Book Writers & Illustrators, providing leadership for their Nebraska chapter as Webinar Coordinator.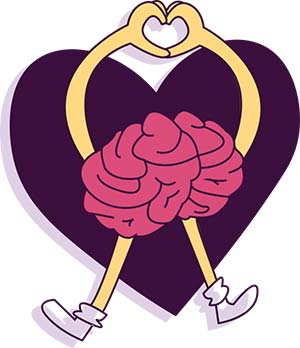 Portfolio review and wellness activities
Get a portfolio review with TWU Visual Arts faculty or MFA student
Receive feed-back and advice on college admission
Participate in artist's exercises
Learn about opportunities and careers in Art Therapy
Wellness Focus: Portfolio Reviews - Move Well - Chiropractic stretches - Learn some simple arm, hand and neck stretches! Give your body a break while learning what you can do to retain flexible mobility and keep pain away.
Page last updated 1:31 PM, August 7, 2023