Dr. Patrick Bynane
Professor and Director of the TWU Theatre Program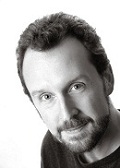 Patrick Bynane received his Ph.D. in Theatre History/Criticism from Louisiana State University in 2002.
He studied at Southwest Missouri State University (now Missouri State University) where he completed his M.A. in Theatre and at Ashland University in Ashland, OH where he graduated with a B.A. in Theatre with an Acting/Directing emphasis.
He has worked professionally as a teacher, actor, director and technician in North Carolina, Louisiana, Missouri and Ohio. At TWU, Dr. Bynane serves as the Theatre Program Director, advises the M.A. candidates, teaches theatre history, literature and structure as well as theatre electives such as improvisation.
Page last updated 11:30 AM, May 29, 2018