TWU named Best for Vets: Colleges 2020
Nov. 08, 2019 — DENTON — Texas Woman's University has been named one of the best colleges for veterans, coming in at No. 47 in the nation, according to Military Times.
The Military Times Best for Vets: Colleges 2020 ranking is based on many factors that help make colleges and universities a good fit for service members, military veterans and their families.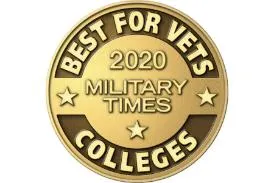 "TWU has a rich history of service to veterans," said Amy O'Keefe, executive director of CARE. "With our WASP archives and research that particularly focuses on the expertise of women in the military, Texas Woman's will continue to serve those who served our country."
This national recognition comes as TWU prepares to celebrate veterans during Veterans Day activities next week.
Texas Woman's University, Denton County Veterans Services and the University of North Texas come together to offer a single, unified program for the Denton community at the historic downtown square. The annual ceremony will begin at 11 a.m. on Nov. 11, beginning with a moment of silence to mark Armistice.
The event includes remarks by TWU alumna and executive director of the Institute for Women's Leadership, Maj. Gen. Mary Saunders, retired, and long-time Denton resident and TWU supporter, André J. "Frenchy" Rheault, who will provide the keynote address.
Special services for veterans at TWU include academic credit for military experience (when applicable), early course registration, personalized help with Hazelwood and GI benefits, small classes, study workshops, a Student Veterans Association and veteran cords at commencement.
###
Page last updated 12:16 PM, November 8, 2019