Health Services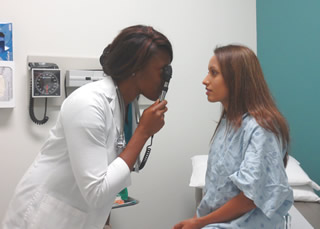 At the Houston Center, healthcare needs are serviced out of two offices: TWU - Denton Student Health Services and the University of Texas Health Services (U.T.H.S.). The latter has a physical presence here in the Texas Medical Center, and welcomes visits by TWU students carrying their student ID. Conveniently located just down the street at 7000 Fannin, Suite 1620, U.T.H.S. provides care for illness and injury, and conducts routine physical exams.
Immunization Records
As students step into the clinical setting, having up-to-date immunization records with The University claims high priority. These records will need to be uploaded personally by individual students themselves to the Medicat system. The technology also exists for students to check compliancy status online.
Accessing Your Immunization Record
Log into your Pioneer Portal Account




Click on My Info




Choose Immunization Info




TWU SHS Online Student Health (OSH) Information site will give you two options:




First Time Users




Returning Users




Log in to the OSH web page with the same User Name and Password you have selected for Pioneer Portal




Click Immunizations noted on the left side of the screen




Choose Immunization once more




Use the Print Icon on the right side of the screen to make a hard copy of the shot record for your files/instructors
To Upload New Immunization Information
To view current immunizations:

Go to Immunization, click "View History"



To upload immunization information:

Go to Immunization, click "Enter Dates"




Enter dates of respective immunizations




Click "Submit"




Go to "Upload"




Choose document you are uploading "Assorted Immunization Records"




Select File and upload scanned immunization records from your computer/phone/tablet




Click "Upload"
Questions about Health Care?
TWU Student Health Services [Denton]: You are invited to call 888-898-8825 with questions either about a healthcare provider and/ot a medical related question.
University of Texas Health Services: When in doubt, call 713-500-3267 if you are considering whether to seek medical treatment. This is a 24 hour nurse line with an after hour pager service who can contact as appropriate the person on call.
Student Health Insurance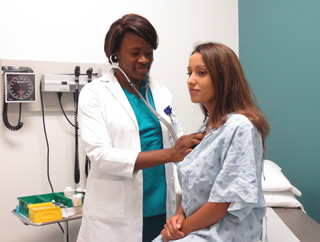 TWU has a relationship with Academic HealthPlans (AHP) to provide insurance plans for currently enrolled students.
Students participating in AHP and utilizing the University of Texas Health Services, can expect:
Deductible waived on most types of appointments.
AHP will pay 80%, leaving the student responsible for paying 20%.
The following Preventive Services are covered 100%:
Immunizations
Mammography Screening
Annual Well Woman Exam
Cervical Cancer screening, including PAP smear
Contraception
HIV Screening
STD Screening
Blood Pressure Check
Diabetes Screening for Adults with High Blood Pressure
Yearly Preventive Care Visits for Adults
For additional information regarding student health related needs, visit Student Health Services. Their convenient toll free number is (888) 898-8825.
Page last updated 4:21 PM, February 9, 2023