Winter 2016 Issue
Members of the Class of 1965 Visit the TWU Campus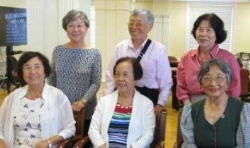 "It's been 50 years; time to come home."
For their 50th class reunion, six members of the MLS Class of 1965 chose to return to TWU: Mary (Liu) Kao, accompanied by her daughter Patricia Kao, Grace (Yu) Li, Deborah Sham, Margaret (Kuo) Wang, Joan (Liu) Tseng, accompanied by her husband G.T. Tseng, and Sally (Chen) Chu, accompanied by her husband Luke Chu. They reunited in Denton on October 16, 2015, to visit the School and take a campus tour. This was their first trip back to campus since their graduation.
The group formed a strong bond during their study at TWU. Five were originally from Taiwan, and one was from the Philippines. They met for the first time when they arrived at TWU and helped each other through the culture shock and struggles of living and studying in the U.S.
During their October visit to campus, this group of inspiring women shared stories about their experiences and library careers, which span 50 years and encompass a multitude of changes in the LIS field, from card catalogs to digital resources. While several of them originally specialized in cataloging, the six of them have worked in different types of libraries in multiple positions throughout their careers.
Mary Kao's first library job was at a college in Ohio. She eventually became the library director at Three Rivers Community College in Connecticut and held the position for over 20 years, where she developed the Library Technology certificate program and taught courses. Along the way, she earned a Ph.D. in Education at the University of Connecticut. Upon her retirement from Three Rivers, Mary moved to San Francisco and worked at Innovative Interfaces, Inc., (III) for five years, training librarians on using their ILS program. Mary retired 11 years ago and moved to the San Diego area; she enjoys traveling and dancing. Mary's daughter, Patricia Kao, who joined her on the trip to Denton, is a corporate executive. Patricia values libraries and is on the board of the Library Foundation of Los Angeles and the Friends of the Chinatown Library, supporting the Chinatown Branch of the Los Angeles Public Library System.
Grace Li started her very satisfying career in libraries with a librarian's position at the Atlanta (GA) public library (now the Atlanta-Fulton Public Library System), while her husband studied at Georgia Tech. She stayed at home for three years to take care of their children and, then, moved to Waukegan, Illinois, with their family and worked as a librarian at the Waukegan Public Library until she retired. One of her more memorable experiences was witnessing the library's conversion from the card catalog to an online catalog system.
Deborah Sham maintained her library career in cataloging at the Capitol Institute of Technology in Washington, D.C. (now Capitol Technology University), Dickinson College in Pennsylvania, and then the Library of Congress where she worked in monographic series and Chinese cataloging. After her marriage, she moved to San Francisco and worked at the Ninth Circuit Library of the United States Circuit Court of Appeals, cataloging court cases. Deborah has retired and now enjoys traveling.
Margaret Wang started her library career in special libraries, first at the American aerospace association in Washington, D.C., then at a special library for a tool company in Ohio, and at the Chemical Abstracts Service, where she was a cataloger. Margaret moved to Delaware afterward and spent the rest of her career at the University of Delaware library, working in cataloging and authority control for more than three decades. She retired 13 years ago.
After preparing herself for a career in library cataloging, Joan Tseng landed her first job as a children's librarian in San Mateo County, California. She moved on to work at Loyola Marymount University when her family relocated, specializing in the periodicals and journals area. She resumed her role as a public librarian in Palos Verdes, where she worked for eight years. After her children went to college, she became a librarian for The Aerospace Corporation and remained there for over two decades. Joan's work involved multiple government projects, including the space shuttles, satellites, GPS, the national defense system, and other classified projects. She was proud of her experience in the development of digital technology, not only as used in libraries and for government projects, but also for everyday life (such as Yahoo and Google).
Sally Chu worked as a children's librarian upon graduation, first in San Diego and later in San Bruno, California. Her two children benefitted from her library work, with plenty of exposure to new children's books from her library. Her library career took a drastic turn when her family relocated to Kansas City. She took courses in medical terminology at the local junior college, while staying home with her children, to prepare herself for their family move to Taiwan, where she worked to establish a medical library while her husband served on the faculty of a medical college. She built the medical library collection and oversaw the expansion of the library building for three years. When her family returned to Kansas City, Sally worked at the University of Missouri – Kansas City as a clinical medical librarian for the medical school. In addition to reference work, she went on rotations with the medical students and faculty and found materials to support their clinical work. Sally finished her career working at medical libraries in two different hospitals in the San Francisco Bay area.
"I Love My Librarian" Award Recipient: Courtney Kincaid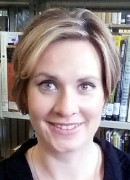 Courtney Kincaid (MLS alumna of 2009) was named one of ten winners of the national 2015 "I Love My Librarian" award sponsored by the American Library Association. Courtney, who is the former Director of the Hood County (TX) Public Library, received this award because she "Inspired a community coalition to fight for the freedom to read." Earlier this year, Courtney was in the local and national news regarding a censorship challenge from some members of the Hood County community. She gained the support from her Library Board and the County Commission not only to keep an inclusive collection for the community but also to maintain the policy to protect the community's rights and freedom to read. Courtney defended "the inclusion of two children's books aimed at helping children have a better understanding of LGBT issue." Courtney is now the Assistant Library Director at the North Richland Hills (TX) Public Library.
Ohio Librarian of the Year: Heidi Daniel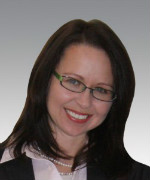 Heidi Daniel (2006 MLS alumna) was named Ohio Librarian of the Year for 2015 by the Ohio Library Council (OLC), the statewide professional library association. This award "honors a librarian whose recent accomplishments have impacted the library profession and/or library service to the community" (OLC website). Ms. Daniel is the Executive Director of the Public Library of Youngstown and Mahoning County (PLYMC). According to the announcement on the PLYMC website: "Among the innovations under Ms. Daniel's leadership are: the pop-up library, which reaches people where they are gathering outside of a library, such as schools and community events; a series of new library cards which are tailored to the needs of different groups of people; the READ and TEEN cards which are fine-free to ensure that children and teens are not blocked from using a library; a digital card which is fine-free and fee-free because there are no physical materials checked out – the card is for use on library computers, the website, databases and more; new technology offerings; and much more."
Alumni Connect Program and Alumni Awards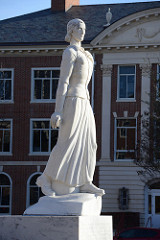 Calling alumni volunteers!
SLIS has started a new Alumni Connect program, to connect students to alumni volunteers, who serve as an additional resource to students as they complete their program of study. The Alumni Ambassadors share about their experience in the Library Science program and how it has impacted their professional career. These ambassadors help increase the personal contact with our online student body. Currently, over 50 alumni have generously volunteered to be Alumni Ambassadors. We have offered this program to incoming students for the last two semesters and are now extending it to all of our current students as well.
Any alum interested in becoming a SLIS Alumni Ambassador should contact Kelly Meyer at kmeyer2@twu.edu, and she will provide you with some guidelines, confirm your contact information and focus area, and put your name into rotation. Thank you to all those alumni that are already doing this – more connections will be made soon!
Alumni Awards
SLIS will present two Alumni Awards at this year's TLA conference. The $500 Ann Barnett Service Award and the $500 S. Janice Kee Continuing Education award. For more information and to apply see the Alumni Awards announcement.
Faculty Accomplishments
Dr. Aaron Elkins has several recent publications:
Elkins, A. J. (2015). Let's play! Why school librarians should embrace gaming in the library. Knowledge Quest, 43(5), 58–63.
Elkins, A. J. (2015). Organizational Citizenship Behavior and school librarians. School Libraries Worldwide, 21(2).
Elkins, A. J., Wood, J. L., & Mardis, M. A. (2015). School librarians' roles: Preliminary results of a national survey of priorities, performance, and evaluation in the context of professional guidelines. In The school library rocks: Presented paper IASL International Association of School Librarianship, Masstricht Conference 2015.
Dr. Gretchen Hoffman published an article with Karen Snow, "What Makes an Effective Cataloging Course? A Study of the Factors That Promote Learning," in Library Resources & Technical Services 59: 187-99. She also published a book chapter in 2015: "What's the Difference between Soul Food and Southern Cooking? The Classification of Cookbooks in American Libraries," in Dethroning the Deceitful Pork Chop: Rethinking African American Foodways from Slavery to Obama, edited by Jennifer Jensen Wallach, 61-78. Fayetteville, AR: University of Arkansas Press.
Dr. Judi Moreillon's accomplishments include the following:
Dr. Moreillon published three peer-reviewed articles in this time period: "Increasing Interactivity in the Online Learning Environment: Using Digital Tools to Support Students in Socially Constructed Meaning-making" in TechTrends, 59 (3), 41-47; "#schoollibrarians Tweet for Professional Development: A Netnographic Case Study of #txlchat" in School Libraries Worldwide, 21 (2); and "Digital Storytelling Based on the Association for Library Service to Children Competencies: A Learning Activity to Promote Values Associated with Social Justice" in Public Library Quarterly, 34 (3): 212-229.
In January 2015, at the Association for Library and Information Science Education Annual Conference in Chicago, Dr. Moreillon presented a paper entitled: "Digital Storytelling Based on ALSC Competencies: A Learning Activity to Promote Social Justice." Along with Dr. Janelle Mathis from the University of North Texas, Dr. Moreillon presented "How Can Young People Benefit from Reading International Children's and Young Adult Books?" at the Spicola Forum in Reading held in March 2015 on the TWU Denton campus.
Denton Public Library children's librarian Dana Tucker and Dr. Moreillon co-authored "Collaboration for Summer Reading," which was published in the spring issue of the Texas Library Journal. In April 2015, Dr. Moreillon and ApprenNet.com cofounder Emily Foote-Williams co-presented "ApprenNet: An Interactive Tool for Online Learning" for TWU Faculty, sponsored by the Teaching and Learning with Technology Department.
As part of a panel presentation (Transform Storytime into Family Literacy Programming) at the Texas Library Association 2015 Conference in Austin, Dr. Moreillon presented "Educating Heads, Hearts, and Hands: Educating Public Librarians to Serve Families with Young Children." She also presented a contributed paper: "Digital Advocacy Storytelling to Promote Library Values" at the TLA Conference.
Dr. Moreillon posted "The Soviet Connection: Cultural Influences in Our Text and Images," a guest blog post for WOW Currents Blog based on a presentation by two children's book authors at the Tucson Festival of Books: http://wowlit.org/blog/2015/04/20/the-soviet-connection-cultural-influences-in-our-text-and-images/
In June 2015, Dr. Moreillon published her final Quick Remedies Column in School Library Monthly.
Dr. Moreillon joined the board of the new School Library Connection magazine; she is authoring a monthly feature article during the 2015-2016 academic year. She serves as the chair of the Children and Libraries Advisory Board, the chair of the Texas Association of School Librarians 2016 Media/Virtual Presence Award Committee, and the chair of American Association of School Librarians' Student Bridge Scholarship Program Committee.
Based on her children's book publications, an entry about Dr. Moreillon's writing will appear in the 288th volume of Something About the Author, a Gale publication. In addition to biographical information, the entry will include an essay Dr. M. composed about why she has written and sought publication for her children's books. Dr. Moreillon feels honored to be included in this way in this seminal reference resource (to which she was first introduced during her M.L.S. program).
Dr. Jennifer Richey published several articles and papers:
Cahill, M., Richey, J. (2015). What sound does an Odyssey make? Content analysis of award-winning audiobooks. Library Quarterly, 85(4), 371-385.
Richey, J. (2015). The School Library as a Sexual Health Learning Environment. Juried paper presented at the International Association of School Librarianship Annual Conference, Libraries, Maastricht, Netherlands, June 29, 2015.
Cahill, M., and Richey, J. (2015). Audiobooks as a Window to the World. Juried paper presented at the International Association of School Librarianship Annual Conference, Libraries, Maastricht, Netherlands, June 30, 2015.
Richey, J., and Cahill, M. (2015). What's a school librarian's favorite preposition? Evidence in, of, and for practice. Knowledge Quest, 43(3). 68-73.
Dr. Richey also received the 2015 Outstanding Faculty Award for Outstanding Teacher of the Year, TWU College of Professional Education; and she was asked to serve as the Chair of the Texas Association of School Librarians Scholarship Committee, 2015-16.
Dr. Sylvia Vardell's publications and presentations during 2015 include:
Vardell, S. M. and Wong, J. (2015). The symbiosis of science and poetry. Children and Libraries. Spring, 13, (1), 15-18.
Vardell, S. M. (2015). The poetry Friday anthology for celebrations. Pomelo Books (with Janet Wong).
"Diversity Dynamism: Mixing Resources and Making Connections," with Janet Wong, Marianne Follis, Antero Garcia, Margarita Engle, and Lesléa Newman. American Library Association annual conference, San Francisco, CA, June 2015.
"Transforming the Classroom: Back to School with Books, Apps, and Multiple Formats," with Janet Wong, Cynthia Alaniz, and Rose Brock. International Literacy Association annual conference, St. Louis, MO, July 2015.
Dr. Vardell also presented several workshops:
"Take 5 to Celebrate Poetry," with Janet Wong. Workshop, King County Libraries, Seattle, WA, April 2015.
"Celebrating Poetry Snapshots," with Janet Wong. ALSC Webinar, May 2015.
"The Poetry Friday Anthology series," with Janet Wong. Skype Workshop, Sharyland ISD, Mission, TX, June 2015.
"Poetry Aloud Here: Sharing Invisible Keepsakes." Workshop, Paramus ISD, Paramus, NJ, July 2015.
Mr. Doug Campbell, adjunct instructor, was a recipient of the 2015 ALA "I Love My Librarian" award.
Alumni News
FNLM Award Recipient
Claudia DeShay (MLS and Ph.D. alumna) is the recipient of the 2015 Michael E. DeBakey Library Services Outreach Award from the Friends of the National Library of Medicine (FNLM). This award was presented to Dr. DeShay for her "exemplary contributions to medical education and librarianship in her community" at the annual FNLM Awards Gala on September 16, 2015, in Washington, D.C. The Friends of the National Library of Medicine supports, promotes, and publicizes the National Library of Medicine (NLM). The Michael E. DeBakey Library Services Outreach Award is presented in honor of Dr. DeBakey, who helped found the NLM.
Dr. DeShay is the Education Program Coordinator at the UT Southwestern Health Sciences Digital Library and Learning Center in Dallas, Texas. When asked about receiving this award, she responded: "With all of the technological and other advances we have made as a nation, it is increasingly imperative that we reach out to those who have not had the same opportunities or seen the open doors. We must give what we can – information, guidance, encouragement, a hand up…sometimes just a smile, if that is all we have. We must give back, pay it forward…do whatever we can. We must. It is not an option. TWU's mission and core values reflect – in fact, embody – this principle. I appreciate the encouragement TWU's faculty and program gave me that allowed me to further develop my skills and personal commitment to service."
Other Alumni News
Cynthia Alaniz (Spring 2015 MLS graduate) was selected to serve on the jury of the Lee Bennett Hopkins Poetry Award.
Rosie Amaya (2008 MLS graduate) was named the director of the Joe Barnhart Bee County Library in January 2016, as announced in the article on mySouTex.com.
Rose Brock (2013 Ph.D. graduate) was highlighted by the Dallas Observer as one of "10 Brilliant Women in Dallas" for her achievements in library services to teens and her involvement in the North Texas Teen Book Festival.
Suzy Groff (2014 MLS graduate) is the school librarian at Bandera (TX) Middle School. In her Knowledge Quest article, "A Bulldog Mobile Is Born" (May/June 2015), Suzy describes how she earned a grant and marshaled the support of administrators, classroom teachers, and other Bandera ISD employees to pilot a bookmobile project in the summer of 2014. In addition, Suzy partnered with the Boys and Girls Clubs to add the resources of the bookmobile to their "Readcess" program.
Stacy Cameron (2005 MLS graduate) was selected by the Texas Library Association (TLA) as the Member of the Month for December 2015. Stacy is the Coordinator of Library & Media Services for Frisco ISD.
Marianne Follis (MLS and Ph.D. graduate) has just been named Manager of the Valley Ranch (Irving, TX) Public Library.
Fall 2015 MLS graduate, Brenda Hahn, was featured as an ALSC Guest blogger, writing the October 6, 2015, blog post on "Getting to Know Your Way: Finding International School library Positions."
Greg Hardin (2000 MLS graduate) was appointed associate librarian and information literacy coordinator at the University of North Texas Libraries in Denton, Texas.
Congratulations to Annita Owens (1998 MLS graduate) for receiving the 2015-2016 Elizabeth Snapp Award for Excellence in Librarianship. Established in 2011, the award, named in honor of TWU Library Director Emeritus Elizabeth Snapp, who served at TWU for 33 years, recognizes the excellence of professional librarians at TWU.
Emily Vardell (2007 MLS graduate) is the editor of the recently published book, The Medical Library Association Guide to Answering Questions about the Affordable Care Act (Rowan & Littlefield, 2015). The book is designed to serve as a practical guide for librarians seeking to learn more about the Affordable Care Act (ACA); locate authoritative, non-biased information regarding the ACA; and serve patrons searching for ACA information for personal or research purposes. It includes chapters on health insurance literacy, how to answer ACA reference questions, and an annotated bibliography of ACA resources for consumers and researchers. Emily is currently a doctoral student at the University of North Carolina in Chapel Hill.
Lisa Taylor (2007 MLS graduate) has been named the Co-Chair of ALSC's Great Website for Kids Committee for 2016. In November 2015, she was re-elected to a three-year term on the school board in her hometown of Lavallette, NJ. She had an article about librarians, "5 Things You Didn't Know About Librarians," published in the online modern mothers' magazine, BonBon Break.
In Memory of Dr. Alice Johnson:
Alice Johnson, alumna of the MLS and Ph.D. programs, passed away in August 2015. She was the Directory of Library Services at Alamo Colleges in San Antonio, TX, where she worked from 1992 until 2015. Dr. Johnson was remembered in an article, "Library Director Loved Helping Others, Giving Back to the Community," in The Ranger, the student newspaper of Alamo Community College District.
Student News
Deborah Hathaway is one of 40 students selected nationally to participate in the ALA Student-to-Staff program at the 2016 ALA Annual Conference in Orlando, FL, June 23-28.
Sammie Johnson was elected as a board member to the Black Caucus of the American Library Association.
Dual Degree student Tyler Moses received the competitive NN/LM Student Outreach award. The award subsidized her attendance at the 2015 National Network/Libraries of Medicine South Central Region conference held in Little Rock, Arkansas. Dual Degree students earn both the MLS and a concurrent Master's in Health Studies. Ms. Moses hopes to work in a medical facility where she can participate in learning outreach programs that focus on improving community health, especially health literacy.
Literacy Matters Scholarship Recipients
Congratulations to recipients of the Literacy Matters Scholarship award! They each received a $2,000 scholarship (for one semester of study) to continue their studies in early childhood public library services, particularly to underserved populations. The Literacy Matters Scholarship is funded by a grant from the Institute of Museum and Library Services. The focus of this grant is literacy programming and services to young children and families through public libraries. Students receiving scholarships for both the Fall 2015 and Spring 2016 semesters include Margaret Barnes, Tara Elizabeth Hornbeak, and Theresa Misenti. Nekeeta Borden was a Fall 2015 recipient, and the Spring 2016 recipients are Sammie Johnson, Samantha Lutz, Holly Tealer, and Ashley Wyche.
Page last updated 4:57 PM, November 28, 2022