Summer 2016 Issue
Dr. Jeng Named President-Elect of Texas Library Association
5/9/16
Dr. Ling Hwey Jeng, TWU SLIS Director and Professor, has been named president-elect of the Texas Library Association (TLA). She will serve as president-elect for one year and then will assume the office of TLA president in April 2017.
SLIS Memorial Scholarship Endowed Fund
Texas Woman's University School of Library and Information Studies is pleased to announce the establishment of the SLIS Memorial Scholarship Endowed Fund.
The Fund was initially established to honor the memory of Tara Morgan McDowell, the beloved daughter of Dr. Carol Perryman, a SLIS faculty member. Tara died at the age of 38 in May, 2015 of metastatic triple-negative breast cancer. Born at Ft. Hood, Texas, Tara lived in Washington, Germany, Illinois, Kansas, and Oregon. She loved reading, bad horror movies, philosophical debates, high heels, and gourmet cooking. Ultimately, she was a strong and intelligent woman who fought tough circumstances in her life. Nothing was easy for her. She never went to college. At the end, time was too short for her to see the ocean once again, or to attend the wedding of a friend. But right to the end, she valued and supported those around her, and she left her love with those who knew her as a unique and spirited person.
It is fitting to honor her memory by helping others to fulfill their dreams. Because of this, the Fund has been expanded beyond this single but important purpose to offer a way for TWU School of Library & Information Studies faculty, staff, students, as well as family and friends and the extended TWU community, to honor their own memories by helping others.
Donations to the TWU SLIS Memorial Endowed Scholarship Fund are welcome and appreciated and may be made online through the TWU Foundation. When making a gift online, please choose "Other" for the gift designation and enter "SLIS Memorial Scholarship."
Gifts by check may be made payable to "TWU Foundation" with "SLIS Memorial Scholarship" in the memo line and mailed to:
University Advancement
PO Box 425618
Denton, TX 76204
Ann Barnett Service Award Recipient for 2016

Kerol Harrod (2014 MLS graduate) was named the recipient of the Ann Barnett Service Award for 2016. The award was presented at the SLIS Reception on April 21, 2016, in conjunction with the TLA annual conference in Houston. The Ann Barnett Service Award recognizes exemplary service to the principles and purposes of librarianship and professional education as demonstrated by sensitivity and responsiveness to people's needs. The original $500 award was generously matched this year by Mr. Richard A. Dickey (1987 MLS graduate), increasing the award amount to $1,000. Mr. Dickey, currently an information researcher for the Executive Branch of the Federal Government, credits Ms. Barnett for having helped him navigate his studies at TWU SLIS, which provided the foundation to his successful career. He also served on this year's award selection committee.
Mr. Harrod, this year's recipient, is a Youth Services Librarian at the Denton Public Library. He was a member of the SLIS "Literacy Matters" grant cohort during his study and was nominated for this award by both his supervisor and a SLIS faculty member for his diligent and tireless efforts to promote children's literacy and to incorporate bilingual instruction into story time. Among his many outstanding accomplishments, Mr. Harrod created, wrote, and co-produced the award-winning television show, "Library Larry's Big Day," which ran for 45 episodes over 5 years. He helped produce and market the documentary, "Library Larry: The Big Story of a Little TV Show," for Denton's Thin Line Film Festival. He collaborated with the Denton Community Market to promote family literacy by providing children's activities and the opportunity to sign up for the summer reading club. In addition to his numerous publications, his collaborative and community-based work is included in the new book Inspired Collaboration: Ideas for Discovering and Applying Your Potential (ALA, 2016), by noted public librarianship author, Dorothy Stoltz.
Mr. Harrod and Ms. Barnett, the namesake of this award, recently met up at their church for a photo (on right) with his award plaque.
More information on the Ann Barnett Service Award is available on the SLIS website.
S. Janice Kee Continuing Education Award Recipient for 2016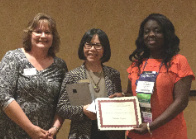 Valerie Tagoe is the recipient of the S. Janice Kee Continuing Education Award for 2016, presented at the SLIS Reception on April 21, 2016, in conjunction with the TLA annual conference in Houston. This $500 award was established in 1987 by native Texan and TWU alumnus, Sarah Janice Kee (1908-1998), for graduates who seek financial support for continuing education. The photo shows Ms. Tagoe (on right) receiving her award at the reception from Dr. Ling Hwey Jeng and Ms. Kelly Meyer, the SLIS Alumni Coordinator.
Ms. Tagoe (2008 MLS graduate) is a Media Specialist at Woodrow Wilson High School in Dallas ISD. She is a member of ALA, TLA, and the TAYSHAS committee of the TLA Young Adult Roundtable. Ms. Tagoe volunteers for the Dallas Museum of Art's "Arts and Letters Live" series and sponsors the Graphic Novel & Anime Club at her school. She plans to use the award to learn innovative ways to reach underserved patrons and to develop leadership skills, including attending TLA and ALA. She was selected to the first cohort of the new TLA Executive Leadership Immersion Program and attended its inaugural institute in Austin in early August.
More information on the S. Janice Kee Continuing Education award is available on the SLIS website.
Faculty and Staff News
Faculty Accomplishments
Dr. Gretchen Hoffman presented "Teaching Ethics in Technical Services: Developing Ethical Thinking and Decision-Making in Knowledge Organization Courses," at the annual conference of the Association for Library and Information Science Education (ALISE), in Boston, Massachusetts in January 2016. She also became a member of the Association for Library Collections & Technical Services (ALCTS) President's Symposium Planning Committee and the Research and Publications Committee of ALCTS's Cataloging and Metadata Management Section (CaMMS).
Dr. Hyuk-Jin Lee had two peer-reviewed international journal articles:
Lee, H. J. (2016). New information behavior model: Life paradigm based. Journal of the Korean BIBLIA Society for Library and Information Science, 27(1), p.217- 235.
Hill, V. & Lee, H. J. (2015). Now and Future of Virtual Libraries and Education in Second Life based on Diffusion Theory. The International Journal of Communication and Linguistic Studies,13(3), p.33-47
Dr. Kathryn Masten gave a presentation at iConference 2016 in Philadelphia, March 20-23, 2016. Her paper, entitled "Implications from a Grounded Theory of Community Networking for Creating and Sustaining Partnerships with Society," is available in the Illinois Digital Environment for Access to Learning and Scholarship (IDEALS) repository at http://hdl.handle.net/2142/89307.
Dr. Eileen McElrath published two refereed articles:
McElrath, Eileen and Susan Sutherland. "Environmental Sustainability in Libraries." International Journal of Humanities and Social Sciences. Vol. 5, No. 12, December 2015.
McElrath, Eileen. "Evaluating Internet Resources for Faculty and Student Researchers to Identify Valid and Reliable Humanities Resources." 14th Hawaii International Conference on Education Conference Proceedings. January 3, 2016.
Dr. McElrath also had two refereed presentations:
McElrath, Eileen. "Evaluating Internet Resources for Faculty and Student Researchers to Identify Valid and Reliable Humanities Resources." 4th Hawaii International Conference on Education. Co-Sponsors: California State U., Drexel U., Pepperdine U., U. of Louisville, St. Louis U. January 3, 2016.
McElrath, Eileen. "Valid Resources Available on the Internet." 19th Annual American Association of Behavioral and Social Sciences Conference. Las Vegas, Nevada. February 1, 2016.
Dr. McElrath was appointed by former TWU Provost and Vice President of Academic Affairs, Dr. Robert Neely, to Chair the Selection Committee for the 2016 TWU Award for Outstanding Service to the TWU Libraries.
Dr. Jennifer Moore (Richey) was the recipient of the 2016 TWU Distinction in Distance Education Award. Dr. Moore was also featured in the TWU Office of Teaching and Learning with Technology's Fall 2016 Faculty Spotlight for her achievements in distance education.
Dr. Judi Moreillon published two peer-reviewed articles in this period: "Making the Case for the Classroom-Library Connection" in Teacher Librarian, 3 (3), 8-18; and "Building Your Personal Learning Network (PLN): 21st-century School Librarians Seek Self-regulated Professional Development" in Knowledge Quest, 44 (3): 64-69. In addition, Dr. Moreillon published a feature article in each issue of School Library Connection in spring 2016.
In January 2016, at the Association for Library and Information Science Education Annual Conference in Boston, Dr. Moreillon shared her work with ApprenNet, an online video-enhanced discussion tool, as a member of Innovative Pedagogies Panel Presentation. Radical Change: Inclusion & Innovation. In March, along with Tamby Allman, Associate Professor in Communication Science, Dr. Moreillon co-presented "ApprenNet: An Interactive Tool for Online Learning" for TWU's Center for Faculty Excellence.
Dr. Moreillon gave two peer-reviewed presentations this spring: Jazz Beats: Integrating Poetry, Art, Music, and Literature into an Inquiry Unit at the Spicola Forum in Reading in Denton in March and Crowdsourcing: The New Bake Sale for School Libraries, co-presented with Renee Dyer, at the Texas Library Association in Houston in April.
Dr. Moreillon posted a book review of Enchanted Air: Two Cultures, Two Wings: A Memoir by Margarita Engle on the WOW (Worlds of Words) Review, 8 (3): http://wowlit.org/on-line-publications/review/volumeviii1-3/4/
Dr. Moreillon served as the chair of the Texas Association of School Librarians 2016 Media/Virtual Presence Award Committee and continues her service as the chair of American Association of School Librarians' Student Bridge Scholarship Program Committee through 2017. She is completing her service on the board of the School Library Connection magazine this summer.
Dr. Moreillon is retiring from Texas Woman's University and returning to her home in Tucson, Arizona, at the end of the Summer 2016 session. She would like to sincerely thank all TWU students, faculty, and staff for sharing their learning journeys with her over the past seven years.
Dr. Carol Perryman received the Medical Library Association, Hospital Library Section, Professional Recognition Award in the area of Research, for her contribution to research in health science librarianship. The award was presented to Dr. Perryman at the 2016 Medical Library Association Annual Meeting, on Monday, May 16, 2016. Also, Dr. Perryman was nominated for the TWU Distinguished Graduate Faculty Award.
Dr. Perryman had several publications and a juried paper presentation:
Perryman C. (2016, January). Mapping studies. Invited contribution, JMLA. 104(1):79-82.
Lessick S, Perryman C, DeGroote SL, Billman BL, Alpi KM, & Babin TD. (2016, April). Research engagement of health sciences librarians: A survey of research-related activities and attitudes. Special Paper, 104(2):166-173.
Perryman C. (2016). Evaluation of self-ratings for health information behaviour skills requires more heterogeneous sample, but finds that public library print collections and health information literacy of librarians needs improvement. Evidence Based Library and Information Practice, 11(1):82-84.
Perryman C. (2015). Assessment related skills and knowledge are increasingly mentioned in library job postings. Evidence Based Library and Information Practice, 10(1):98-100.
Perryman C. & Babin, T. Medical Librarians in Practice: Research-related Activities and Resource Use (Juried paper presentation). MLA Research Section, MLA Annual Meeting, May 2016.
Dr. Sylvia Vardell has been elected to the 2018 Caldecott Award Committee. She also received the 2016 Texas Woman's University Distinction in Scholarship Award.
Among her other accomplishments, Dr. Vardell published an article: Vardell, S. M. (2016). Talking with Jacqueline Woodson. Book Links. April, 25, (4), 10-14. She also created educator guides for three books for young readers:
Dr. Vardell made several presentations:
"12th Annual Poetry Round Up." With Irene Latham, Steve Swinburne, David L. Harrison, Kwame Alexander, Amy Ludwig VanDerwater, K. A. Holt, and Janet Wong. Texas Library Association Annual Conference. Austin, TX, April, 2015.
"Into the Poem: Active Strategies for Engaging Kinesthetic Learning." With Laura Purdie Salas, Susan Marie Swanson, and Janet Wong. National Council of Teachers of English Annual Convention. Minneapolis, MN, Nov., 2015.
"How is a Poet Like a Scientist? Connecting Literacy and Science." With Janet Wong. National Science Teachers Association Regional Conference. Philadelphia, PA, Nov., 2015.
Staff News
Ms. Ileana Lopez-Jimenez received four Pioneer Proud staff awards.
Ms. Brenda Mallory retired as the SLIS Administrative Assistant at the end of June 2016, after 10 years of service to the university. During 2016, Brenda was nominated as one of the 2016 Spring Senior Breakfast & Lunch Favorite Faculty and Staff, and she received six Pioneer Proud awards. We wish Brenda well in her retirement!
Ms. Cyndee Tantarri was hired as the new SLIS Senior Secretary in August 2016. We are glad to have Cyndee on board!
Alumni Fellowship Recipients
Robin Stout Completes Term as Lilead Fellow
Robin Stout (2009 alumna) recently completed the Lilead Fellows Program, an intensive 18-month professional development program for school district library supervisors from across the country. Robin is the supervisor for Library Media & Emerging Technologies in the Lewisville, TX, Independent School District. According to the Lilead website, "the Lilead Fellows Program is an advanced and intensive professional development program designed to empower, enable, and equip school district library supervisors to think differently and creatively about their library programs and to be effective and inspirational leaders for change in their districts." The program is supported by the Institute of Museum and Library Services and includes financial support for Fellows to attend in-person meetings at library conferences, a summer Fellows institute, and virtual work sessions.
The current group of Fellows began their work in 2015 and concluded with their attendance at the ALA annual conference in June 2016 in Orlando, Florida. At the ALA conference, Robin worked with her Lilead colleagues and gave a presentation about her Lilead project, called "Building a District-wide Culture and Climate of Digital Citizenship."
National Library of Medicine 2016-2017 Associate Fellows
Two SLIS graduates were selected by the National Library of Medicine for its 2016-2017 class of Associate Fellows. Tyler Alicía Moses (Dual MLS/MS Health Studies, 2016) and Candace Norton (MLS 2015) were among the four selected. The Associate Fellowship Program is a one-year paid residency program on the campus of the National Institutes of Health in Bethesda, Maryland, which provides curriculum and project work, as well as professional development opportunities. Congratulations, Tyler and Candace!
MLA Doctoral Fellow
Congratulations to Emily Vardell (MLS 2007), who has been selected to receive the 2016 Thomson Reuters/MLA Doctoral Fellowship from the Medical Library Association. Emily is a doctoral student at the University of North Carolina in Chapel Hill and is the daughter of SLIS Professor, Dr. Sylvia Vardell.
Former GLISA Officers Honored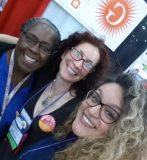 Kudos to Christine De Angelis (MLS 2016) for receiving the 2016 TWU College of Professional Education (COPE) Student Award for Outstanding Student Services in SLIS. Christine served in two distinct ways: as the former Vice President and 2015-2016 President for the Graduate Library and Information Studies Association (GLISA), and as the 2015-2016 student representative on the SLIS Faculty Planning and Assessment Committee. She consistently demonstrated a strong work ethic and enthusiasm for both librarianship and TWU SLIS.
Tracy Jolivette (MLS 2016) was featured in TWU Denton Commencement Ceremony 5, on May 14, 2016, and as part of the TWU News announcement of graduating student successes. According to the TWU news release, Tracy "was selected last summer for a highly competitive internship with the Hispanic Association of Colleges and Universities National Internship Program in the nation's capital. She spent the summer working as a librarian for the Bureau of Land Management, where she created a file management plan for the Washington, D.C. office – something that had never before been done. Jolivette, who is African-American, was eligible for the internship through TWU's designation as a Hispanic Serving Institution (HSI)." Tracy, who worked as a Graduate Assistant in the TWU Blagg-Huey Library, was also highlighted on the TWU Libraries Blog, "Check It Out," on May 19, 2016.
Students Awarded TLA Conference Stipends
Dawn Wilbert was awarded a $1,471 travel stipend from the Tocker Foundation to attend the 2016 TLA conference.
The Graduate Library and Information Studies Association (GLISA) announced the winner of the 2016 GLISA Scholarship contest. Rebecca Cannon received $200 to help cover the cost of attending the TLA annual conference in Houston in April.
Congratulations to Dawn and Rebecca!
Alumni News
Colleen Graves Recognized for Creativity with Maker Spaces
Colleen Graves (MLS 2012) has been recognized for her work with library Maker spaces. She was selected by Library Journal as one of its 2016 "Movers and Shakers" for her innovative work developing Maker spaces at the Ryan High School Library in Denton (TX) ISD, where she is the Teacher Librarian. She was also recently featured in a Denton Record-Chronicle article for her attendance at the Capitol Hill Maker Faire 2016, sponsored by the Institute of Museum and Library Services and the Congressional Maker Caucus, as part of the White House's 2016 National Week of Making. Colleen was the sole school librarian, among a panel of educators from across the nation, presenting about successful Maker initiatives and the importance of expanding makerspaces to more schools, especially those with low-income students. (Photo ©2015 Michael J. Madsen)
Alumni Book Publications
Amy Bearce (MLS 2014) has published her second novel, Mer-Charmer (Curiosity Quills Press, 2016). Mer-Charmer is the follow-up to Fairy Keeper, from Bearce's World of Aluvia series for upper middle grade readers.
Susanne Caro (MLS 2006) has published a book through ALA Editions, called Digitizing Your Collection: Public Library Success Stories, based on interviews with public libraries across the country. She is a Government Document Librarian at the Mansfield Library at the University of Montana in Missoula, MT.
TALL Texans
The 2016 Class of the TALL Texans Leadership Institute included four SLIS Alumni. Congratulations to Cecily Ponce De Leon (MLS 2009), Plano Public Library; Marianne Follis (Ph.D. 2012, MLS 2004), Irving Public Library; Ray Sablack (MLS 1995), Dallas Public Library; and Cindi Wynia (MLS 2014), Amarillo Public Library. The 22nd TALL Texans Leadership Institute was held at the Montserrat Retreat Center in Lake Dallas, TX, on June 12-16, 2016. Also attending as a mentor was SLIS Director, Dr. Ling Hwey Jeng.
Other Alumni Accomplishments
Congratulations to new SLIS Ph.D. graduates, Kimberly Kinnaird (MLS 2003, left in photo) and Beth Enochs (MLS 2008, right in photo), who successfully defended their dissertations in Spring 2016. They are pictured at the TWU Denton spring commencement ceremony, with Dr. Sylvia Vardell (SLIS Professor, center in photo).
Kerol Harrod (MLS 2014) and his team at the Denton Public Library and Denton Television were featured in a documentary at the 2016 Thin Line Film Festival. The short film chronicles the history of the award-winning children's television show they produced from 2010 to 2015, called "Library Larry's Big Day" (available on YouTube). The show explored the Denton area using puppets to help children learn about reading, the library, and their community.
Ronald Heezen (Ph.D. 1998) was featured in an article in the Las Vegas Sun for his role as Executive Director of the Las Vegas-Clark County Library District.
Anna Beth (Crabtree) Morgan (MLS 1985) is now serving as the executive director of the Mayo Clinic Libraries, as of March 2016. She is responsible not only for the Rochester, MN, location but also for libraries in Arizona, Florida, Iowa and Wisconsin. Before joining the Mayo Clinic, she served as the associate vice president for academic resources and director of the library for Union University in Jackson, Tennessee.
Tami Sutcliffe (MLS 1998) had the abstract for her 2014 doctoral dissertation project, "The Iconology of Pinterest," selected by the Leonardo/International Society for the Arts, Sciences and Technology (Leonardo/ISAST) LABS peer review committee as one of the seven top-ranked abstracts for 2015. The selected abstracts will be published in a special LABS section in the Leonardo journal and on the Leonardo web site in 2016.
Lisa Taylor (MLS 2007) has accepted a supervisory position in Youth Services with the Jacksonville Public Library in Jacksonville, FL.
Page last updated 4:39 PM, April 5, 2023