Student researcher explores what's next for cancer drugs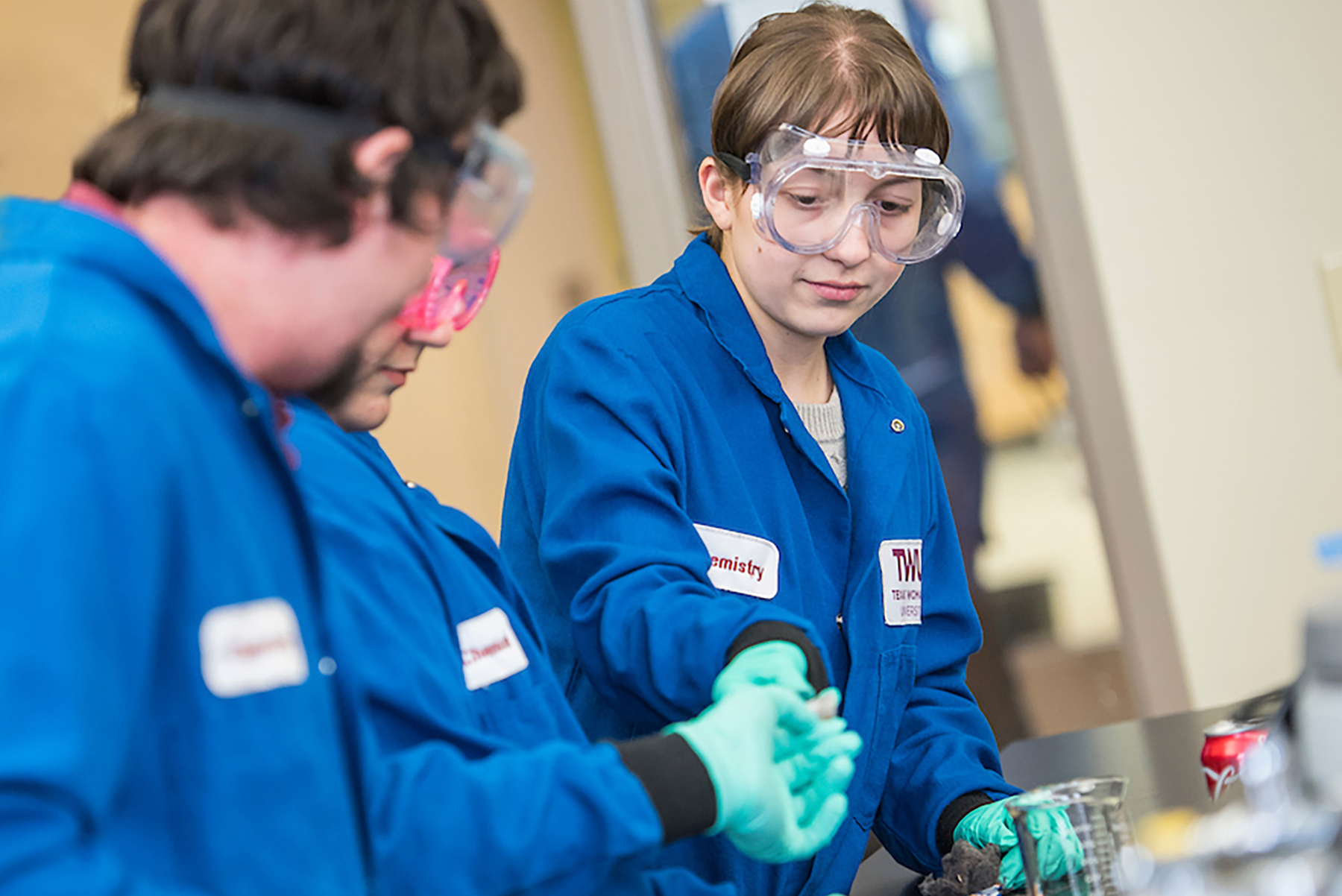 It didn't take long for biochemistry senior Claudette Fraire to get into a lab when she arrived at Texas Woman's her first year of college. In a chemistry course taught by department chair Richard Sheardy, Ph.D., she learned about his research on DNA and cancer and asked if she could take part.
"I work in DNA structure, trying to understand the molecular basis of cancer," Sheardy said. "Claudette joined [fellow undergraduate student] Tra Nguyen to work on a project trying to understand how environmental factors affect the stability of an unusual DNA structure that is linked to biological activity."
The project led to poster presentations and a publication with Nguyen and Sheardy in The Journal of Physical Chemistry B in August 2017. Fraire is listed as the second author.
Over the course of her three years at TWU, the Dallas native has worked on four research projects, including her current project, which looks at DNA interactions with cancer treatment drugs.
"My most recent research project started two years ago. Dr. Sheardy told me about anti-tumor compounds that bind to DNA," she explained. "That really interested me because another professor at TWU, Dr. [Nasrin Mirsaleh] Kohan, researches anti-tumor medications and how they interact with DNA. That started a joint collaboration between Dr. Sheardy's lab and Dr. Kohan's lab."
While the research into DNA interaction with anti-tumor compounds can delve into complicated chemistry concepts, the purpose of it is fairly easy to understand.
"The most commonly used anti-tumor drug is cisplatin," Sheardy explained. "It's been around a long time and can have some nasty side effects, so people have been trying to make better compounds based upon cisplatin, changing it in different ways. How do those changes influence not only its efficacy, but also its toxicity? You try to design a drug that will be very effective, but not toxic."
To assist with her involvement in the project, Fraire wrote a proposal for a TWU Experiential Student Scholar Program award to help fund part of her research. The award supports the university's "learning by doing" efforts through the Pioneer Center for Student Excellence. The proposal included background information about the research conducted during the summer of 2016. Freire's current research, which stems from that proposal, looks at the chemotherapy medication carboplatin, which is used to treat different types of cancer.
Carboplatin, like some other anti-tumor medications, is platinum-based and functions by inhibiting the duplication of DNA. It is noted to have decreased side effects and less toxicity than cisplatin, but is less potent in some cancers.
According to Fraire, "We're studying this because currently there's a resistance to one of the anti-tumor medications. By understanding the interaction of DNA with these platinum compounds, we are able to help scientists in the drug discovery field come up with new chemotherapeutic targets."
Fraire presented the latest research, which she is conducting with Sheardy, Kohan and graduate student Sara Williams, at this year's American Chemical Society Meeting & Exposition in March, as well as the National Conference on Undergraduate Research in April. In June, she traveled to Memphis to present at the highly-selective National Symposium for Undergraduate Research at St. Jude Children's Research Hospital. Fraire is part of the Honors Scholar Program at TWU and was also an honoree of the 2018 Chancellor's Student Research Scholars (CSRS) program, which acknowledges outstanding achievement by students in research and creative art endeavors.
As she enters her last undergraduate year in college, Fraire is grateful for the research opportunities she's been given as an undergraduate student.
"The professors at TWU have really encouraged me," she said. "Dr. Sheardy helped me develop an interest in research so early, and that continued in the work we've done with Dr. Kohan. Being able to work with graduate students in the lab has also done a lot to help me along the way."
After graduation in 2019, she plans to go to graduate school to study biomedical sciences or biochemistry and molecular biology, with hopes to continue researching cancer from a biochemical perspective.
"You know, she's already developed the skills that it sometimes takes graduate students a lot of time to develop," said Sheardy. "I mean, thinking about how to do the next experiment, looking at the results, interpreting it and saying, 'Well, maybe this is what we ought to do next' – she's still learning how to do that, but the fact that she's even doing it at all as an undergraduate is quite remarkable."
Media Contact
Page last updated 2:29 PM, March 30, 2021